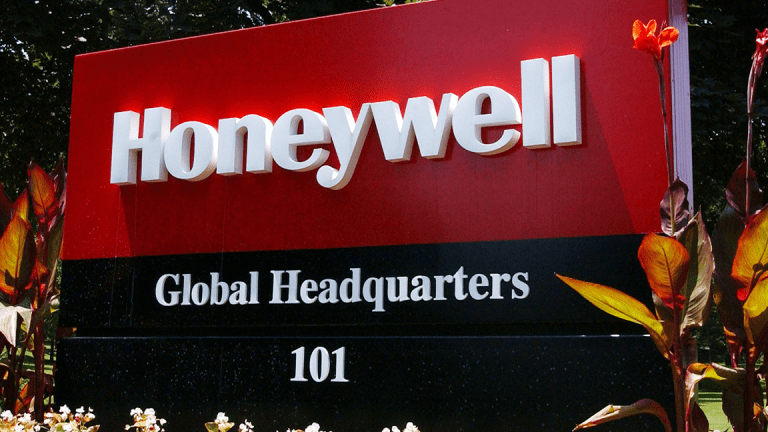 Honeywell Reiterates Interest in Bolt-On Acquisitions
The Morris Plains, N.J.-based company sees an acquisitive element to its growth strategy, particularly in the software space.
Honeywell appears to be gearing up for more deals.
As Honeywell International Inc. (HON) - Get Report transitions to a software-industrial company, it is keen on making more bolt-on acquisitions.
"Our view of the future simply is that you can't ignore the Internet of Things trend. It's like ignoring the Internet in the 1990s," Que Dallara, vice president and chief commercial officer of business strategy, said at the UBS Global Industrials and Transportation Conference on Thursday, June 14.
The Morris Plains, N.J.-based industrial conglomerate sees significant opportunity to shift more of its portfolio into software and is "not backing down" from its target of 20% growth in the software business, Dallara said.
When asked if there was an acquisitive element to this growth strategy, Dallara responded, "Absolutely ... we like bolt-ons," echoing Chief Executive Officer Darius Adamczyk's earlier statements about M&A.
"We also look for companies that have technology when we have a strong commercial position," said Dallara. "[Joint ventures] and partnerships like the one that with FLUX was a good one."
Honeywell's acquisition of a 25% stake in Chinese logistics software company Flux Information Technology Co. Ltd., which was announced in December 2017, is its most recent deal, according to data compiled by FactSet Research Systems Inc.
But the company has the necessary capital to grow the business, noted TheStreet founder Jim Cramer, who runs the Action Alerts PLUS charitable trust, which owns a stake in Honeywell.
"Combined with aviation, Honeywell has two terrific segments in its core portfolio, and don't forget CEO [Darius Adamczyk] has a robust amount of capital at his disposal to spend on M&A and more buybacks," TheStreet founder Jim Cramer said Wednesday on a members-only conference call for Action Alerts PLUS.
Separately, Honeywell announced that its Transportation Systems business will rebrand itself as Garrett- Advancing Motion upon the completion of its spinoff, which is expected to close before the end of the third quarter. The company said the Garrett name ties to Honeywell's turbo origins in the 1950s when entrepreneur and engineer Cliff Garrett led a project team to develop a turbocharger for a Caterpillar D9 crawler tractor that launched in 1954.
"The decision was made to name the new company Garrett to acknowledge its long history of innovation while adding the tagline 'Advancing Motion' to embrace the future and the broader portfolio of differentiated products and services that Transportation Systems offers its global customers," Honeywell said in a statement.
The separate spinoff of the Homes unit remains on track and is expected to be complete by the end of 2018. 
Shares of Honeywell fell 0.6% to $150.90 at 2:00 p.m. New York time.