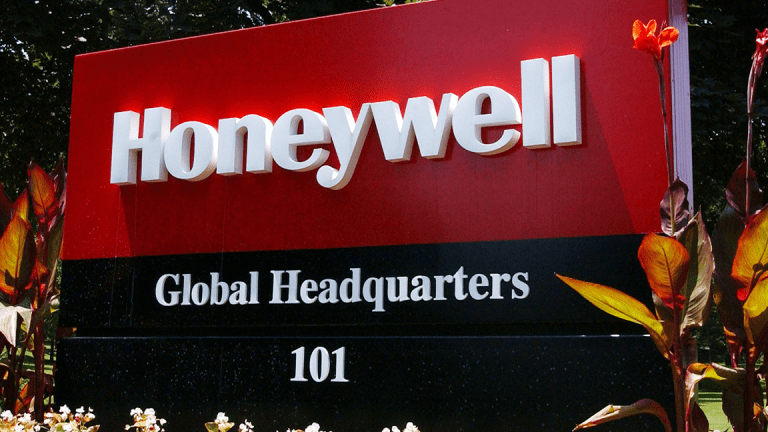 If Honeywell Plunges Even Lower, Here's Where It Becomes a Great Buy
The stock has been under pressure this week but the long-term uptrend is intact.
Investors are having trouble digesting the news that Honeywell (HON) - Get Honeywell International Inc. Report is spinning off its transportation and home industries businesses to concentrate on its aerospace operations. The stock price has pulled back off its highs and looks like it is headed back down for a retest of its 200-day moving average and a long-term uptrend line. If that were to be the case, the pullback would allow time for the market to absorb recent company news and re-energize the long-term uptrend in the stock. It would also offer a good risk-reward long entry opportunity.
One of the fundamental issues that is translating into technical uncertainty may be that back in February 2016 when Honeywell proposed its failed takeover of United Technologies, the company said the purchase would create a "well-balanced portfolio" of aerospace, home and energy products. Now it seems to have abandoned any effort to diversify and instead will focus just on its aerospace sector.
Another potential issue could be that investor Daniel Loeb of Third Point, has been pressuring Honeywell to spin off its aerospace operations and focus on the remaining parts of its business. The announcement from the company Tuesday is the exact opposite of that proposal. The easiest and most profitable way to follow how all this fundamental information plays out may be to simply monitor the price action on the Honeywell daily chart.
View Chart »View in New Window »
The stock has been trading higher and above its rising 50-day moving average for the last five months. It broke out of a wedge-like formation shortly after the United Technologies and Rockwell announcement in early September, and has continued sharply higher. That upside momentum, however, is now fading. A large dark candle formed on Monday at new highs, and Tuesday's news regarding the spin-off of divisions saw some intraday volatility; Honeywell's stock price dropped sharply at first but then closed up near its high of the day. At this point in Wednesday's session, it is trading lower and below a large upper candle wick. These three consecutive candles have bearish implications.
The stochastics oscillator is turning down and out of its overbought condition. This is a short-term negative momentum indication but should be measured against the strong reading on the Chandre Trend Meter. This indicator, which uses multiple moving averages on multiple time frames to assign a numerical value to trend strength, is reflecting the longer-term bullish uptrend.
Honeywell shares are pulling back off their recent highs and likely to retest the zone of support on the daily chart delineated by the long-term uptrend line, the 50-day moving average, and horizontal support supplied by the August high. If that turns out to be the case, it would be a good risk-reward buying opportunity with an initial stop just under the zone. The implication being that the long-term trend is intact and the stock is ultimately headed higher.
More of What's Trending on TheStreet:
The author is an independent contributor and at the time of publication had no position in the stock mentioned.