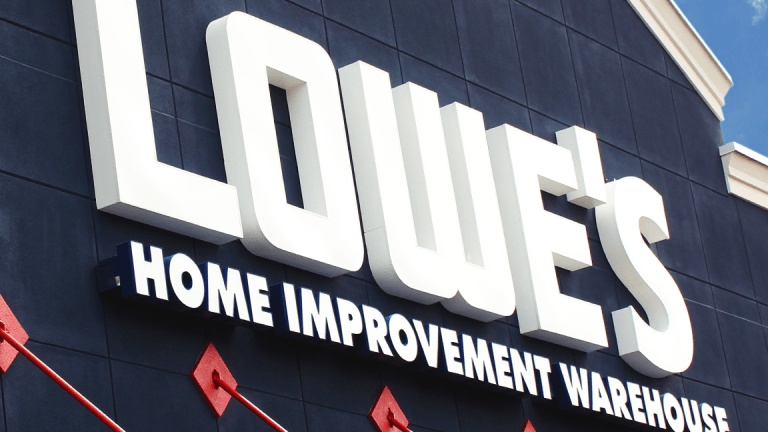 Home Depot or Lowe's: Which Stock Is Better After Earnings?
Lowe's and Home Depot both reported earnings this week. Is one better than the other right now?
On Tuesday, Home Depot (HD) stock initially slumped on earnings, but rebounded to close slightly positive on the day. It's under pressure again on Wednesday, though, this time thanks to earnings from Lowe's (LOW) .
While Home Depot stock fell 1.33% to $188.91, Lowe's stock was slammed, closing lower by almost 12%, to $97.94. It begs the question, which is the better buy right now?
When Home Depot reported its quarterly results, the company beat on earnings and revenue expectations, reported 2.5% global comparable-store growth and reaffirmed its full-year outlook. Management said weather was the primary culprit for its sluggish comp-store sales growth.
While Lowe's beat on revenue expectations, the company missed on earnings estimates. Comparable-store sales of 3.5% topped estimates of 3.2%, but guidance was disappointing. From TheStreet earlier Wednesday: "Lowe's said it sees adjusted earnings in the range of $5.45 to $5.65 each, down from a prior forecast of $6.00 to $6.10. However, it also sees revenues rising 2% and comparable sales rising 3%, estimates that match forecasts issued earlier this year."
Both companies are entering their strongest quarter of the year, as investors expect the spring selling season in a healthy economy to drive strong results. Will they both deliver?
Home Depot or Lowe's Stock?
Above is a weekly chart of Lowe's stock, while below is a daily chart. You'll notice above that LOW stock is breaking below its 50-week moving average. One may also notice that the relative strength index (RSI) does not suggest shares are oversold despite the big decline, while the MACD suggests bearish momentum is gaining steam (blue circles on the chart).
That said, shares are coming into prior uptrend resistance. Could this level act as support? It may, particularly if prior resistance between $98 and $100 is able to act as support as well. If they can't, a break into the low $90s is possible.
One may notice similar overlaps with the one-year daily chart. Lowe's stock is ripping right through the 200-day moving average and is now buoying in that $98 to $100 support zone. Bouncing from this zone and clearing the one-year 50% Fibonacci retracement at $100.85 would help repair some of the recent technical damage. Back over the 200-day would be even better. Below $98 and the 61.8% retracement at $96.86 will be quickly called on to help support the stock's decline.
This contrasts with the chart of Home Depot stock. On Tuesday we pointed out that Home Depot's test of the 200-day held (and continues to hold) as support. The same can be said for the 50-week moving average. Although it's encouraging to see Home Depot stock holding these key moving averages, I want to see it reclaim the $192.50 level. The updated look is below.
Home Depot is trading better than Lowe's after each company's respective report, but neither stock is out of the woods.
Right now, both stocks need to buck the sector-wide pressure and reclaim nearby upside levels. For longer-term investors, these declines may be opportunities. However for short-term traders, the path of least resistance may be lower unless both HD and LOW stock can regain some bullish momentum. If support gives way, we'll need a larger shakeout before Home Depot and Lowe's are buys in the short term.
Learn the History of the Companies in Your Portfolio | Behind the Label
This article is commentary by an independent contributor. At the time of publication, the author had no positions in the stocks mentioned.