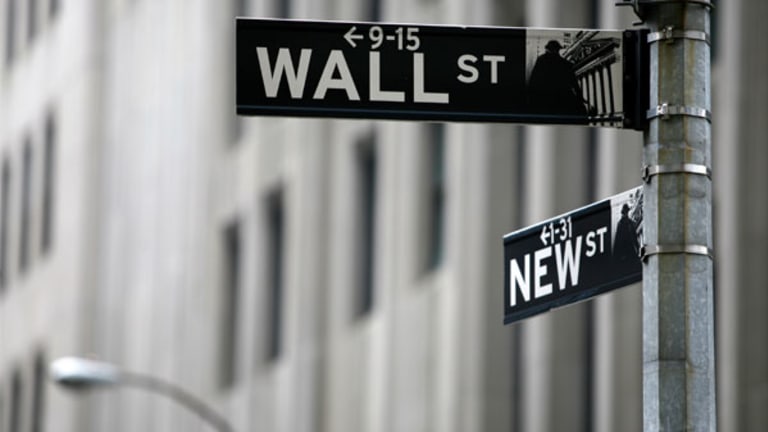 Home Depot, Lowe's, Best Buy: Doug Kass' Views
Doug Kass shares his thoughts on the Trump world and how large-cap biotechs are doing.
Doug Kass shares his views every day on RealMoneyPro. Click here for a real-time look at his insights and musings.
Changing Leadership in a Trump World
Originally published Nov. 21 at 8:27 a.m. EDT
The Trump rally was two weeks old on Wednesday. It has carried the small-cap index and Dow Jones Industrial Average to new highs and the Nasdaq Composite and S&P 500 close to new highs.
However, looking under the hood discloses a change of leadership and more of a mixed picture. Indeed, conflicting group performance is as great as the last time we observed it--back in the first quarter of 2000, when tech screamed higher as consumer and industrial stocks faltered.
By March 2000, at the near end of that year's first quarter, there was an inflection point in which tech cracked and many of the out-of-favor groups began to recover.
March 2000 marked a major change in leadership and market direction.
To me, the extended tech bull market that came to an end in the first quarter of 2000 compares to the extended bond market run, which seemingly came to its conclusion four months ago. Recently the crack in bonds has accelerated, signaling a major shift in the three-decade bull market in bonds--something I have described as a Generational Bottom in Bond Yields.
The Trump victory has produced selling in bond-equivalent stocks and buying in financial and industrial stocks.
The questions at hand are (1) whether the new leadership is simply an election-related bump or something bigger, and (2) whether this leadership change is occurring (as is typical historically) to a bear market.
Much will depend, in my view, on whether the rise in yields is sustained and whether the rise in interest rates becomes a threat.
We do know that retail investors have returned in size. The total amount flowing into equities and ETFs of $45 billion was only exceeded in mid-2007--a poor time to buy stocks. The AAII (American Association of Individual Investors) bullish reading is the highest in 23 months.
The contrarian would be concerned about the sudden public affinity with the equity markets in such a brief period of time.
I do have a view that the magnitude of the gains in the market-leading groups may be too quick to be sustained. To make the Brexit analog, that rally lasted a total of three weeks (a week beyond Wednesday's two-week celebration of a Trump victory).
Bottom Line
Momentum is strong and the excitement is palpable, but I don't see a runaway leg of the 7-year-old Bull Market as the prospective fundamentals and elevated valuations do not support such an advance.
Position: Long SDS large; short SPY, IWM small .
The Good, the Bad and the Ugly
Originally published Nov. 22 at 3:02 p.m. EDT

"If you work for a living, why the hell do you kill yourself working?"
-- Tuco the Ugly " The Good, the Bad and the Ugly"
The Ugly


And now it's time to run down "The Good, the Bad and the Ugly" ...
The Good
The market remains resistant.
Brokerages and banks hang in strongly.
The Russell Index is killing the shorts--up ($0.75), again.
Retail is experiencing another leg to the upside. JCPenney (JCP) - Get J. C. Penney Company, Inc. Report , Home Depot (HD) - Get Home Depot, Inc. Report , Lowe's (LOW) - Get Lowe's Companies, Inc. Report , Best Buy (BBY) - Get Best Buy Co., Inc. Report , Target (TGT) - Get Target Corporation Report and Macy's (M) - Get Macy's Inc Report are all higher.
Amazon (AMZN) - Get Amazon.com, Inc. Report is a bull.
Agricultural commodities are lackluster, but soybeans are up another up $0.11 after being up $0.25 on Tuesday.
Autos (especially the General Motors (GM) - Get General Motors Company Report kind) have turned around from recent weakness.
Campbell Soup (CPB) - Get Campbell Soup Company Report leads a higher consumer nondurables market sector.
DuPont (DD) - Get DuPont de Nemours, Inc. Report is DuLovely. Looks like it may be headed for a new high.
The Bad
Large cap biotech has turned much weaker--Allergan (AGN) - Get Allergan plc Report and Celgene (CELG) - Get Celgene Corporation Report are downside features.
Speculative biotech is worse Acadia Pharmaceuticals (ACAD) - Get ACADIA Pharmaceuticals Inc. Report , Aerie Pharmaceuticals (AERI) - Get Aerie Pharmaceuticals, Inc. Report , Sage Therapeutics (SAGE) - Get SAGE Therapeutics, Inc. Report .
Big pharma, yuck. Merck (MRK) - Get Merck & Co., Inc. Report , Bristol-Myers Squibb (BMY) - Get Bristol-Myers Squibb Company Report and Johnson & Johnson (JNJ) - Get Johnson & Johnson Report sticking up the joint.
Gold ($1,211) has no bottom. Test of $1,200 seems likely.
Core investment shorts, Cicso Systems (CSCO) - Get Cisco Systems, Inc. Report and Coca-Cola (KO) - Get Coca-Cola Company Report can't rally.
Position: Long DD, SDS large, GLD small CPB, JCP large; short CSCO, KO, IWM, SPY.
Action Alerts PLUS, which Cramer co-manages as a charitable trust, is long AGN and CSCO.
Doug Kass is the president of Seabreeze Partners Management Inc. Under no circumstances does this information represent a recommendation to buy, sell or hold any security.