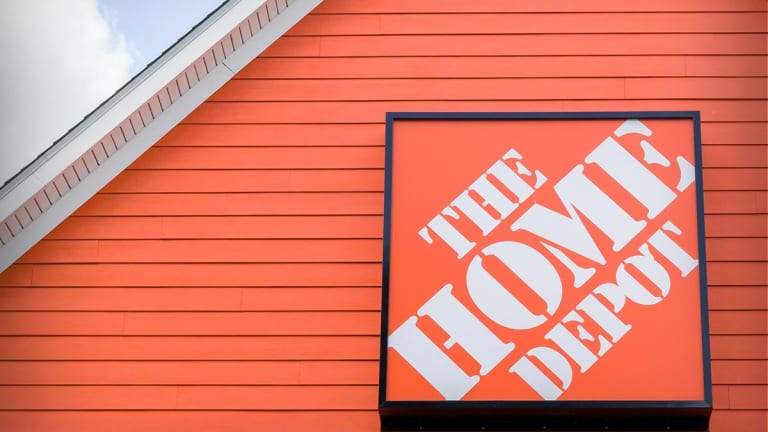 Home Depot and Johnson & Johnson Are Among Stocks Driving the S&P 500
The bull market just had its 10-year anniversary but the gains have not been evenly distributed. A small number of stocks have been the main drivers, and some of these names are not what you might expect.
It's no secret now that the bull market of this past decade has been powered by a handful of stocks, primarily in the tech sector. According to the data crunchers at Goldman Sachs, "[J]ust ten stocks accounted for nearly 25 percent of the 10-year index return. Apple shares generated a 32 percent annualized total return during the past 10 years and single-handedly accounted for 20 percentage points of the S&P 500 total return."
Now, we've all seen the headlines about Amazon (AMZN) - Get Amazon.com Inc. Report  and Apple  (AAPL) - Get Apple Inc. Report , but the techies aren't the only drivers of the market gains. Some unexpected names have turned up on Goldman Sachs' list. We'll take a look at three of them, and dive into TipRanks' database to see what Wall Street analysts have to say about whether these stocks still make compelling investments.
Home Depot
First on our list is the largest retailer of home improvement and light construction supplies in the U.S., Home Depot (HD) - Get Home Depot Inc. (The) Report . While the company has been getting mixed reviews from analysts in recent weeks, its overall strong performance has been a consistent bright point in the stock market. HD shares have appreciated 154% over the last five years, and the average annual return since the bull market started in 2009 has been 29%.
Growing softness in the housing sector - with slowing home sales - have sparked concerns recently about Home Depot's ability to continue delivering returns on that scale, but the company's executive vice president and chief financial officer, Carole Tome, addressed the issue in the earnings call on Feb. 26. Pointing out that average home equity has doubled since 2011 and now stands at $193,000, giving homeowners a substantial resource on which to draw for upkeep work, she said, "The other aspect of the housing market is just the age of the housing market. Fifty-two percent of the homes are older than 40 years. We know that spend for homes that are 40 years and older is 30% greater than spend on homes less than 10 years."
In a related point, UBS analyst Michael Lasser, whose questions during the call prompted Tome's comments, recently reported on a survey conducted by UBS of 2,000 homeowners, which found that a 39% plurality are planning to buy home-improvement supplies at Home Depot in the first half of this year. Lasser takes a bullish view of the stock, giving it a $215 price target which suggests 17% upside from current levels.
Scot Ciccarelli, from RBC Capital, agreed that HD has a solid sales outlook, at least in the near-term. He said, in a comment published after the earnings call, "The strong comp outlook suggests [the] home improvement core is still robust." Ciccarelli's price target on the stock, $203, implies an 11% upside potential.
HD gets a relatively optimistic moderate buy rating on the TipRanks analyst consensus, based on eight buys and three holds. The stock is trading at $182, so the average price target of $203 indicates an 11% upside.
Johnson & Johnson
Johnson & Johnson (JNJ) - Get Johnson & Johnson Report is probably best known for Q-tips and no-tears shampoo (at least, that's what this author associates with the name!), but the company's divisions include advanced medical devices and pharmaceuticals as well as consumer healthcare products.
As an investment, JNJ has been profitable for long-term shareholders. The stock averaged a 15% annual return through the current bull market, and is up 69% over the past five years. JNJ also offers a reliable dividend at a 2.6% yield, for an annual payout of $3.60 per share. In fact, due to the nature of its product line, Johnson & Johnson is considered a classic "defensive stock" - there will always be customers with a need for the company's products.
Back in January, five-star RBC analyst Glenn Novarro pointed out that JNJ's management "has set conservative 2019 guidance. As such, expect the 'beat and raises' [of earnings expectations] to continue." He gave the stock a $144 price target, which implies a modest 4% upside from today's share prices.
February 2019, however, saw some important developments for JNJ on the medical device and pharmaceutical fronts. The company received Food and Drug Administration approval for Spravato, its eskatamine nasal spray for patients suffering from treatment-resistant depression. Also, JNJ announced a $3.4 billion deal to purchase Auris Health, a maker of robotic surgical instruments.
Cowen analyst Joshua Jennings commented on the esketamine approval, saying, "Spravato is believed to have blockbuster potential and the timely approval should provide investors with increased confidence in JNJ's 2019 revenue growth." Jennings gave JNJ an 11% upside potential, with a price target of $155.
From Credit Suisse, Vamil Divan pointed out "the Auris deal is an incremental near-term positive, with potentially significant long-term positive impact..." Divan's price target on JNJ stock, $151, suggests an upside of 9%.
Johnson & Johnson gets another moderate buy rating from the analyst consensus, with six buys and three holds. It has an average price target of $146, giving it a 5.6% upside to the current share price of $138.
UnitedHealth Group
UnitedHealth Group (UNH) - Get UnitedHealth Group Incorporated (DE) Report is the giant in the health insurance industry, the world's largest health insurer. Like JNJ, it's considered a defensive stock, showing consistent performance no matter how the economy moves. That consistent performance has translated to a 31% annual return during this bull market, with share-price appreciation of 223% in the last five years. While the company's dividend yield is a low 1.48%, the share price is high enough that the annual payout comes to $3.60 per share - matching JNJ's.
The market analysts have been unanimous on UNH, giving it buy ratings across the board. The most recent comes from Cantor Fitzgerald's Steven Halper on Feb. 21, who wrote regarding UNH's recent contract with Optum for pharmacy benefit management services: "We continue to believe that UNH continues to invest in Optum, in order to build Optum but also to improve performance of the UnitedHealthcare health plan business. Management provided many examples of how UHC leverages Optum's different capabilities. Ultimately, the goal is to decrease the cost of care and improve quality of care to consumers."
Halper's bullish view on UNH extends to his price target, which at $310 implies a 27% potential upside.
It's not common to find a stock that all the analysts agree on, but UNH gets 12 buys for a solid consensus strong buy rating. Shares are trading at $243, so the $308 average price target means that this stock has a potential upside of 26%.
Amazon, Apple, Home Depot, Johnson & Johnson and UnitedHealth are holdings in Jim Cramer's Action Alerts PLUS member club. Want to be alerted before Jim Cramer buys or sells the stocks? Learn more now.
offers exclusive insights for investors by focusing on the moves of experts: Analysts, Insiders, Bloggers, Hedge Fund Managers and more. See what the experts are saying about your stocks now at
. Author: Michael Marcus.