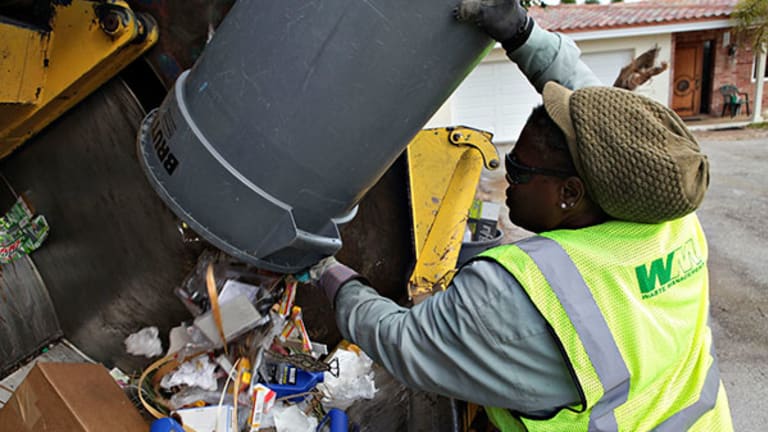 Holidays Mean a Spike in Business for This Underappreciated Industy
U.S. households typically produce 25% more waste than usual between Thanksgiving and New Year's. David Steiner, CEO of Waste Management, says his company is ready to handle the surge.
The volume of household waste produced in the United States typically rises around 25% between Thanksgiving and New Year's Day, with approximately 1 million extra tons of food waste during this period. David Steiner, CEO of Waste Management (WM) - Get Waste Management, Inc. Report , said his company is ready to handle the surge.
The USDA and EPA launched the first food-waste reduction goals for the U.S. this fall, targeting a 50% drop in food waste by 2030. Waste Management provides food waste collection to residential and commercial customers, and also developed technology that uses food waste to power renewable energy generation.
Meanwhile, Steiner said modern holiday shopping has created a spike in the amount of cardboard waste, thanks to the rise of Amazon (AMZN) - Get Amazon.com, Inc. Report and other online shopping outfits. He said the foundation of recycling has historically been paper, but there is 50% less newspaper waste than decade ago.
"We've got 20,000 people out there doing this amazing logistics dance every day, picking up everything you are going to produce between Thanksgiving and New Year's," said Steiner.
Steiner said the recycling industry has been hit by a double whammy in that processing costs are up while prices paid on the back end for materials is down due to the decline in commodity prices. As a result, investment in recycling infrastructure is down. Steiner said he is taking a number of steps to improve the long-term outlook for recycling with the ultimate goal of meeting customer needs while generating appropriate returns.
"We can recycle anything you want us to recycle, but for cardboard and plastic we can actually pay customers to recycle," said Steiner. "For organics and glass, we've got to charge you to recycle and some customers want that and some don't."
Outside the cyclical spike in holiday garbage creation, Steiner said a robust housing market is a major secular force in his market. He said the building of new homes not only creates short-term waste disposal opportunities during the construction process, but it also creates new long-term customers.
"We have not bounced back to our pre-recession levels yet," said Steiner. "As we see housing starts improve over the last couple years, we started to see our volumes come up, so I think 2016 is going to be a really good volume year for us."