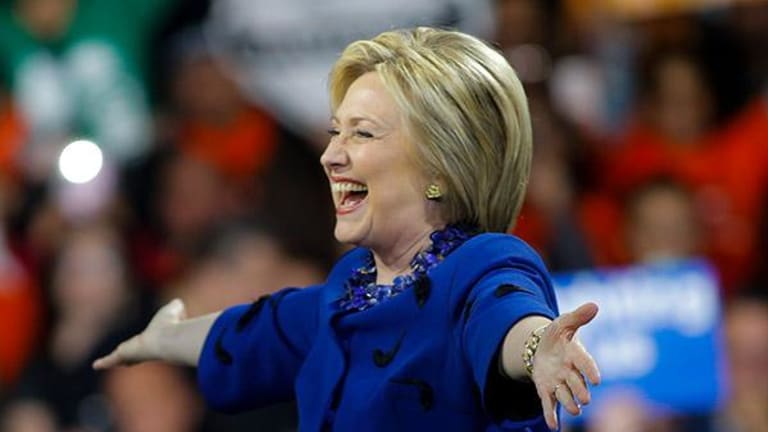 Barack Obama Is Now Among 10 Highest-Paid Public Speakers
Former President Barack Obama has been on an unofficial speaking tour since leaving office. TheStreet looks at several other big-names rolling in the cash.
The Clintons provided the modern blueprint for how to get rich once a U.S. President leaves office, and former President Barack Obama is following their example on his way to a small fortune of his own. 
Bloomberg reported this week that Obama recently gave an address to private equity firm Carlyle Group LP. That speech follows up another one he gave to clients of Northern Trust Corp. for $400,000 last month. Obama is expected to be paid another $400,000 for a speech at a healthcare conference sponsored by Cantor Fitzgerald next week. 
It's not bad work if you can get it, and though Obama entered the White House with a rocky relationship with Wall Street's bigwigs, his working relationship with them now stays "true to his values," Kevin Lewis, a spokesman for the former president told Bloomberg. 
Timing is everything for many of these speakers. Current President Donald Trump, for instance, was able to charge $1.5 million for speeches he made in 2008 at the height of the popularity of his television show. 
Here is a look at 10 other speakers cleaning up. 
10. Al Gore
Environmentalist and former Vice President Al Gore has been able to command a $100,000 fee for his speeches. 
More of What's Trending on TheStreet:
Editors' pick: Originally published Sept. 21.
9. Condoleeza Rice
The former Secretary of State under George W. Bush commanded a fee of as $150,000 for a speech at the University of Minnesota in 2014. 
8. George W. Bush
An inspirational speech from former Texas Governor and U.S. President George W. Bush will cost you anywhere between $150,000 and $200,000 these days. 
7. David Cameron 
Former U.K. Prime Minister David Cameron gets $155,000 per speech, according to the Daily Mail, nearly equal to his salary as head of the United Kingdom. 
6. Tony Blair
Fellow former U.K. Prime Minister Tony Blair charges about $200,000 per speech. At one point Blair was booked solid for two years, according to British paper the Standard. 
5. Clintons
Bill, Hillary and Chelsea all make well into six figures to speak in front of large crowds. Bill and Hillary alone have reportedly made over $150 million in speaking fees between 2001 and 2015. 
4. Alan Greenspan
Economist and former chair of the Federal Reserve Alan Greenspan earns about $250,000 per speaking engagement. 
3.  Arnold Schwarzenegger
Actor turned California Governor Arnold Schwarzenegger terminates much of his competition on this list, also raking in $250,000 per speech. 
2. Ben Bernanke 
Former Federal Reserve chair Ben Bernanke has charged between $200,000 and $400,000 per speech since he left the central bank in 2014. 
1. Barack Obama 
The nation's first African American President has been in the news recently for his speaking fees. He will earn $400,000 for his next speech, about equal to his annual salary when his office was on 1600 Pennsylvania Ave.