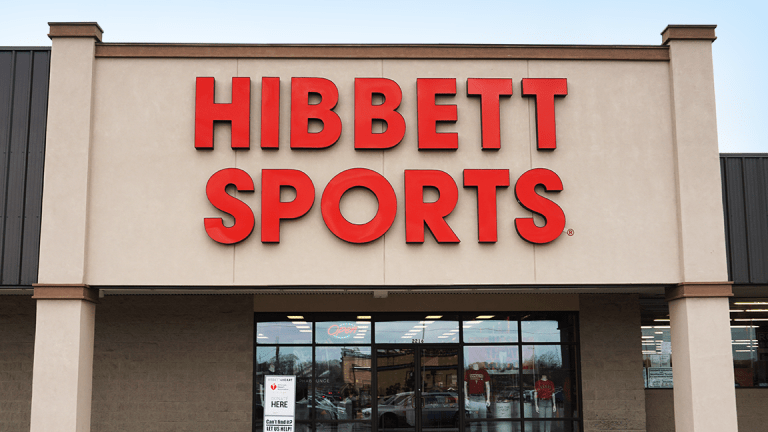 Shares of athletic clothing retailer Hibbett Sports (HIBB) - Get Hibbett Sports, Inc. Report flew past the fence on Friday after the company reported earnings that scored far higher than analysts' forecasts.
Shares of Hibbett Sports jumped more than 20% in early trading on Friday after the company posted fiscal first-quarter net income of $27.4 million, or $1.48 a share, compared with net income of $21.5 million, or $1.12 a share, a year earlier.
Excluding non-recurring costs, non-GAAP net income for the 13-week period ended May 4 was $29.8 million, or $1.61 a share. Analysts polled by FactSet had been expecting earnings of $1.32 a share.
Sales jumped 25% to $343.3 million for the fiscal quarter, while comparable-store sales increased 5.1%.
Strength in footwear and sneaker-connected apparel and accessories continued to offset softer sales in licensed products and team sports items, the company said in a statement.
The company also raised its guidance for fiscal 2020, saying it now expects per-share earnings of between $1.70 and $1.85 vs. previous expectations of per-share earnings of between $1.50 and $1.70.
Hibbett Sports now expects comparable-store sales of between 0.5% and 2% vs. previous guidance of between down 1% and up 1%.
Shares of Hibbett Sports were up 21.75%, or $4.31, at $24.13 in afternoon trading on the Nasdaq Stock Market.
Hibbett's Sports operates retail sporting-goods stores predominantly in strip-mall centers anchored by a Wal-Mart (WMT) - Get Walmart Inc. Report store.