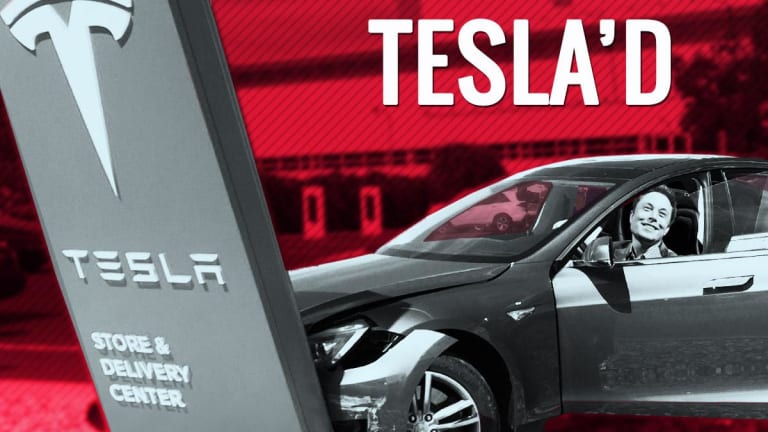 Hey Elon Musk, Please #StopTweeting Now
The CEO just can't help himself on Twitter -- but it's not doing his stock any favors.
Tesla Inc.  (TSLA) - Get Tesla Inc Report shares are again begin pummeled on Friday, as the stock remains as volatile as ever.
Shares plunged 14% in a single session near the end of September, as questions swirled around what would become of chairman and CEO Elon Musk, as the Securities and Exchange Commission pressed forward with its lawsuit.
However, the stock then jumped some 17% just a day later after Musk reached a settlement with the SEC. He agreed to relinquish his role as chairman for three years, pay a $20 million fine and have two independent board members added to Tesla.
On Thursday after the close though, the CEO went back to Twitter (TWTR) - Get Twitter, Inc. Report , causing even more of a stir. While the two-day decline in the Nasdaq isn't helping matters, many will argue that's Musk's latest tweets aren't doing any favors for the stock. In fact, many are saying the recent declines are a direct result of his social-media actions. 
My suggestion to Musk is simple: Stop using Twitter!
It not only gives the short-sellers glee (and future ammo for ridiculing) but now it's giving them exactly what they're looking for -- a falling stock price. Musk can defend his stance all he wants. After all, a brainiac billionaire probably isn't worried about what most people think. But at this point the tweeting has become detrimental to Tesla's stock price and to that effect, Musk's net worth as he owns a significant stake in the company.
Even the longs are pleading with him. Tesla owners and shareholders are asking Musk to stop focusing on the SEC and short sellers, and simply focus on the "mission" at hand. Others say these tweets are "hurting" the company's biggest supporters. 
With shares closing lower by 7.05% to $261.95 in Friday trading, they're right.
The point isn't that Musk shouldn't have a voice or that interacting with people on Twitter is a bad thing. In fact, it's a good thing when done responsibly. But at this point, most shareholders would prefer that Musk stop getting into hot water over useless tweets and simply prove his doubters wrong the old fashioned way.
In the past, TheStreet has spoken with Ross Gerber regarding Tesla. He's the president and CEO at Gerber Kawasaki, a wealth and investment management firm in Santa Monica, CA., and is a shareholder in Tesla who sums it up perfectly right here:
"It's amazing - time keeps moving and it keeps getting crazier. Yet the one constant continues to be that Elon Musk just needs to sit down and shut up," said Ted Gavin, managing director and founding partner of Gavin/Solmonese where he is a restructuring and corporate insolvency expert. "I've never seen anyone shoot themselves in the leg so many times, yet still get up to do it again."
Want to Buy $1 Worth of Stock for 90 Cents or Less? You can with certain so-called "closed-end" mutual funds - an often overlooked investment class. Click here to register for a free online video in which TheStreet's retirement expert Robert Powell and an all-star panel tell you all you need to know.
This article is commentary by an independent contributor. At the time of publication, the author had no positions in the stocks mentioned.