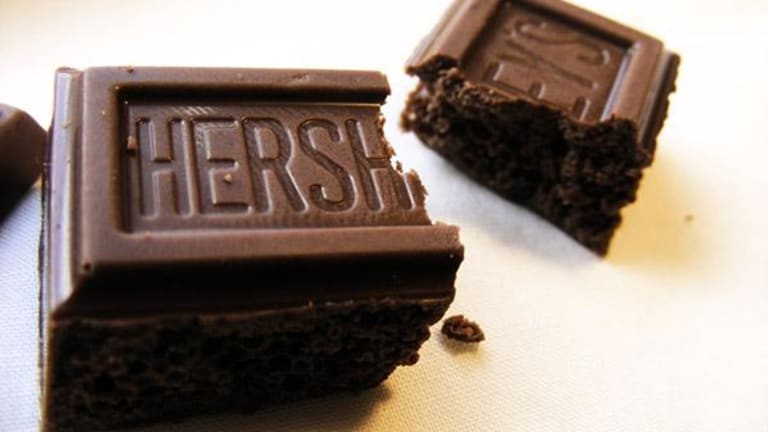 Hershey Should Be Ashamed of Itself
In rejecting Mondelez' latest offer Hershey shows it isn't sweet on its shareholders.
Boy oh boy, did Hershey's (HSY) top brass just shaft its shareholders or what?
The folks on the powerful Hershey Trust should be ashamed of themselves as they prepare to sun it up during the long holiday weekend. Not to take Mondelez's (MDLZ) interest as serious from the get-go was concerning from a pure shareholder-rights perspective.
While the trust, which owns 81% of the voting stock on Hershey, has an obligation to maintain Milton Hershey's ideals (such as supporting local under-privileged kids), it also has an obligation to maximize the value of the company -- and to its shareholders.
For Hershey CEO John Bilbrey to toss back to Mondelez CEO Irene Rosenfeld that its $125 a share bid would be the starting point for negotiations -- meaning the very fair $115 bid that Mondelez reportedly offered last week (up from $107 originally) was nowhere near acceptable -- smacks of an entity that may have forgotten it's a publicly traded company.
The outcome to this saga shouldn't really be surprising.
In 2002, the charitable trust that controls Hershey abandoned a $12.5 billion cash-and-stock offer from fellow candy-maker Wm. Wrigley Jr. Co. in the final stages of approval. Wrigley's offer represented a generous 42% premium over Hershey's stock price at the time, and Hershey's auction attracted a joint bid from Nestle and Cadbury Schweppes. Wrigley went on to be acquired by Mars for $23 billion in 2008 in a deal that was financed by legendary investor Warren Buffett. And Cadbury was acquired by Kraft Foods, which split off its confectionery business into Mondelez in 2012.
With the dividend-paying stock currently down 11%, there is an itch to buy on weakness. But that itch shouldn't be scratched, for several reasons.
For starters, Hershey could now be looked upon as being an even more shareholder-unfriendly entity than it has already long been perceived. In an environment where public company execs are turning more shareholder friendly in order to thwart activist investors and, ultimately, keep their jobs, Hershey's reluctance makes it stick out in a negative way. In short, its corporate governance isn't evolving with the times, which is a problem seeing as the stock is priced for perfection (perfection with dividend increases, executive management and corporate governance).
Second, Hershey has now put itself in an interesting predicament: It may be too big to be acquired by any one player. In saying $125 a share is the table stakes to start negotiations it likely means that Hershey wants someone to swoop in and pay north of $130 a share and make all sorts of concessions.
What other large food company has that kind of balance sheet, appetite to assume a huge amount of debt and desire to give Hershey complete control of the kingdom? The answer is nobody, not even Warren Buffett, who isn't going to pay $135 a share for Hershey. Moreover, anything north of $125 a share likely means any suitor is over-paying to gain access to a slow-growth candy company.
Finally, now that Hershey has quashed any hopes for a deal, the market will turn back to the operating performance of the company. That renewed scrutiny on fundamentals could weigh on Hershey even more as consumers continue to cut out sugar from their diets. It's an embedded trend that will never go away, bottom line.
That, as well as admitted execution missteps on product by management this year, will likely keep earnings growth subpar for the near term. Further, the company's latest efforts to get into snacking by acquiring Barkthins and Krave (meat snacks) are lower margin opportunities relative to candy bars.
Judging by the fundamentals and anti-shareholder trust, Hershey shares may need a larger re-rating than the one on display today. This entire development reaffirms that General Mills (GIS) is the one to own in the packaged-food space. The company is shareholder friendly, isn't afraid of doing big deals and has successfully evolved the product portfolio.
Editor's Note: This article was originally published at 10 a.m. and updated at 11:15 a.m. EDT on Real Money on Aug. 30.
Employees of TheStreet are restricted from trading individual securities.