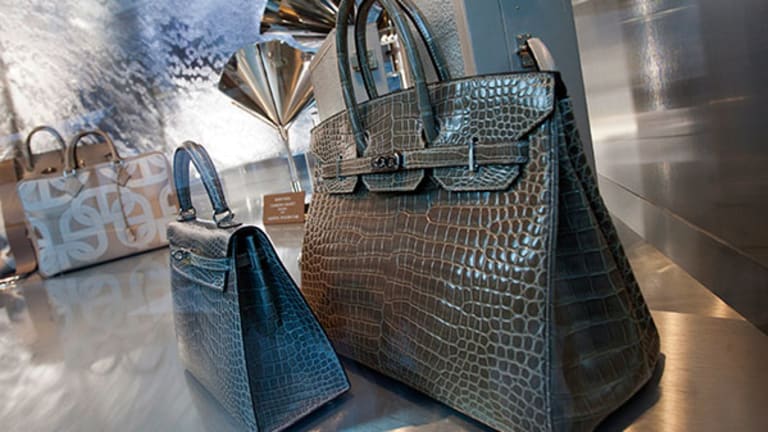 Hermes Says First-Half Profit Should Be Near All Time High Despite Slowing Sales Growth
The Birkin Bag maker posted an 8% increase in revenues in the second quarter, down from 11% in the previous three months.
Hermes International SCA (HESAY) , the French maker of the $10,000 Birkin handbag, said first-half operating profit should be near the all-time peak achieved last year despite slower sales growth in the second quarter.
Paris-based Hermes on Friday, July 21, posted second quarter revenues of €1.36 billion ($1.57 billion), up 8% in constant currency terms on the same period a year earlier. The rate of growth fell below the 11% increase in the first quarter of this year, prompting a mixed reception from the markets.
Hermes stock opened higher before dipping in morning trading to €439.75, marginally lower than its Thursday close.
"The operating profitability at the end of June should be close to the highest historical level achieved last year," said Hermes. "This performance cannot be extrapolated over the full year, due in particular to the favorable impact of foreign exchange hedges in the first months of the year."
Currency movements are likely to play a decisive role in the company's second half results when the strong euro, which climbed to a two-year high against the dollar on Friday, could weigh on earnings.
Hermes' sales have been driven by strong growth across all its key regional markets and notably China, where new demand drove a 12.4% increase in sales in the company's Asia (excluding Japan) business. European sales also grew strongly, rising 12.2% over the quarter once lackluster growth of just 0.6% in France was stripped out.
Sales at the group's biggest division, leathergoods, rose to €708 million over the second quarter, up 9.7% at constant exchange rates, while the ready-to-wear and fashion accessories business climbed 12.7% to €296.3 million.
"Hermes remains the closest brand in our coverage to the 'perfect luxury paradox', simultaneously balancing characteristics like timeless, modernity, growth and high profitability," noted RBC Capital Markets. Despite that strength the broker warned that the company looked fully priced at 34 times its forecast 2018 earnings and kept a "sector perform" rating on the stock.
Hermes CEO Axel Dumas said he was "optimistic for the future" and noted that demand had continued to prove strong for the company's Birkin, Kelly, Constance and Lindy bags as well as its shoes.
"In the medium-term, despite growing economic, geopolitical and monetary uncertainties around the world, the Group confirms an ambitious goal for revenue growth at constant exchange rates," said the company.
Hermes half-year results are due on September 14.