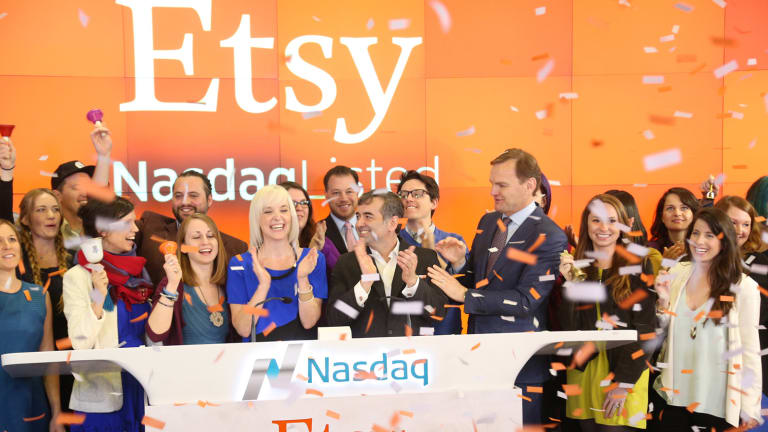 Here's Why Shopify's IPO Was a Winner and Etsy's Just Fizzled
Etsy's IPO didn't soar like Shopify's. Here's why.
NEW YORK (RealMoneyPro) -- What a difference an IPO's business can make!
Some can be fantastic performers, while every now and again we get one that flops out of the gate. Nothing captures that better than the recent IPO of online goods seller Etsy  (ETSY) - Get Etsy, Inc. Report, which has seen the company's shares fall more than 40% since the offering, and Shopify (SHOP) - Get Shopify, Inc. Class A Report, a software that helps retailers sell goods online, that saw its shares vault higher on the first day of trading after pricing the offering at $17 per share.
At first blush you might say "oh, they both sell products online," but that would be a mistake. While Etsy is more or less a portal that enables "people to connect, make, sell and buy products," Shopify is the enabling software that has allowed small and medium size companies to get their business up and running on the web or mobile platforms.
Lifting from Shopify's registration statement with the Securities Exchange Commission, we find "The total number of merchants using our platform grew from 41,295 as of December 31, 2012 to 162,261 as of March 31, 2015." If you're looking for examples of Shopify's customer base, take a look at pages 93-94 in the registration statement.
As you peruse that filing, you'll start to see these two companies could not be more different than chocolate and peanut butter -- and at least for now there is no Reese's Peanut Butter Cup stock that brings those two flavors together.
My investing style combines thematic-based tailwinds with an ecosystem perspective, which tends to give rise to my "buy the bullets, not the guns" principle.
Examples include the Qualcomm (QCOM) - Get Qualcomm Inc Report bullet to the Apple (AAPL) - Get Apple Inc. Report or Samsung gun, the United Natural Foods (UNFI) - Get United Natural Foods, Inc. Report bullet to the Whole Foods Market (WFM) , Kroger   (KR) - Get Kroger Co. Report or other grocery chain gun, Mueller Water Products (MWA) - Get Mueller Water Products, Inc. Class A Report to the water infrastructure capital spending by water utilities like American Water Works (AWK) - Get American Water Works Company, Inc. Report, and Cavium Networks (CAVM) as the bullet behind network gear sold by Cisco Systems  (CSCO) - Get Cisco Systems, Inc. Report and internal efforts by Facebook (FB) - Get Meta Platforms Inc. Class A Report, Google (GOOGL) - Get Alphabet Inc. Class A Report and Amazon.com  (AMZN) - Get Amazon.com, Inc. Report.
To me, Shopify is another example of an enabling platform that will benefit from continued growth of the Internet and mobile adoption.
Etsy on the other hand, and at least to me, is far more like Coupons.com (COUP) - Get Coupa Software, Inc. Report or RetailMeNot (SALE) , which are only as good as the merchandise available at the time. A great example of that has been Groupon  (GRPN) - Get Groupon, Inc. Report -- great if you can find a deal you actually want, and as I've often joked I don't know anyone who can eat that much Thai food.
There's another reason to like Shopify's business -- the fact that it derives a significant amount of its revenue from subscription-based services. These offer great visibility and usually pretty good cash flow generation. During the recently completed March quarter, such services accounted for 60% of the company's revenue. The company generates the majority of its revenue from merchants located inside the US, which means minimal U.S. dollar exchange rate exposure to worry about.
My only problem with Shopify has nothing to do with the company's business. My problem is that it's an IPO, and I shy away from them as much as possible. Eventually, there is the insider lock-up to worry about, which in Shopify's case comes 180 days after the IPO. I've been investing in more than a few companies following the lock-up expiration, like Facebook, and have not felt like I'd missed out at all. Hopefully, Shopify will fall into that camp as well.
As you're reading this, you're probably wondering "What about getting companies onto mobile platforms outside the US? What about China?" Good questions, and for that there is Baozun (BZUN) - Get Baozun Inc. Report that through its wholly owned subsidiary, Shanghai Baozun E-Commerce Limited, provides e-commerce solutions in China and counts Nike (NKE) - Get NIKE, Inc. Class B Report,Microsoft (MSFT) - Get Microsoft Corporation Report and Philips (PHG) - Get Koninklijke Philips NV Report among its customer base. Much like Shopify, however, Baozun is also a newly public company, which means the same rules apply for Baozun shares as Shopify shares.
Originally published May 22, 2015 at 1:00 p.m.
This article is commentary by an independent contributor. At the time of publication, the Thematic Growth Portfolio that Chris Versace manages is long QCOM, CAVM, UNFI, MWA, AWK, FB.