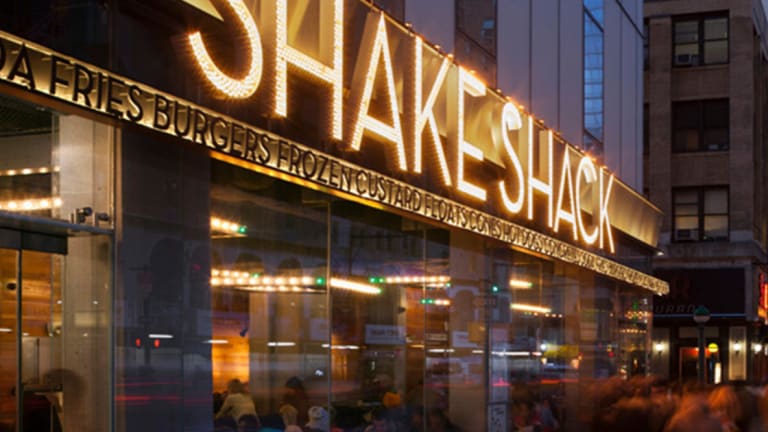 Here's What's So Delicious About the Coming Shake Shack IPO
TheStreet TV's Jack Mohr examines the incredibly strong growth of Shake Shack but says investors should pay no more than $25 a share when the company goes public Friday.
NEW YORK (TheStreet) -- Investors are hungry to get in on the Shake Shack initial public offering Friday, when the company starts trading under the ticker SHAK. Shares will price after the close on Thursday. The company's planned range is between $17 to $19 for the 5.75 million share offering. 
Shake Shack is the "cooler, smarter, tastier and more upscale burger joint," according to TheStreet TV's Jack Mohr. It's basically the "polar opposite" of McDonald's (MCD) - Get Free Report  because Shake Shack uses all-natural, hormone-free and antibiotic-free beef, he added. 
However, Shake Shack's financials are as delicious as its burgers, Mohr said. Even TheStreet's Jim Cramer, co-manager of the Action Alerts PLUS portfolio, finds the fast-casual burger joint attractive. 
The company generates average annual unit sales of $5 million, with units referring to locations, Mohr explained. While $5 million may not seem likely a lot at first, consider that best-in-breed Chipotle Mexican Grill (CMG) - Get Free Report generates average annual unit sales of $2.2 million. 
Shake Shack's domestic locations also have impressive cash-on-cash returns of 65%, meaning the payback period of opening a new location takes less than two years.
If the company can open new locations and generate industry-leading sales at each one, why aren't there more? 
That's what's so promising for investors, Mohr said. Shake Shack plans to triple the number of locations, to 190 from 63, over the next five years. Mohr said investors can justify paying up to 5.5 times forward sales, or up to $25 per share. 
This would represent a 36% premium to $18, the midpoint of the the $17 to $19 offering range. However, shares are likely to rally rather quickly, meaning investors may need to wait for a pullback before getting long.
-- Written by Bret Kenwell