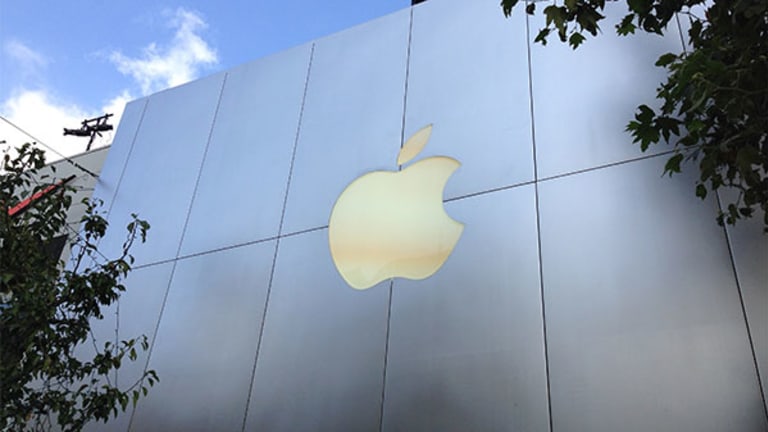 Here's What Apple's Murder of Microsoft Might Look Like
Tim Cook isn't about to stop at the mouth of his Apple/IBM partnership. He'll continue to provide businesses with reasons to switch from Microsoft.
NEW YORK (TheStreet) -- On Apple's (AAPL) - Get Apple Inc. Report earnings call Tim Cook went on the record -- Apple can make iPad more valuable for businesses. Thus the partnership with IBM (IBM) - Get International Business Machines Corporation Report to produce mobile-first apps for all sorts of enterprise purposes.
But this can't possibly be the end all and be all of Apple's plans. Why would it stop there? Why should it stop there? Steve Jobs masterfully shifted consumer preference from Microsoft (MSFT) - Get Microsoft Corporation Report to Apple. It makes all the sense in the world for Tim Cook to take this currency with consumers and further transfer it to the corporation.
Under Cook, Apple certainly doesn't lack the ambition to do more than build some apps with IBM and call it a partnership that will extend iPhone and iPad's reach with businesses. There must be more now as well as more on the way. That's one reason why I suspect Microsoft needs to worry.
Microsoft loyalists like to make this more complicated than it needs to be. They take the same approach as ardent BlackBerryundefined fans took as Apple was crushing the artist formerly known as RIM. They contend that layman hacks such as myself just don't understand the use of information technology in the enterprise. And that no company can possibly replace Microsoft's role in performing critical IT functions. But we all know what happened with RIM; iPhone supplanted BlackBerry and the Playbook tablet didn't make a dent in iPad's omnipresence.
Let's keep it simple -- we're already seeing Google (GOOG) - Get Alphabet Inc. Class C Report make incredible headway with its Chromebooks and software and services suite in education as well as the enterprise. Much of this success comes at the expense of Microsoft. We already know that Apple's iPad dominates tablet-related traffic with both consumers and businesses. And, if we don't already, we should accept as fact that these things are happening because consumer preference dictates enterprise (and education) adoption. Apple knows this, which tells me it's a no-brainer that the IBM partnership represents the beginning of something big.
If you're Apple, you have to have a vision past the tip of your nose. One that says we'll partner with other companies to either jumpstart things we could probably do on our own and accomplish things we probably could not do on our own. And we'll continue to evolve these partnerships.
So, if you're out on the ground selling these IBM iOS apps, wouldn't it be great -- and make perfect sense -- to be able to say, Oh, by the way, when's the last time you looked at Apple's iWork suite? That's just one one obvious line I'm thinking along, but I don't see anybody else going there. That's a mistake, which makes me think I'm out in front here.  
Apple already made an offensive move last year with iWork -- that's Pages, Keynote, Numbers -- by providing it free to buyers of new iPhones and iPads. Don't be surprised if Apple has some sort of "re-grand opening" vis-a-vis iWork, improving the applications to more effectively compete with Microsoft Word, PowerPoint and Excel. I use iWork everyday and I'm convinced quite a few people (even loyal Mac users) either don't know it exists or don't realize it's every bit as good as Office (with the possible exception of Numbers versus Excel).
But, again, there's no need to dive into minutia. That's not my job. That's not your job. And, if it was, it would be a boring job. What we need to do is think logically and conceptually. We need to be able to see what has happened in the past, consider what is happening now and vision what is most logical for the future. Tim Cook didn't welcome Office for iPad into the App Store simply to be a nice guy. It was as backhanded a welcome as I've ever seen. Because Apple is positioning itself to make serious inroads with businesses.
If it didn't go this route, Apple would be wasting the massive consumer mindshare and, in some demos and geographies, marketshare it has built up since Steve Jobs introduced iPod. Just as Google has become ubiquitous in our lives so have Apple devices. There's no reason why both of these companies shouldn't strive to entrench themselves in our professional lives just as they have our personal lives.
It's already happening. And it will continue to trend more wide-ranging and sophisticated. Need-by-need Apple (and Google) will do for companies some of the same things Microsoft does. This will open the door for other Microsoft competitors to stake claim to territory Apple (and Google) leave open. But again, make no mistake, it's the consumer -- consumer preference -- that drives all of this. This is absolutely not lost on Apple (or Google) as evidenced by Chromebook's emergence, applications such as Google Docs becoming more common in the workplace and this most underrated Apple/IBM tie-up.
--Written by Rocco Pendola in Santa Monica, Calif.
Rocco Pendola writes for
TheStreet
. He lives in Santa Monica. Disclosure: TheStreet's editorial policy prohibits staff editors, reporters and analysts from holding positions in any individual stocks.