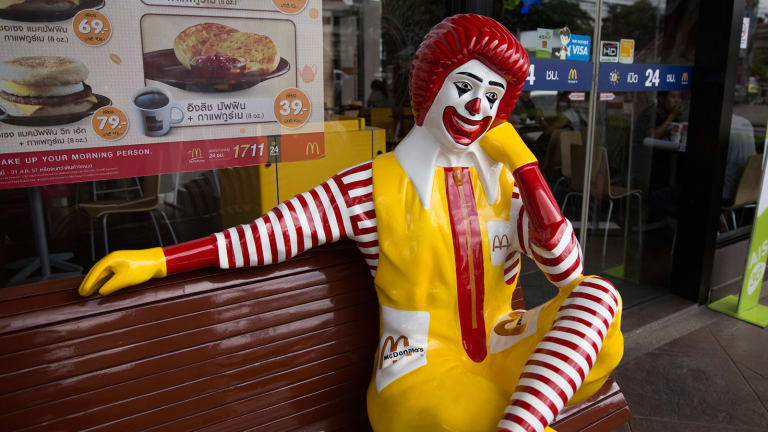 Here's What a McDonald's Television Ad Should Look Like
An unofficial McDonald's ad making the rounds on social media highlights just what's wrong with the Golden Arches' marketing. The ad's director, Chris Williams of Whiskey Tongue, speaks to TheStreet.
NEW YORK ( TheStreet) -- People haven't exactly been McLovin' the return of a creepy, middle-aged human Hamburglar to the TV airwaves. That raises one supersized question.
How can McDonald's (MCD) produce advertising that will appeal to social media-savvy Millennials who are defecting in droves to the burger giant's hipper, supposedly healthier rivals?
A clever independently produced ad, embedded below, has been making the rounds recently on social media and shows what McDonald's is doing wrong. The 60-second video, entitled "Paroled," stars a '50s inspired Ronald McDonald driving an era-appropriate orange Chevy muscle car with his pal Grimace seated next to him.
With Golden Earring's classic rock song "Radar Love" playing in the background, Ronald and Grimace drive along an open highway to pick up the Hamburglar (the non-human version) from a local jail. Their gift for him? A bag stuffed with McDonald's hamburgers, of course, which the Hamburglar happily opens.
As the car drives away, we see the back license plate reads "IM LOVING IT" (the front one, which we see earlier in the spot, reads "GOLD3N," as in Arches). The video ends with the hashtags #robblerobble -- the Hamburglar's catchphrase -- and #oghamburglar,  or "original gangster" Hamburglar.
The wordless ad was made by media production firm Whiskey Tongue and released last week, without any involvement from McDonald's. According to the spot's director, Chris Williams, the nostalgic feel to the ad had two purposes.
"We wanted that throwback fun feeling, back when McDonald's was just selling hamburgers and it was a treat to go there," Williams said. "We wanted something that adults could look back on and relate to, but that was fun for kids."
So far, McDonald's has had no response to the ad, and the company did not respond to an email seeking comment.
"We haven't heard from McDonald's, but I am told McDonald's marketing team has seen it. We have ideas for follow-up videos," said Williams. But in light of the positive responses to the ad on social media, McDonald's, which spends over a $1 billion a year in marketing, would be smart to consider working with Whiskey Tongue on additional episodes.
Using Ronald McDonald in a fun and clever way like this would be in keeping with McDonald's longtime mascot and what he represents. At the company's annual meeting for shareholders this week, new CEO Steve Easterbrook defended the clown from charges that he and his fellow characters appeal disproportionately to children and contribute to childhood obesity.
"With regards to Ronald, Ronald is here to stay," said Easterbrook.
Meanwhile, at an event held in early May to detail McDonald's latest turnaround plans, Easterbrook frequently mentioned the burger giant must get back to its roots of selling "hot, fresh food" with speedy service.
An ad like the one from Whiskey Tongue takes people back to the time when McDonald's food was hot, fresh and, believe it or not, in demand.
Ronald McDonald received a makeover in April of last year, getting new clothing that makes him appear to be more of a New York city hipster than the previous slightly overweight, Middle American fry-eating clown. McDonald's quietly used Ronald in two commercials last year, and created what has become an active Instagram account.
But instead of channeling Ronald's power with simple, creative ads, McDonald's TV marketing has been all over the map recently. The efforts have reeked of a giant corporation trying to do anything to connect with disenchanted customers and boost sales.
Just this month, McDonald's brought back the Hamburglar, a character from the '80s that loved to steal $1 cheeseburgers. The ad has been panned on social media for its apparent creepiness -- a middle-aged married man going around stealing premium third-pound sirloin burgers.
Back in the '80s, the Hamburglar was a cartoon-like figure that, to the chagrin of some parents, pitched the awesomeness of Happy Meals. Free toys? Yes, please.
Prior to the re-introduction of the Hamburglar, McDonald's developed a series of TV ads and online videos breaking down what's in its most popular foods, such as its Chicken McNuggets and beef patties. Although well-intended, given the nation's growing interest in food origin, the ads were met with skepticism from the public, as they didn't detail every process in the company's food production.
The ads have done next to nothing to reverse public perception of McDonald's -- nor have they boosted U.S. sales or the stock price. McDonald's U.S. revenues fell 2.6% in the first quarter, and in April, dropped by 2.3%. Meanwhile, shares of McDonald's have shed 2.7% during the past year, compared to an 11% rise in the Dow Jones Industrial Average (DIA) and a12% gain for the S&P 500  (SPY) .
It's high time McDonald's stopped clowning around with its marketing and made better use of its iconic characters.
This article is commentary by an independent contributor. At the time of publication, the author held no positions in the stocks mentioned.