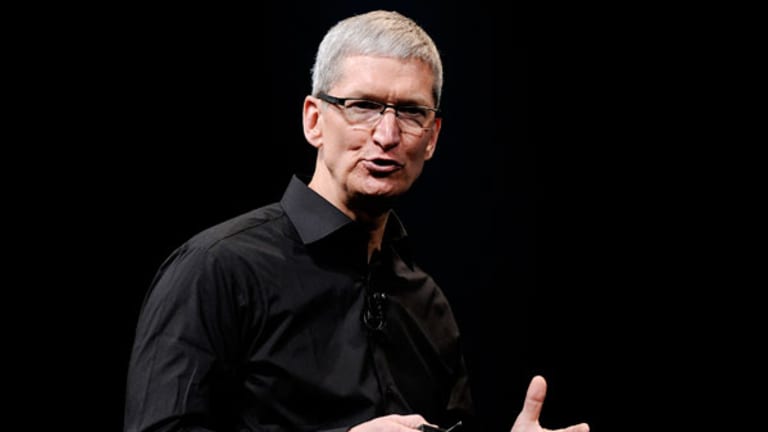 Here's Proof Apple's Tim Cook is a Completely Different Leader Than Steve Jobs
Tim Cook wins more points with customers and shareholders than his visionary predecessor.
NEW YORK (TheStreet) -- If Apple (AAPL) CEO Tim Cook and his predecessor, Steve Jobs, were in a college-level management course today, only one of them would pass the class.
While Jobs, one of the company's founders and its CEO for 14 years, is regarded as a visionary, those who have studied Jobs and his successor say that Cook's attention to people and detail make him a stronger manager in the traditional sense.
"Everything we teach in leadership would lead you to think that Tim Cook is the better leader," said Erik Gordon, an assistant professor who teaches entrepreneurship at the University of Michigan's Ross School of Business. "He certainly doesn't show the disrespect for others Steve Jobs showed."
While Jobs wasn't always rude when responding to emails from customers, he did tend to be blunt and direct. He was, however, frequently chided for treating employees poorly, Gordon said, something that violates a basic management tenet: "Your people are your most important asset, and you treat them with respect."
Cook, in contrast, appears to apply that rule to employees and beyond: On Sunday, when an editor at The Washington Posttweeted at Cook to vent about the turnaround time of Apple's photo printing service, the CEO responded via a public-relations representative five hours later. 
Instead of being a people person, Gordon said Jobs focused on creating new products that were "ahead of their time" and unanticipated by customers. Beyond sales figures, that meant capitalizing on what Gordon called the "coolness factor" -- unveiling the MacBook Air in 2008 by pulling it out of a manila envelope, for example -- to impress customers and the competition.
"When the coolness factor dominated our thoughts about Apple, we just couldn't wait to see the next rabbit out of Steve's hat," he said.
Tim Cook may not have the same aura Jobs did, but he has advantages on two other fronts.
First, as his interaction with the Washington Post editor shows, Cook is a kinder, gentler leader than Jobs was. That's an asset at a time when other companies are trying to be more approachable, including Apple's fiercest competitor. "Microsoft (MSFT) has worked hard to be thought of as anything but the 'evil empire'," Gordon said, pointing to the software giant's plan to make its next operating system free for current Windows and Windows Phone users and forgo what has traditionally been an important source of revenue for the company.
Second, Cook has made the company more attractive for shareholders by exploiting gaps in Apple's current offerings rather than leapfrogging ahead by introducing new products, said Scott Galloway, a professor of marketing at New York University's Stern School of Business. 
Cook filled one such gap last year when Apple introduced the iPhone 6 and the iPhone 6 Plus. Both models featured larger screens that are similar in size to competitor Samsung's Android phones.
Offering Apple's iOS operating system on a larger screen was "effectively a Samsung killer" that has taken away between $100 billion and $200 billion in sales opportunities from other phone manufacturers, Galloway said.
Sales of iPhones totaled 47.5 million units for the second quarter, more than the 35.2 million it sold in the same quarter a year ago but shy of the 50 million some Wall Street analysts had been expecting.
Cook also lead the company in 2012 when it decided to pay a dividend for the first time in seven years, and currently presides over a $140 billion stock buyback program, both of which are good news for investors.
Under Cook, "there's more of what I would call 'blocking and tackling,'" which includes "good management and a thoughtful approach to product development," Galloway said.
Even with those advantages, though, the University of Michigan's Gordon said Cook and his company can't survive on fine-tuning existing products.
"Apple does need to pull a cool rabbit out of the hat," he said.