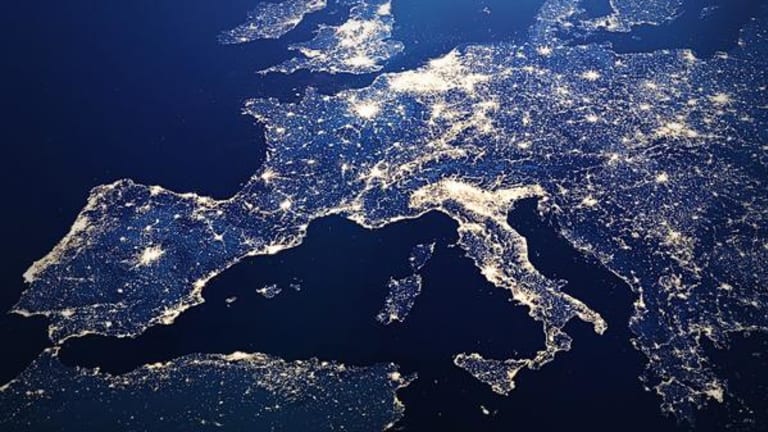 Here's Why You Should Short Europe's Banks & Sell Goldman Sachs
Goldman shares are vulnerable and modern banks are uninvestable, according to Berenberg, which advises dumping at least sixteen of Europe's lenders as well as the heaviest weight on the Dow.
Goldman Sachs (GS) - Get Goldman Sachs Group, Inc. (GS) Report shares are vulnerable and modern banks are uninvestable, according to the man that leads bank coverage at Germany's Berenberg, who advises dumping at least sixteen of Europe's lenders as well as the heaviest weight on the Dow Jones Industrial Average. 
With inflation and interest rate expectations rising sharply in recent months due to President Donald Trump's pledge to revive America's industrial heartlands and economy through massive fiscal stimulus, the Stoxx Europe 600 Banks index has gained more than 20% in just six months.
But the benefit of higher interest rates for bank's bottom lines is overblown, according to James Chappell at Berenberg, while higher funding costs for consumers could even prove to be a hindrance to earnings growth across the sector.
"Few seem to be listening to EU banks' comments that they perhaps are not as geared into higher rates as the analysts would hope," Chappell said in a recent note. "Evidence from the US shows that margins only rise after recessions, from lower not higher rates."
The story often outweighs the facts with banks and this time is no different. Meanwhile, the underlying banking industry is very much the same as it was before the excitement over higher rates began to show up in share prices.
Investment banking is in structural decline, with revenues expected to fall by somewhere between 4% and 5% over the longer term, Berenberg said, while retail banks in Europe remain weighed down by a toxic pool of NPLs that may even get worse when credit costs eventually rise for companies and consumers.
"The sequencing of how this comes to an end seems clear. We expect a traditional credit cycle as rates get raised too far ... but unlike recent cycles it [the economy] has too much debt so is more sensitive to rates," Chappell wrote.
He has listed sixteen of Europe's banks that could be worth going short on although his preferred candidates are Credit Suisse (CS) - Get Credit Suisse Group AG Sponsored ADR Report , BBVA (BBVA) - Get Banco Bilbao Vizcaya Argentaria, S.A. Sponsored ADR Report and Credit Agricole (CRARY) .
Other candidates include Deutsche Bank (DB) - Get Deutsche Bank AG Report , Commerzbank (CRZBY) , Lloyds (LYG) - Get Lloyds Banking Group plc Sponsored ADR Report, Barclays (BCS) - Get Barclays PLC Sponsored ADR Report , Santander (SAN) - Get Banco Santander S.A. Sponsored ADR Report , Natixis (NTXFF) , Societe Generale (SCGLY) and BNP Paribas (BNPQY) among others.
European banks have under performed the wider market for 45 years, which Chappell attributes to their persistently under pricing risk, meaning they don't charge customers a high enough rate to borrow money. 
Moreover, the implied cost of equity for these banks is now at a mere 1.6% premium to that of the wider market, which means that investors are also under-pricing risk - that carried by the banks.
"All the upside is on the downside now for banks for the reasons we lay out above. We believe investors should now focus on avoiding the torpedoes or, in other words, to start to look at shorting banks."
Goldman Sachs also had a run in with the red ink, with Chappell's $190 price target implying around 25% downside, leading him to cut the bank's rating to sell.
A lofty valuation, at more than three times revenue and a 40% premium to book value, means that a lot of the upside for the financial titan is now price in.
Moreover,; "Alongside this, share sales by senior management have risen significantly."