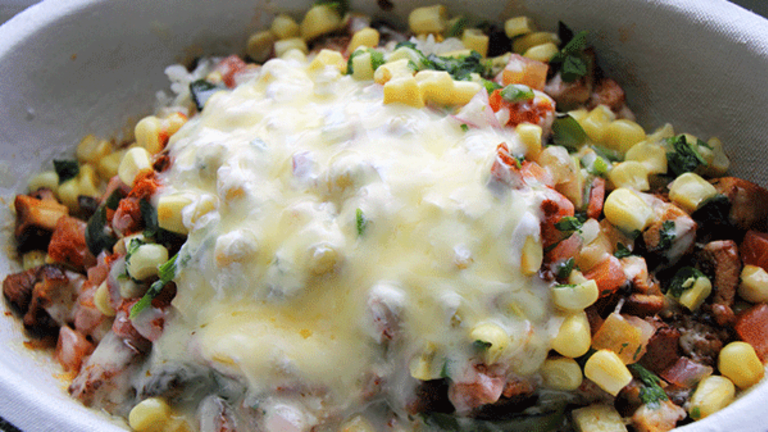 Publish date:
Here's Why You Better Be Prepared to Guzzle Antacid If You Buy Chipotle's Stock Right Now
Don't eat up Chipotle's stock, yet.
Don't eat up Chipotle's stock, yet.
Aside from shaking up its board, Chipotle (CMG) - Get Report is quite literally cleaning up its act.
And it looks like measures tied to improving customer service and raising food handling standards are starting to pay off. Last quarter marked the first time since its high-profile food-safety scares in 2015 that Chipotle recorded sales growth. Earlier in the month, a judge dismissed a lawsuit claiming that the company misled shareholders about how seriously it took food safety.
And a new study released Tuesday from M Science predicted that Chipotle's first quarter sales would "easily beat" Wall Street estimates. The research outfit studied Chipotle's same-store sales during February and the first 10 days of March.
Shares of Chipotle rose 2% to $401.19 on the news.  
But does all of this mean it's time to dip back into Chipotle's shares like a chip into salsa?
Not quite, unless you've packed plenty of antacid. Chipotle still has lots to prove when it comes to regaining customer and investor confidence. And although it's stock has crossed back over the $400-per-share mark, it's unlikely it will ever hit its lofty highs above $700 per share again. 
In addition, the entire restaurant industry is facing headwinds from what many analysts are calling a "restaurant recession." Even popular brands like McDonald's (MCD) - Get Report and Starbucks (SBUX) - Get Report are having trouble beefing up sales.
Plus, just because Bill Ackman's involvement in Chipotle (he is a major shareholder) doesn't mean the company's problems are over. His track record has been just as mixed as yesterday's guacamole -- ever heard of Herbalife (HLF) - Get Report , anyone?
Unless you've got a strong stomach for risk, you might want to keep passing on Chipotle's stock for now. But keep an eye on the company, especially as the next quarterly report approaches in late April.
Jim Cramer and the AAP team hold a position in Starbucks for their Action Alerts PLUS Charitable Trust Portfolio. Want to be alerted before Cramer buys or sells SBUX? Learn more now.
---
John Persinos is an analyst with Investing Daily. At the time of publication, he owned none of the stocks mentioned.
High-flying tech stocks have a nasty tendency to nosedive without warning. So much so that it's been nearly two decades since I've been tempted to buy one. But when I discovered this state-of-the-art facility just 4 minutes from my office, I couldn't help myself. This company has it all: explosive growth potential (with none of the risks that usually come with trendy tech stocks), steadily increasing dividend payments, and the buy-in of a group of Silicon Valley's top CEOs... Wouldn't you break your own rules for a piece of that action? Click here to tap into its $8.47/second income stream.