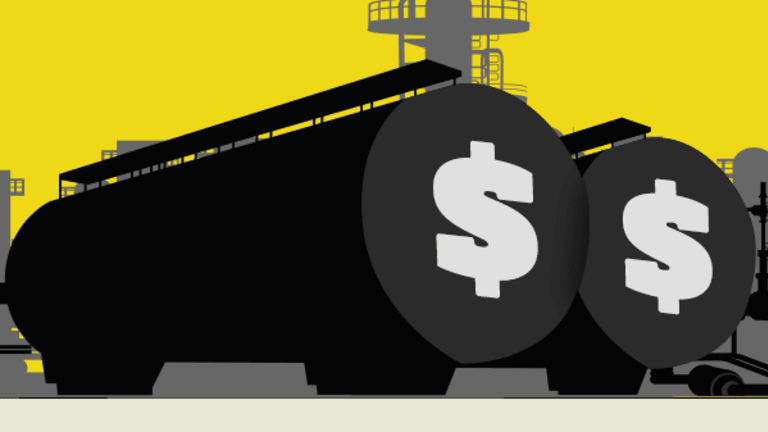 It Sounds Silly, but Oil Prices Are Going Up Now Because They Stopped Going Down
We are seeing a short-covering rally, not a fundamental shift.
Something strange is happening to oil prices this week: They're rising.
After falling for months, prices of benchmark WTI and Brent crude oil rose this week for five straight days. WTI rose to $44.74 a barrel June 28 from $42.51 a barrel June 21, while Brent rose to $47.31 from $44.77. Meanwhile, United States Oil Fund LP ETF (USO) - Get Report , the most actively traded crude oil ETF, rose 5.6% in the same period to $9.20.
The rise seems to have little to do with fundamental forces that should influence the market, such as inventories or production. Output has decreased this week, while inventories have risen slightly. Rather than supply and demand, oil's slight but momentum-shifting rise is likely the effect of fear of a market floor, causing short-sellers to cover their bets in a so-called "short-covering rally."
"It sounds silly, but it started going up because it stopped going down," market analyst James Hyerczyk said. "When the short-sellers see that there are more bidders than sellers, then they start to cover their positions."
The rise is unlikely to persist much further absent larger developments in the industry, analysts say. The fall in prices is widely believed to have been caused by OPEC's lackluster ability to constrain global supply, driven in large part by increasing cheap American production - something that doesn't look as though it will change anytime soon.
"We believe crude oil prices will be lower longer than expected with the usual volatility and will recover only when supply and demand are balanced," former Oppenheimer & Co senior energy strategist Fadel Gheit said in an email.
Hedging by major oil and gas companies could serve as a cap on oil prices if they continue their ascent. But most large oil producers hedged while prices were far higher, and so will likely remain out of active trading until the market nears $50 a barrel, Hyerczyck said, giving free reign to smaller traders to influence pricing underneath around that limit.
"The big guys, they're not in here shorting and hedging at these prices. They hedged a while back at higher prices," he said. "So then what happens is the smaller traders take control, and they take liquidity, and the market moves."
Sandy Fielden, the director of oil and products research at Morningstar, said the signs of long-term increases in pricing haven't appeared yet. A decreasing rig count could be the first sign of a slowdown in U.S. production, he said. The U.S. oil rig count has increased for 23 consecutive weeks, according to Baker Hughes data.
"I think until we see the rig count coming down or production decreasing or flattening out convincingly, I think prices are going to stay at or below 50 for Brent and 45 for WTI," he said.
Visit here for the latest business headlines.