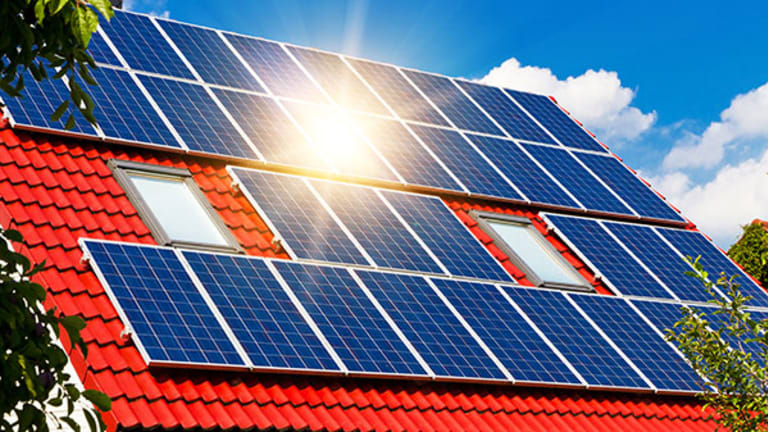 Here's Why Our Future Will Be Powered by the Sun, Water and Wind
The time may have finally come to make money investing in renewable energy.
Coal and oil are slowly being replaced by sunlight, water and wind as civilization's main energy sources, and there will be a lot of money to be made from this shift.
Renewable energy comes from nature. The most common forms are solar (from sunlight), hydro (from water) and wind power.
Renewable energy can generally be replenished faster than it is used.
Last year, global renewable energy investment hit nearly $350 billion, a record and an increase of 11% from 2014. China was the biggest contributor, accounting for 36% of the total or $125 billion.
Between this year and 2020, renewables will be the biggest source of energy growth, according to the International Energy Agency.
But this year has so far seen a slowdown in investment in renewables.
Globally, investment dropped 23% in the first half this year from a year earlier to $116.4 billion. Second-quarter investment fell 32% from a year earlier.
Last year's massive Chinese renewables push created a hangover in 2016, as the country's growth in power demand has slowed, according to Bloomberg New Energy Finance.
As a result, China's investment in renewable energy has fallen this year.
Another possible reason for the slowdown in investment is that it is getting cheaper to make solar panels. There is also a shift away from smaller solar energy projects to larger ones, which are cheaper on a per-unit basis.
But unlike so-called dirty energy sources, such as coal, renewable energy is just getting started.
Global renewable electricity capacity will rise by more than 700 gigawatts over the next five years, the IEA has predicted.
For context, that is more than double Japan's total installed power capacity.
Furthermore, renewables will account for nearly two-thirds of the net increase in global power capacity, which is the difference between the amount of new capacity and the scheduled retirements of old power plants. Half that increase will come from wind power and solar photovoltaic panels.
A lot of this growth is expected to come from developing nations.
The United Nations Environment Programme noted that last year was the first one in which emerging economies invested more in the renewables sector than developed economies did.
Last year, developed countries' investment in renewables dropped 8%, while emerging economies investment was 19% higher than the year before.
China is expected to account for nearly 40% of anticipated renewable power capacity growth to 2020. South Korea has committed to increase investment in renewable energy to about 42 trillion won ($36.6 billion) by 2020, with a focus on wind power, solar farms and eco-friendly power plants.
In the U.S., renewable energy is expected to become the nation's second-biggest source of electricity, overtaking nuclear power by 2020 and surpassing coal by 2028.
The U.S. only trails China, which accounts for 18% of world electricity generation, in total power production. So renewable growth in the U.S. will be vital to the entire industry's growth over the next 25 years.
The U.S. has initiatives in place to encourage investment in renewables. The Clean Power Plan requires that the amount of carbon emitted from power plants be cut by 870 million tonnes, which is 32% less than 2005 levels.
The need to cut emissions means that the U.S. needs more power from clean energy sources. To promote this, the Clean Energy Incentive Program was instituted to reward U.S. states that are early adopters of clean, renewable energy.
Should Democratic candidate Hillary Clinton become president, the renewable sector will also get a huge boost, as she has said that she wants to reduce U.S. dependence on fossil fuels, which means more renewable energy sources.
The next few decades are going to be huge for the renewables markets.
One estimate puts the potential investment in renewables over the next 15 to 20 years at $5 trillion to $7 trillion. One likely beneficiary of this torrent of investment will be the shares of renewable-energy companies.
The sector isn't doing very well at the moment, though.
Through the end of June, the eight largest renewable-energy exchange-traded funds posted an average loss of 4.8% a year over the past five years. By comparison, the S&P 500 gained an average 10% a year during the past five years.
That said, this is going to change in the coming months for two main reasons.
First, renewable-power generating costs keep falling. It now costs 75% less than it did in 2010 to install solar panels.
"Renewables are now cost competitive with fossil fuels in many markets," according to the U.N.-sponsored Renewable Energy Policy Network.
This will only help the sector become more profitable and attract more investors.
Second, last year, 200 countries committed to the Paris Climate Change Agreement and the 17 goals of the 2030 Agenda for Sustainable Development, making 2015 a landmark year for renewable energy. These concrete commitments will also ensure continued investment in renewables.
Exchange-traded funds are an easy way to invest in the renewable-energy sector.
One option is the PowerShares Global Clean Energy Portfolio (PBD) - Get Invesco Global Clean Energy ETF Report . This tracks the WilderHill New Energy Global Innovation Index, providing exposure to 90 global companies focused on renewable energy generation and use.
The top 10 countries in which it invests include China, Hong Kong, Japan, South Korea, Taiwan and the U.S.
Kim Iskyan is the founder of Truewealth Publishing, an independent investment research company based in Singapore. Click here to sign up to receive the Truewealth Asian Investment Daily in your inbox every day, for free.
This article is commentary by an independent contributor. At the time of publication, the author held no positions in the stocks mentioned.