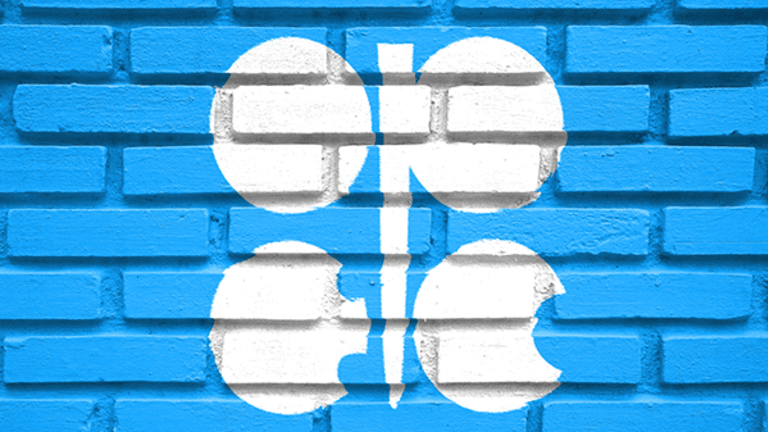 Here's Why OPEC's Production Cut May Not Be All It Seems
The plan to remove 1.8 million barrels from supply is likely to end up delivering much less, and is arguably already nothing.
There is a new game in town for oil traders, and for want of a snappier name, let's call it 'pin the tail on the 1.8 million.'
The rules go something like this: OPEC delivered an agreement Wednesday to cut its members' production by 1.2 million barrels of oil per day to 32.5 million barrels and said it was negotiating with non-OPEC countries to cut a further 600,000.
Now, with your eyes closed and after taking a few dizzying spins, try to pinpoint exactly how many barrels of oil will come out of global supply.
There is good reason to suspect it will be significantly less than 1.8 million and that oil will, as a result, struggle to make further gains following its 9% rally on Wednesday to just over $50.
"Looking at the last 17 (OPEC) production cuts (1982-2009) observed production cuts have typically come in at 60% of the announced cuts," noted Goldman Sachs analysts in a note. "Our base case...reflects a 73% compliance...for an effective production level of 33 mb/d, slightly better than past compliance but still short of the announced quotas."
That may be optimistic. Saudi Arabia, which can reasonably be assumed to be the most reliable signatory, given that it pushed hardest for Wednesday's deal, will account for 40%, or 486,000, barrels of the reduction. That leaves plenty of scope for undershooting amongst less enthusiastic producers.
Iraq, which resisted inclusion in the agreement until the 11th hour, is due to cut its output by a surprisingly large 210,000 barrels, equivalent to about 17% of the total. Iran, which also demanded exemption until late in the day will be allowed to increase its output by 90,000 barrels, to 3.8 million barrels per day.
"There will be monitoring (of the quotas) but the market will be skeptical particularly if oil prices rise materially," noted Exane BNP analysts. "With Saudi only sharing c40% of the cuts, the risk on non compliance is greater."
There is also the possibility that OPEC members could still blow the planned reduction out of the water even if all the signatories to the agreement meet there obligations to cut output.
Libya and Nigeria are both exempt from the agreement, largely because their oil production has been disrupted by military conflict. The two nations are together producing about one million barrels per day below their capacity, based on record output achieved within the last two years. Returning to those records is unlikely, but a significant increase from current levels is not out of the question over the six months that the production cut is due to be in force.
Then there is the question of where the non-OPEC reduction of 600,000 barrels of oil will be found. Russia has committed to cutting production by 300,000 barrels, according to the Qatari delegation to OPEC, though that deal is yet to be signed. That leaves 300,000 barrels to be share out amongst so-far unidentified producers. Oman has said it will match the OPEC cut, accounting for another 46,000 barrels. After that Mexico, Bolivia, Kazakhstan and Azerbaijan are the most likely candidates, though none have so far raised their hands. Norway has said it won't cut.    
Goldman Sachs believes that delivery of the non-OPEC cuts could add a further $6 to a barrel of oil but warns details on the plan are "necessary for prices to meaningfully rally from here."
Finally there is the issue of the fudge that OPEC has built into the cut itself. The organization is using October production as its base for the cuts, which happens to be the same month that it hit an all time record output of 33.83 million barrels, according to the International Energy Agency.
Given that the proposed cuts won't come into place until January it is reasonable to compare the Jan. 2017 proposed output with the Jan. 2016 actual figures, not least because demand tends to dip in January with the end of the U.S. driving season.
Saudi Arabia produced 10.25 million barrels in in January, only marginally under the 10.06 million it has signed up to produce this coming January. Iraq's planned January 2007 output of 4.35 million barrels is 100,000 barrels more than the 4.25 million it produced in Jan. 06. Iran, meanwhile, will increase its output January to January by about 1 million barrels.
In fact, taking the promised figures at face value the reduction of OPEC output in January, year on year, will be zero.