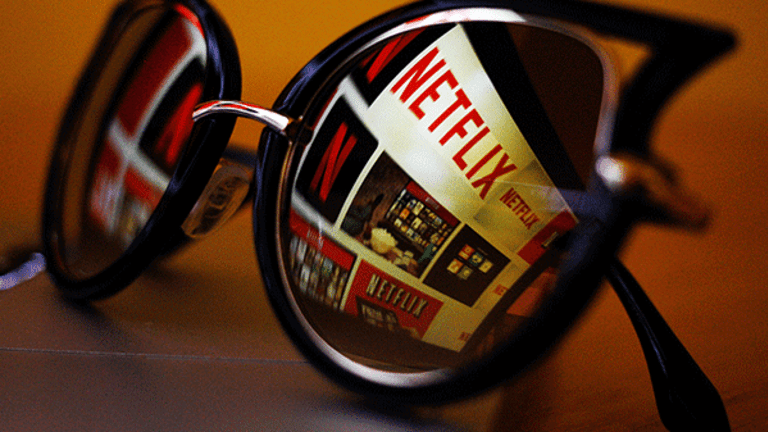 Publish date:
Here's Why Netflix's Stock is Poised to Climb Higher
The popular streaming service is facing increased competition, but it's still leading the pack.
The popular streaming service is facing increased competition, but it's still leading the pack.
The fact that Netflix's (NFLX) - Get Report stock has gained over 2,700% since 2009 might lead some investors to think its run is over. But the company's stock has significant upside remaining.
Just like Amazon (AMZN) - Get Report , Apple (AAPL) - Get Report , and Facebook (FB) - Get Report , Netflix is a brilliant tech investment. The online streaming giant has blossomed into a $62 billion enterprise that delivers entertainment at your fingertips while enabling you to avoid expensive cable TV.
Here are a few reasons to buy Netflix.
We must first look at the fundamental idea behind the company. An increasing number of viewers have stopped channel-surfing and browsing the internet for entertainment.
Instead, they 'Netflix' it!
Netflix, which unlike Alphabet's (GOOGL) - Get Report YouTube is a paid service, delivers high-quality, ad-free content to users when they want it. Not surprisingly, viewers cumulatively watch 116 million hours of video every day on Netflix.
The company also spends billions to produce original content, which keeps its over 80 million users happy.
Entertainment viewing preferences are shifting. More people are trying to avoid the cost of gas, parking problems and crowds. There are also challenges like the weather. No wonder Netflix's shares have climbed every time there is a storm or a blizzard.
Netflix shares even outperform pizza king Domino's (DPZ) - Get Report , because inclement weather can prevent the restaurant from making deliveries.
Amazon (AMZN) - Get Report may have launched its Prime Video offering, but Netflix retains its edge thanks to the breadth of content, intuitive software and device compatibility.
Netflix also has a healthy financial situation. Its balance sheet has about $3 billion in debt and $1.7 billion in cash, which is a manageable level of debt. As the company gets bigger due to global growth, its margins will improve and so will its profitability.
Netflix's stock has always been expensive. The promise of growth in Netflix has attracted investors given its five-year average return of around 800%.
Netflix is anticipated to grow earnings per share by 80% annually over the next five years. If a stock is expected to grow profits that fast, then the 72 times forward earnings valuation actually seems reasonable.
Led by CEO Reed Hastings and an aggressive market-share capturing strategy, the company still has the potential to build a truly global entertainment network.
---
As we've just explained, Netflix is still an excellent growth opportunity. If you're looking for other growth opportunities, we've found a genius trader who turned $50,000 into $5 million by using his proprietary trading method. For a limited time, he's guaranteeing you $67,548 per year in profitable trades if you follow his simple step-by-step process.Click here now for details.
The author is an independent contributor who at the time of publication owned none of the stocks mentioned.