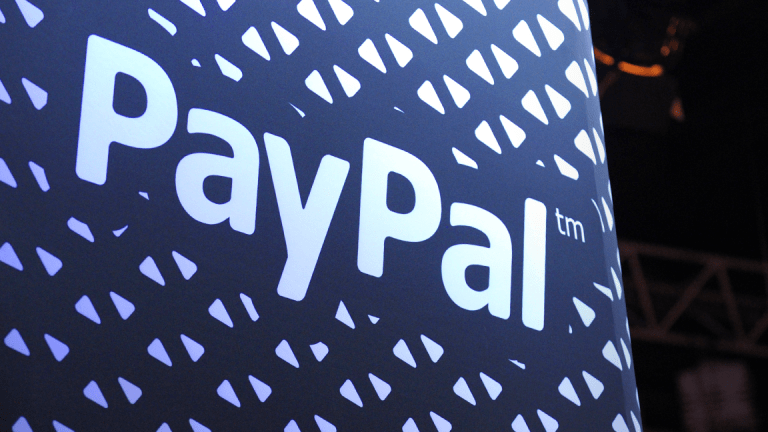 Here's Why I'm Now Trading PayPal Stock
You know what? I'm flat this name but I am talking myself into liking this stock.
How Are You Going To Pay For That?
Just off the top of my head (In all honesty, right out of the most famous marble notebook on Wall Street), Dover (DOV) - Get Free Report , KeyCorp (KEY) - Get Free Report , Signature Bank (SBNY) - Get Free Report , Snap-on (SNA) - Get Free Report , and Sonoco Products (SON) - Get Free Report all missed revenue projections this morning. One's eyes are quickly drawn to the financials in that group. Thinking back a day or two, BlackRock (BLK) - Get Free Report , Comerica (CMA) - Get Free Report , and PacWest (PACW) - Get Free Report can also be folded into this grouping. Hmm.
Tonight, we will hear from American Express (AXP) - Get Free Report , and PayPal (PYPL) - Get Free Report . Financials would appear to be in play. Higher long term rates do help. Let's dig in, and take a look.
Sports Betting
An area almost certain to grow going forward regardless of whether the economy does well or not will be sports betting. Last month, PayPal, after reaching an agreement with DraftKings, according to TheLines, had deals in place with five of seven possible internet sports-books. Two weeks after that, Height Capital Markets made their opinion known that the firm did not expect that the federal legislature would act in the near to mid-term future on the creation of a "national framework for sports betting." The firm sees the possibility of as many as 18 states that will in some form legalize sports betting by next September. Height Capital also sees that number increasing to 30 states withing five years' time. This is a potentially upward catalyst for payments based technology firms like PayPal.
What I Think
Add to that development, recent deals made by PayPal for Chevron (CVX) - Get Free Report customers to pay for gas at the pump, and Walmart (WMT) - Get Free Report to access cash in the stores, and the stars would seem to be aligning. Let's face it, gang... I like cash. I never leave the house without at least twenty bucks in my pocket, but I am old. People don't think like that anymore, especially today's youth. The future of making payments, not just when you sit down to "do" your bills, but also at the point of sale is only going to go ever more digital.
Then there's Venmo. Ever heard of it? Your kids certainly have. Venmo is a wholly owned subsidiary of PayPal by virtue of PayPal's acquisition of former Venmo parent Braintree in 2012. By the way, while Venmo is servicing the young and likely those less exposed to traditional banking services, Braintree is a significant engine behind the app-based economy. So, PayPal can now capture the brick and mortar transaction, as well as e-commerce. You know what? I'm flat this name but I am talking myself into liking this stock while writing this article.
Tonight's Play
Consensus view is for Q3 EPS of $0.54. Whispers are running a couple of cents higher than that. Revenue projections are for $3.66B, which would be good for year over year growth of 12.9% if that expectation is right on the money. Cash on hand more than dwarfs total debt. Operating margins have been on the rise in recent quarters. The obvious negative is that this name is a bit expensive in terms of forward looking PE at 47 times. Credit card type competitors such as Visa (V) - Get Free Report , and Mastercard (MA) - Get Free Report are much cheaper in those terms... however, Square (SQ) - Get Free Report is even more expensive in those terms. In order to play tonight's earnings, I am going to have to get a little creative in order to mitigate the risk.
What becomes clear to the experienced trader is that the current rebound in PYPL shares ahead of earnings will face a challenge in the 81/82 area. (31.8% retracement, 200 day SMA) The stock also found support in the $75 neighborhood on high volume last week. Those prices will be my guide.
Trade ideas (minimal lots)
I am extremely likely to put on some variant of this trade before today's closing bell. This information will be public long before I pull any triggers.
Basic:
-Purchase 100 shares at or close to the last sale of $79.65.
-Sell one Oct 19 (tomorrow) $82 call (last: $1.38)
This trade would give the trader a net basis of $78.27 going into tonight's digits.
Mildly Advanced:
In addition to the basic trade, a trader could also sell one January $72.50 put (last: $2.13), further reducing net basis to $76.14. If forced to eat the shares in January, the trader, now long 200 shares at a basis of $74.32, would at that time (the trader can not forget) sell an additional two out of the money calls dated later in the spring in order to substantially reduce basis from there. 
(PayPaL is a holding in Jim Cramer's Action Alerts PLUS member club. Want to be alerted before Jim Cramer buys or sells PYPL? Learn more now.)
At the time of publication, Stephen Guilfoyle was Long Key, WMT equity.