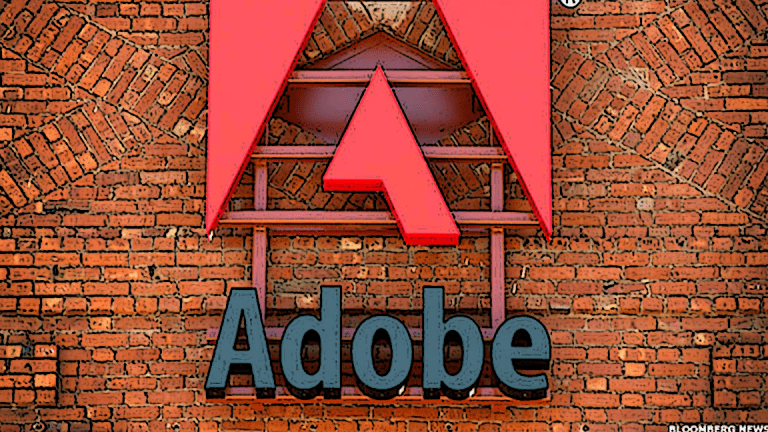 Here's Why I Like Adobe Stock Long-Term
One of the main reasons that I have loved ADBE over time has been their early embrace of the subscription economy.
One of our very favorite cloud names reports fiscal fourth quarter results on Thursday night. That would be Adobe Systems (ADBE) - Get Report . Industry wide EPS expectations are for $1.88 on projected revenue of $2.43 billion. Whisper numbers are running up to a nickel higher than that "official" consensus. One of the main reasons that I have loved Adobe over time has been their early embrace of the subscription economy. It has now been roughly five years since the firm started moving away from the old transaction model and toward licensing the firm's product line. As of last quarter, the firm reported that recurring sources were now good for 90% of revenue.
That begs the investor to ask... Does this make Adobe a mature company? Is that the end of rapid growth? The answer to that is as simple as... Is there still room for the business cloud to grow. My answer would be a resounding yes. What we are focusing on this quarter, with the stock still up more than 35% ytd, will be on segment performance.
The Digital Media segment, perhaps the most important, is comprised of the Creative Cloud and the Document Cloud. This segment saw revenue growth of 27% for Q3, and in my thinking... anything in the mid-20%'s for Q4 would be considered another monster quarter. Now, the Digital Marketing segment has been growing at a slightly lesser pace than has been the media segment. That group, containing the Analytics and Advertising clouds, grew at 21% in Q3. There has been something of a renewal in this group in terms of software, and these numbers could actually end up being the most interesting. Either way, I like the name long-term. That does not mean that as an investor, we have an all clear.
For the sake of clarity, I will use two charts over the same year plus run for this name. Here, we see two possible dangers to the downside from a technical perspective. Obviously, with the 50 day SMA, and the 200 day SMA now just 2.32 apart, ADBE, under threat of a poor earnings release, could see a negative market reaction exacerbated by a "death cross." As you can also see, the daily MACD appears set up for this.
Witnessed here are both the trend that broke in October, and then nearly a perfect 61% retracement of the gains made over the life of that trend. The suggestion here is that should there be a negative reaction to earnings, both the Fib model, as well as a declining Pitchfork pattern (if indeed one has emerged), suggest that this $208 level could be retested within a month's time. Do I expect that? Not really, but you need to know that this is out there.
Fundamentally, I believe that there is cause for a return to something close to trend. I am ever the optimist. Remember, Chinese exposure is not really a thing here, but ETF exposure certainly is.
Protection Trade (minimal lots)
Long ADBE, here's how to protect some of your dough. Based on last night's close of $245.34, the stock is moving, so this example will need strike price adjustment, but the idea is valid.
-Purchase one Dec 14 ADBE $245 put (implied value: $6.60)
-Sell one Dec 14 ADBE $235 put (implied value: $3.20)
Notes: This "Bear Put Spread" will require a debit of $3.40 after the sale subsidizes the purchase. This will buy equity protection by this Friday down to $235, where the risk is then reassumed. In other words, if the shares drop below $235 by Friday's close, the trader has reduced his or her hit by $6.60. Should the shares rise, the trader has paid $3.40 for nothing... except the ability to sleep at night.
At the time of publication, Stephen Guilfoyle was Long ADBE equity, Short ADBE puts.