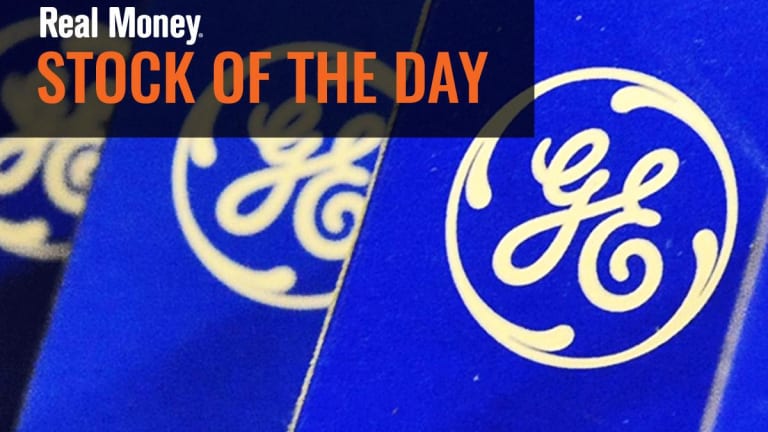 Here's Why General Electric CEO Larry Culp Is a Proven Asset
GE will establish a new, independent company focused on an Internet of Things software portfolio.
The Sixty Billion Dollar Company
We can rebuild it, make it better than it was. The role of Oscar Goldman will now be played by Larry Culp. This morning, General Electric (GE) - Get Report announced the firm's plan to establish a new, independent company that will focus on an Internet of Things software portfolio. The firm will start out with a global clientele already in place, and annual revenue that already runs at about $1.2 billion. Think about it. A firm in dire need of creating highly valued parts, so they can turn around then sell them if necessary, comes up with something like this. You're good, Larry, real good.
Darn It
Should have bought the darned thing. Seemed like only yesterday. In fact it was. On Wednesday morning, based solely upon where the share price had fallen to, I asked the question of when... when would this storied name be worthy of an equity purchase? I placed General Electric in the "Stocks Under $10" bullpen. Our subscribers would be a lot happier this morning if I had pulled the trigger, and made that purchase.
In that Wednesday piece, I cite current issues revolving around repairs that have become necessary across a large percentage of the firm's newer gas turbines on a global scale. This alone has required the firm to set aside $480 million just for this purpose. This has been a negative for the crucial GE Power unit, and was one of the reasons that kept me on the sidelines.
Other negatives include perhaps $114 billion worth of debt up against cash and equivalents of about $27 billion. Did I mention that the firm is up against an overhang of perhaps $30 billion worth of pension obligations. By the way, market cap all told is at this point less than $60 billion, which is why so many shareholders want to see the parts break away from the whole. The parts may just add up to more than the sum. Somebody gets stuck holding the bag somewhere though? Is it going to be the pensioners? Hope not.
Two Men That Matter
Now, already mentioned CEO Larry Culp is a proven asset. The man has a track record of creating value. Plans remain on track to sell Baker Hughes (BHGE) - Get Report sometime in 2019, and then jettison GE Healthcare the next year. The other key player here is JP Morgan analyst Steven Tusa, who has had a price target of $6 on this stock and has been correct and in the lead all the way down. Tusa raised his rating early on Thursday morning from a "Sell" to a "Hold". Shareholders rejoiced. Tusa cited risk/reward at this price level as a positive.
Tusa, however was not in the lead on this change in sentiment. UBS analyst Steven Winoker defended the name earlier this week. Winoker, in his piece, spoke of a firm that he felt would be successful in reducing leverage to acceptable levels and reiterated a $13 price target. What I know is that at least the carnage created by the dividend cut is finally fully priced in, and what had been an irresponsible use of cash flow, is now a shareholder positive.
Crash and Burn
Wow. You would have to go to Coney Island on a windy day to experience a thrill ride like that. So, does a trader buy the shares now? Like Steven Tusa says, the risk/reward game has changed. Does one pay this price? I'll tell you how I am set up. I am short a cascading series of puts that start out at at strike price of 9 bucks and then tail off into the nether regions. My expiration month across the entire trade is June.
Without the dividend the risk of an equity stake is not required. Either the stock takes off, I buy none, and keep my premiums, or the stock comes in, and I get long a chuck at a net basis that will likely be at a discount to the actual market price of the shares. That's my plan. As for the "Stocks Under $10" portfolio, heck... that's a subscription based product, gang. Wouldn't be fair to those folks.
(An earlier version of this column appeared at 10:39 a.m. ET on Real Money, our premium site for active traders. Click here to get great columns like this from Stephen "Sarge" Guilfoyle, Jim Cramer and other experts throughout the market day.)
At the time of publication, Stephen Guilfoyle was short GE puts.