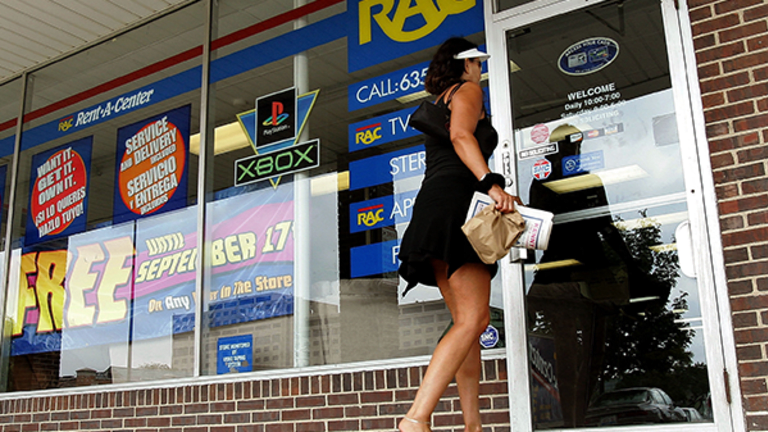 Here's Why an Activist Just Got a Boost in His Rent-A-Center Sale Effort
A battle between insurgent fund manager Glenn Welling and the rent-to-own retailer concluded today. Here is the result.
Shareholders on Thursday June 8 voted to elect three dissident director candidates to the board of rent-to-own retailer Rent-A-Center (RCII) - Get Rent-A-Center Inc Report , giving the activist at the gate a major boost in his effort to drive a review and potential sale of the business.
Rent-A-Center shares were up slightly to $13.15 a share on the news.
The rent-to-own retailer's shareholders voted to elect three director candidates nominated by activist investor Glenn Welling and his fund Engaged Capital LLC in a battle that went the distance all the way to the company's annual meeting on Thursday. The directors will be a minority on Rent-A-Center's seven person board.
Nevertheless, expect that they will have a great deal of influence in the company's future, especially soon-to-be installed dissident nominee Christopher Hetrick, director of research at the activist fund. In addition to Hetrick, Engaged succeeded at installing Mitchell Fadel, a former Rent-A-Center president, and director, who worked at the company for 22 years that were mainly positive for shareholders.
Shareholders also backed Engaged's dissident nominee Jeffrey Brown, which one shareholder advisory firm suggested has "finance and transnational experience that could likely be of value to the board as it considers opportunities to maximize shareholder value."
The move by shareholders to elect Hetrick and Brown sends a loud message that investors want to see Rent-A-Center consider a sale. A board with Brown and Hetrick will focus on seeing if a sale made sense as an alternative to a turnaround plan underway at the company. That means strategic M&A could be on the horizon.
The activist fund has been pushing for Rent-A-Center to consider all strategic alternatives, including a sale of the entire company, as its stock has been declining for several years.
In addition, consider that there are at least two U.S.-based strategic buyers interested in Rent-A-Center-rival rent-to-own operator, Aarons   (AAN) - Get Aaron's Company Inc Report  and private equity firm Vintage Capital Management LLC, a majority owner of a smaller rent-to-own competitor, Buddy's Home Furnishings, according to people familiar with the situation. A sale to one of these two companies, or another strategic or private equity buyer is now much more likely with the new dissident directors in the boardroom.
"The preliminary results of today's vote represent a clear mandate from stockholders and an unequivocal endorsement of Engaged Capital's campaign," Welling said in a statement. "The board must adopt a strategy that creates the optimal risk-adjusted outcome for all stockholders after all options are thoroughly explored."
In addition, to Welling, another well-known activist, Marcato Capital Management's Mick McGuire, recently bought a large stake and also wants to see Rent-A-Center sold. Together, Engaged and Marcato own about 20% of Rent-A-Center's shares, about 16.9% for Welling and about 4.9% for McGuire. Welling's Engaged Capital owns a 20.5% economic stake, including shares and swaps. The activist fund had originally sought to nominate five directors to the company's board but later cut back on the number of its nominations.
The activists had a number of advantages in their effort. For one thing they collectively own about a fifth of the company, a major advantage in advance of the contest, since they only needed the backing of another 30% of the shares to have Welling's directors elected.  In addition, Welling got a boost in his campaign from partial support from the two major shareholder advisory groups. One of those groups, Institutional Shareholder Services Inc., urged investors to back dissident candidates Hetrick and Fadel. The other major advisor, Glass Lewis, supported Hetrick and Brown.