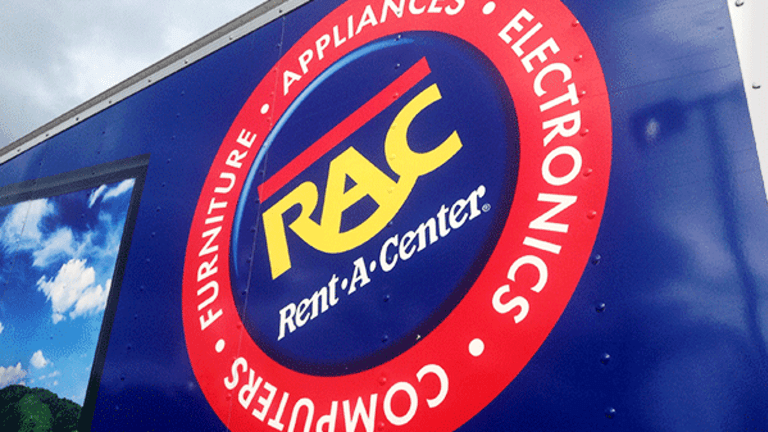 Here's Why Activist Glenn Welling Just Got a Boost in His Rent-A-Center Sale Effort
The insurgent investor is seeking to install three dissident directors onto the board of the rent-to-own retailer at a hotly contested boardroom battle set for June 8
Activist investor Glenn Welling and his Engaged Capital fund just got a boost in their effort to have rent-to-own retailer Rent-A-Center (RCII) - Get Rent-A-Center Inc Report  consider strategic alternatives, such as a sale of the company.
That's because Influential investor advisory firm Institutional Shareholder Services over the weekend recommended that investors back two of the activist fund's three director nominations up for the company's seven-person board at an annual meeting and proxy battle set for June 8.
ISS, in a report obtained by TheStreet, backed up its decision by arguing that Rent-A-Center's board has taken a number of steps that appear far more "focused on undermining the dissident campaign than in bolstering shareholder confidence regarding the turnaround plan."
The activist fund has been pushing for Rent-A-Center to consider all strategic alternatives, including a sale of the entire company, as its stock has been declining for several years. Welling was recently joined by another well-known activist, Marcato Capital Management's Mick McGuire, who also wants to see Rent-A-Center sold. Together, Engaged and Marcato own about 20% of Rent-A-Center's shares, about 16.9% for Welling and about 4.9% for McGuire. Welling's Engaged Capital owns a 20.5% economic stake, including shares and swaps. the activist fund had originally sought to nominate five directors to the company's board, but later cut back on the number of its nominations. 
Nevertheless, investors, particularly large institutions, pay close attention to ISS recommendations. Some even vote automatically in lockstep with the suggestions. As a result it is very likely that Engaged Capital will succeed at installing a minority slate of directors onto the company's board.
The advisory firm said it supported dissident nominee Christopher Hetrick, director of research at Engaged Capital, because he brings "valuable experience analyzing consumer companies." The report noted that his interests would be aligned with the other shareholders because of Engaged Capital's big stake. In addition, the advisory firm backed dissident nominee Mitchell Fadel, a former Rent-A-Center president and director. ISS noted that Fadel worked at the company for 22 years that were mainly positive for shareholders. In addition, the proxy advisory firm suggested that his addition indicates that Engaged is open to fixing the company rather than selling it.
Nevertheless, Hetrick, if installed on the board, would focus on seeing if a sale made sense as an alternative to the company's turnaround plan. That means strategic M&A could be on the horizon. There are at least two U.S.-based strategic buyers interested in Rent-A-Center-rival rent-to-own operator, Aarons Inc. ( (AAN) - Get Aaron's Company Inc Report ) and private equity firm Vintage Capital Management LLC, a majority owner of a smaller rent-to-own competitor, Buddy's Home Furnishings, according to people familiar with the situation.
The proxy advisory firm also pointed out that all of Rent-A-Center's incumbent directors up for election have served for at least ten years on the board. According to relationship mapping service BoardEx, a service of The Street, incumbent directors Jeffery Jackson and Leonard Roberts, have served on the company's board for 10 and 11 years respectively. Governance experts are typically wary of directors that serve more than 10 years, in part, because they can become too cozy with the CEO and not provide adequate oversight.
The proxy advisory firm backed Mark Speese, the company's CEO, who was also up for election to the board, over Engaged's third nominee. The firm said that Speese's "deep understanding" of the rent-to-own space makes him a "valuable contributor to the turnaround plan." In a statement, Rent-a-Center said it was pleased that ISS backed Speese, who was installed recently first as interim CEO and then later as its permanent chief executive. Speese was one of the company's founders and a former CEO, between 2001 and 2014, overseeing a period of general share-price improvement at the company.
In response to the activist campaign, Rent-A-Center in April announced a number of initiatives to spur share-price value improvement, including an expansion of the AcceptanceNOW operation, a virtual rental business that partners with a number of furniture and appliance retailers, including Ashley Furniture Industries Inc. and Rooms TO Go.