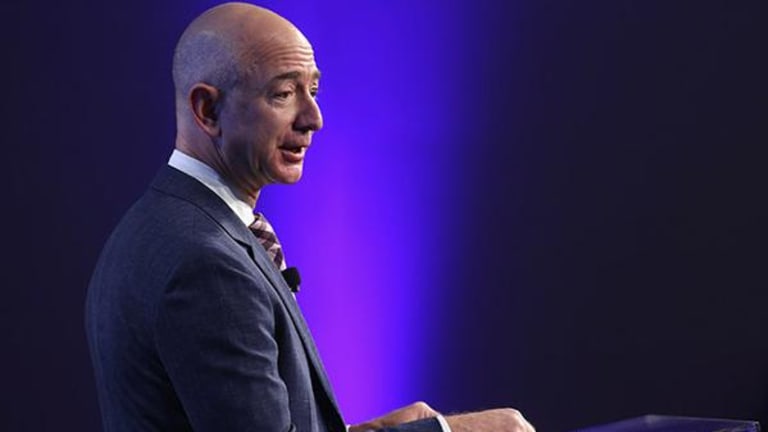 Here's Where Amazon Is Investing Next
Even as Amazon starts to generate more consistent quarterly profits, Jeff Bezos isn't taking his foot off the investment pedal.
Behind Amazon.com's (AMZN) - Get Amazon.com, Inc. Report impressive second-quarter numbers Thursday is the e-commerce empire's aggressive investment strategy that's starting to come to fruition.
Seattle-based Amazon reported yet another solid quarter last week, beating consensus for both revenue and earnings per share. The e-commerce company reported revenue of $30.4 billion and EPS of $1.78 vs. Wall Street's anticipation of $29.6 billion in revenue and $1.11 in EPS.
With impressive numbers, Amazon is indicating that it may finally be shifting toward consistent profitability after years of posting loss largely due to pouring aggressive investments. As Jeff Bezos's investment strategy continues to be a main driver of growth and success at Amazon, the e-commerce giant is already eying its next big areas of investment: fulfillment and Prime Video.
"The days of operating loss quarters might be behind us," said Edward Jones analyst Josh Olson.
As Amazon enjoys a nice balance between growth and profitability, next quarter will be one of heavy investment for the company, particularly ahead of the holiday season.
Among key areas of investments will be fulfillment by Amazon, or FBA for short, and content such as Prime Video, Olson explained, adding that Bezos and his fellow Amazon executives have been very sensitive to return on investments.
The e-commerce giant has been building out its fulfillment capacities to allow more third-party vendors to warehouse and ship goods through Amazon. In particular, Amazon revealed during a call with investors on Thursday that it plans to open 18 fulfillment centers in Q3 to maximize capacity ahead of the holiday season.
"It's a big deal in terms of magnitude," Olson said of Amazon's FBA plans.
Meanwhile, Prime Video has proven to be a key way to draw in and retain Prime members. But Amazon hasn't exactly disclosed how aggressive it will be in content creation and production, said Benchmark analyst Dan Kurnos.
During the earnings call last week, Amazon CFO Brian Olsavksy did say that Amazon is nearly doubling its content spend in the second half of 2016 compared to the corresponding period last year.
"We have a great slate of new Amazon Originals coming out later this year, both in the U.S. and internationally. And we're nearly tripling our number of new Amazon Original shows -- TV shows and movies -- compared with the second half of last year," he explained.
Amazon announced earlier this year that it plans to release new originals such as Highston, Good Girls Revolt and Sneaky Pete. It's already enjoyed success with Transparent and Mozart in the Jungle, among others.
"I don't know if they want to become a content studio. They clearly have the money to do it," Kurnos said, adding that while such an effort could be successful, other players such as Netflix (NFLX) - Get Netflix, Inc. Report have shown that it's not always that easy to hang onto subscribers as the content environment becomes more competitive. 
Meanwhile, Amazon will continue to invest in Amazon Web Services, Kurnos explained, adding that investments in the cloud computing biz will still represent a prominent portion of the e-commerce company's spending. For instance, Amazon is working to expand the geographic footprint of AWS by tapping into overseas markets such as Mexico and India.
In fact, AWS was once again the growth engine of Amazon in Q2, posting an impressive 58% revenue growth year-over-year of $2.9 billion. AWS experienced a 70% growth rate in all of 2015.
"Everyone is still playing catch-up," Kurnos said of AWS, adding that Amazon will continue to innovate and branch into other verticals adjacent to the cloud.
Among other notable investment areas will be voice recognition offering Alexa that powers Amazon Echo. Amazon's Alexa play has largely been about taking share of the living room automation market. Still, the company's investments in Alexa and Echo are still in their early days and haven't made a material impact at the empire just yet.  
Meanwhile, Amazon is also starting to demonstrate solid growth in international retail as Prime Membership experiences faster growth in markets overseas, especially in Japan and Europe, noted Morningstar analyst RJ Hottovy.
While such investments and capital pouring into AWS could affect profit margins, Amazon looks attractive as a long-term investment opportunity, he said.