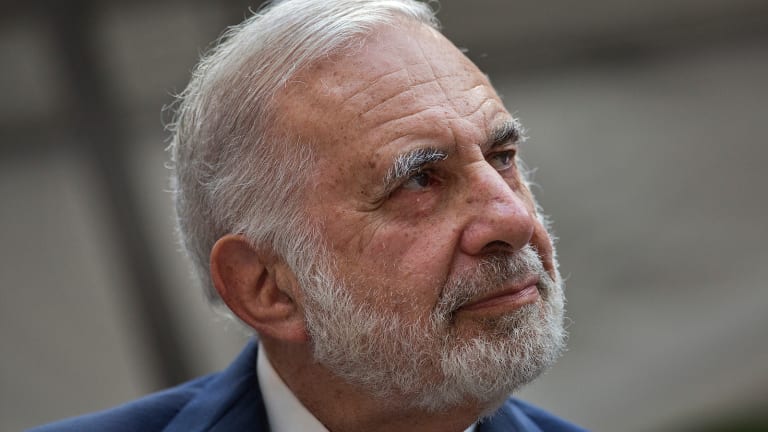 Here's What Carl Icahn Bought and Sold in the First Quarter
Carl Icahn exited his positions in Allergan and Nuance Communications during the first quarter of the year and acquired a stake in a Xerox spinoff after pressuring for a split.
Carl Icahn, the multi-billionaire investor who has an informal role advising President Donald Trump, exited his positions in Allergan (AGN) and Nuance Communications (NUAN) during the first quarter of the year and acquired a stake in a Xerox (XRX) spinoff after pressuring for a split.
Quarterly holdings filings with the SEC show that Icahn, 81, sold off his entire stakes in the pharmaceutical company and software technology company during the first three months of 2017. He disclosed new holdings in Conduent (CNDT) and Welbilt (WBT) .
Institutional investment managers with over $100 million in qualifying assets are required to file their holdings on a quarterly basis with the SEC on a form 13F. Such forms come with a 45-day delay, meaning that while Icahn's filing was released on Monday, it signals holdings as of March 31, 2017.
Based in New Port Richey, Florida, Welbilt manfuactures and sells foodservice equipment. Conduent completed its spinoff from Xerox in January after coming under pressure from Icahn to do so. Icahn has shares in both firms.
Icahn's largest holding remains his eponymous holding company Icahn Enterprises (IEP) . As of March 31, he owns 140.5 million shares valued at $7.2 billion. AIG (AIG) and Cheniere Energy (LNG) are his second and third-largest positions.
Icahn also reported a $1.4 billion position in CVR Energy (CVI) . The Sugar Land, Texas-based oil refiner is at the center of a growing controversy surrounding Icahn in his role as an adviser to Trump.
Icahn, who controls 82% of CVR Energy, has long railed against federal regulations requiring refiners that can't blend ethanol into gasoline to buy credits instead. A group of eight Democratic lawmakers, including Senator Elizabeth Warren, have demanded a probe into Icahn's activities in the biofuel market, focusing on the possibility of insider trading.
Lawmakers stepped up their campaign on Tuesday with a letter to Office of Government Ethics Director Walter Shaub inquiring about ethics rules in relation to Stefan Passantino, a White House aide who previously provided paid legal services to Icahn.
According to his latest regulatory disclosure, Icahn left his position in the company untouched last quarter.
Icahn has a net worth of $15.9 billion, according to Forbes. He gained fame and fortune as a corporate raider and activist investor in the 1980s and 1990s and has engaged in major activist pushes at companies like Apple  (AAPL) , Mylan (MYL) and Family Dollar  (FDO) . 
The market is likely to be overbought until Memorial Day, says Real Money's Helene Meisler. Find out more here.
Jim Cramer has a private investment club. Try Action Alerts PLUS for free.
Read More Trending Articles:
Netflix May Be Preparing to Do Something Big That Freaks Out Its Fans, but It Is a Necessary Evil