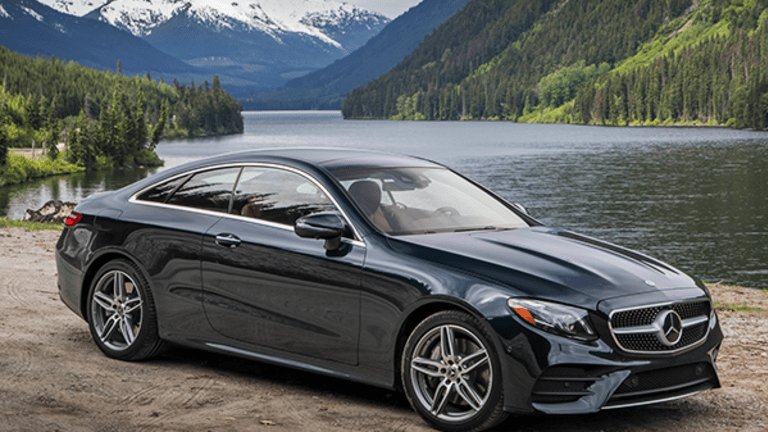 Daimler AG's (DDAIF) racy new Mercedes-Benz E400 coupe heralds the first full-fledged expression of a new design language for the German luxury brand, which is being called "sensual purity" by its chief designer.
Gorden Wagener, vice president of design since 2008, explained to reporters at the 2017 North American International Auto Show in January that the new language means that sharp metal creases and lines will fade and eventually vanish from future Mercedes-Benz models. Instead, vehicle exteriors will be rounded, smoother and simpler.
What appears to be a character line or bulge along the side of the new E400 was actually a "bone," Wagener explained. That bone, he said, "structures the side of the car and goes into this beautiful rear coke bottle shape -- sexy shape."
According to the automaker, "sensual purity" expresses "bipolarity -- the essence of beauty and intelligence," which makes the cars "irresistible." In short, "they are hot." Well, the cars do represent adult entertainment insofar as they require a driver's license to operate and about $70,000 or more to buy, in the case of the latest E400 coupe equipped with popular options.
During a test drive of several hundred miles through British Columbia, the E400 turned quite a few heads and managed to navigate narrow mountain passes with assurance. The 3.0-liter biturbo V6 generates 329 horsepower and 354 ft-lbs of torque, distributed by a nine-speed automatic transmission.
As has become the custom, the newest Mercedes-Benz features a multitude of elegant touches from a chrome "diamond block" grille to intricately designed metal air vents on the instrument panels. The stitching, scoops, bars, panels and switches show devotion to detail and a spare-no-cost attitude consistent with the company's motto, "the best or nothing."
Bernie Glaser, head of product management in North America, said BMW AG's decision to discontinue its 6-Series coupe created a "white spot" where Mercedes-Benz can sell its new coupe without a direct competitor in the price class. Last year, Daimler passed BMW in luxury-vehicle sales for the first time in a decade. Glaser said that current sales figure show that Daimler remains ahead this year, too.
By building the new coupe on an E-Class midsize architecture instead of its predecessor's C-Class compact architecture, Mercedes was able to add several inches to the car's length, width and height, thereby adding several critical inches of legroom for rear-seat passengers. In many coupes -- but not this one -- the rear seats are mere window dressing and barely can accommodate a child, much less an adult.
Several new safety and advanced driver assistance features are available, notably an enhanced Distronic -- the Mercedes name for adaptive cruise control -- that lets the car automatically overtake a slower vehicle and return to its lane. The driver must pay attention and keep hands on the wheel, but the car does the work.
Doron Levin is the host of "In the Driver Seat," broadcast on SiriusXM Insight 121, Saturday at noon, encore Sunday at 9 a.m.
This article is commentary by an independent contributor. At the time of publication, the author held no positions in the stocks mentioned.