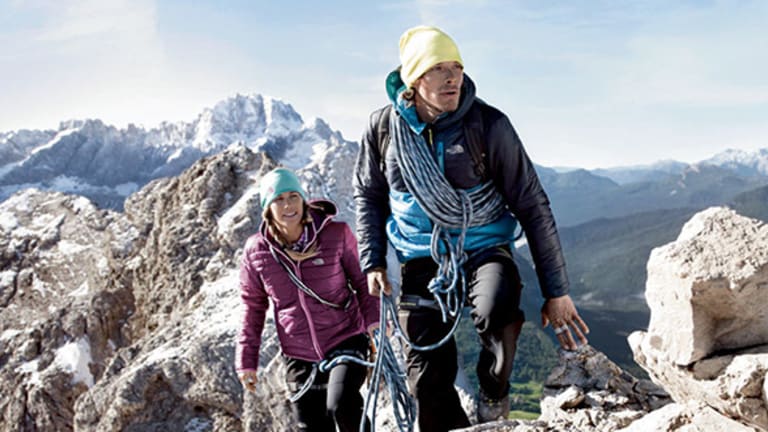 Here's How V.F. Corp. Plans to Keep the North Face Brand in Fashion
V.F. Corp. is seeking to expand its biggest brand beyond just winter wear and compete with the likes of Nike and Under Armour.
V.F. Corp. is seeking to expand its biggest brand beyond just winter wear and compete with the likes of Nike and Under Armour.
NEW YORK ( TheStreet) -- The North Face's history is steeped in developing technical backpacks for avid rock climbers and clothing for weekend hikes, but as owner V.F. Corp. (VFC) - Get Report looks toward the future, it's realizing its biggest brand must evolve with the times.
"We are seeing a blurred line between outdoor activities and athletics, which we like to think about as the modern outdoor market," said Todd Spaletto, president of The North Face at a meeting in New York City Tuesday. Spaletto added that "our goal is to keep you outside year round," which is a bit of a philosophical change for a brand that is best-known for its fleece jackets and hooded sweatshirts to be worn during the cold winter months.
The mission to make The North Face more of a year-round sportswear brand in the mold of Nike (NKE) - Get Report and Under Armour (UA) - Get Report  has sent execs venturing off into designing more lightweight jackets and tops under a label called Mountain Athletics label. These products serve multiple functions, such as being worn on the way to and from a SoulCycle class, or during a grueling Crossfit session. 
Recent introductions from The North Face brand have also been tailored to meet the new needs of consumers who now want to escape the urban environment on weekends to go camping, but then return home to the city Sunday night and go for a run. The success of several new, more versatile products underscore the potential of the market The North Face is targeting. 
Since launching a new lightweight jacket called Thermoball in 2013, The North Face has expanded the name has to include scarves, gloves, and shoes. Thermoball has gone onto rake in a over $100 million in global revenue, validating V.F. Corp's foray into the sportswear category.

The emphasis on training products is putting The North Face right into direct competition with some of the big-name sportswear brands. Nike is currently looking to expand in the training sneaker category, recently releasing the MetCon 1 to compete with Reebok's successful licensed Crossfit sneaker. In terms of sportswear, both Nike and Under Armour (UA) - Get Report continue to be at war in striving to offer the latest moisture-wicking material or other technology designed to enhance athletic performance.
The North Face enters these new waters with considerable sales momentum, however. The brand, which is producing over $2 billion in annual revenue, or about 17% of V.F. Corp.'s overall business, saw revenue climb 7% in the first quarter of this year, and then by 10% in the second quarter. In the second quarter alone, sales in The North Face's Americas segment rose by a double-digit percentage, while sales overseas advanced by a high single-digit percentage.
North Face is housed in a segment V.F. Corp. calls Outdoor and Action Sports, which also includes its Timberland boot business and Vans sneaker brand. The segment's operating profit margins rose 90 basis points year over year in 2014, in large part to consumers embracing new products from The North Face.  
Consistently solid sales and profits in V.F. Corp's most important business may explain the stock's relative outperformance -- shares of V.F. Corp. have gained about 2.8% over the past 52 weeks, compared to a 2.9% drop for the S&P 500.  

V.F. Corp. is leaving it all on the field, so to speak, to get consumers to think of The North Face brand as more than just a cold weather jacket company.
On Tuesday, The North Face launched its first-ever global brand campaign called "Never Stop," with the message focused on encouraging consumers to pursue a range of performance-related activities. The new "Never Stop" TV ad hits airwaves Oct. 12, with the second installment airing on Oct. 18 during Sunday night football. Marketing spend is already up 40% year over year, says Spaletto.
The company will also debut a range of highly technical outerwear called Summit Series on Oct. 15, priced between $300 and $600, and available at select outdoor specialty stores. When asked if a brand that is now so focused on athletic performance might one day unveil clothing containing technology that links to data-collecting smartphones, the answer was not quite yet.
"We are not going to put wires into the jacket's arms," said Spaletto. However, not all tech-enabled products are off the design table. Said Spaletto, "We are very interested in power and energy, and integrating solar into products, such as in tents."