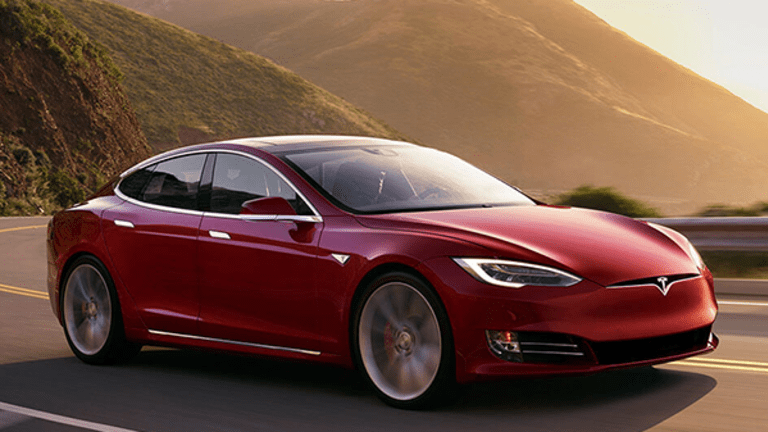 Here's How to Trade Tesla Ahead of the Model 3 Delivery Date This Friday
We looked at the company's share price the week and month after new vehicle deliveries.
Shares of Tesla, Inc. (TSLA) - Get Tesla Inc. Report  tend to fall once the rubber meets the road.
With thirty lucky drivers excited about the upcoming hand-off of the first Model 3 vehicles later this week, investors have reason to be wary. The company's stock has fallen the week and month after both of the last two Tesla release cycles.
The day after the first ten Model S vehicles were delivered on June 22, 2012, Tesla stock dropped almost 2%. By the following week, the stock had fallen almost 10% -- closing at precisely the same level three weeks later, a month after the first delivery.
When the Model X was delivered in September of 2015, the stock initially staggered upward a cool 0.71%. By the next week, the stock was down 8%. Three weeks later, the stock had fallen another 6 percentage points, sitting 14% lower than the day the cars met their drivers.
The classic stock market wisdom is that investors should buy on the rumor, and sell on the news. With the release of a new vehicle, the narrative playing out in the news can tend to shift.
"I would think it is the sense that investors have a hype around the launch of the vehicle and then the narrative around the stock shifts to execution risk of production," Cowen & Co. LLC senior research analyst Jeffrey Osborne said.
Some analysts think the stock still has some room to grow. Baird analyst Ben Kallo said the handover party slated for Friday, July 28 could be a catalyst for improved returns, according to Bloomberg. Baird set a $368 price target on the stock, implying an 8% upside.
Tesla CEO Elon Musk earned some attention this month for saying that the company's stock price is "higher than we have the right to deserve." The stock is trading around $341 today, almost 60% above where it started the year.
The stock's success story over the long haul vastly overshadows any losses it has incurred shortly after vehicle release dates. For instance, an investor who bought 100 shares of Tesla the day the Model S was released in 2012 would have unrealized losses of about $300 the next month. If they sold those shares today, they would make a profit of more than $30,000.
Watch:Forget the Model 3, Elon Musk Wants to Revolutionize How You Travel
Don't miss these top stories on TheStreet:
Ford Let Us Drive Its Tough New Pickup Truck and We Couldn't Believe the Rip Your Face Off Power
Advanced Micro Devices Could Explode Another 17% Within Hours: Chart
GM May Slash Six Car Models to Combat Slumping Sales, Avoid Plant Layoffs
Boeing Propels Dow Up Nearly Triple Digits, S&P 500 on Track for Records