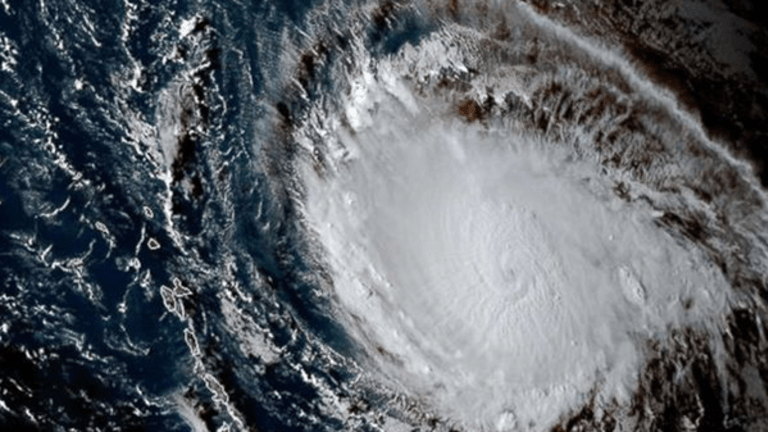 Hurricane Irma: Everything You Need to Know
Hurricane Irma's path has it making landfall in Florida on Sunday.
With the Gulf Coast of the United States still reeling from the damage of Harvey, Hurricane Irma is gaining strength in the Caribbean. The National Hurricane Center has classified it as a Category 5 hurricane.
The storm, which is expected to make landfall in Puerto Rico Wednesday afternoon, is currently projected to hit the southern tip of Florida this weekend. If it remains a Category 5 storm when it hits Florida, Irma will be the first hurricane of that magnitude the state has weathered since Andrew in 1992.
Here is everything we know about the storm so far. 
To be classified as a hurricane, a storm must have sustained winds of at least 110 mph, and Irma has been recorded to have maximum sustained winds of 185 mph. Category 5 hurricanes have maximum sustained winds above 157 mph, meaning Hurricane Irma has moved beyond the metrics used to categorize hurricanes.
Irma is the most powerful hurricane to ever be tracked in the Atlantic basin outside of the Caribbean Sea and the Gulf of Mexico, according to the National Hurricane Center. 
Hurricane Irma tore through the French islands of St. Martin and St. Barthélemy in the West Indies Wednesday morning, downing four French government buildings that were the sturdiest on St. Martin, according to AFP.
Irma's exact path is still up in the air. After it passes over the West Indies, the storm is expected to hit just north of the U.S. territory of Puerto Rico Wednesday evening and turn its wrath on the Bahamas Friday and Cuba by Saturday morning.
But beyond that, the storm could hit Florida 24 hours later, or it could head further up the eastern seaboard. 
Despite the storm's uncertain path, Florida is not messing around. Florida Gov. Rick Scott has already declared a state of emergency for the state's 67 counties. "Hurricane Irma is a major and life-threatening storm, and Florida must be prepared," Scott said in a statement. 
CLICK HERE FOR ALL OF THESTREET'S COVERAGE OF HURRICANE IRMA
Florida has already asked for assistance from the federal government. 
South Carolina is also under a state of emergency as Irma is expected to move up Florida's Atlantic coast as at least a Category 3 storm. 
Even in north Florida nearly three hours west of the Atlantic coast, people are prepping for a disastrous weekend. A Publix Supermarket in Tallahassee, Florida, was nearly sold out of bread and water even as the storm's path suggests four days before it affects Florida's capital city.
Hurricane Irma has the potential to inflict millions in lost profit on the tourism industry, one of Florida's top resources. The storm could shut central Florida theme parks including Walt Disney Co.-owned (DIS) - Get Walt Disney Company Report Walt Disney World, Comcast Corp.'s (CMCSA) - Get Comcast Corporation Class A Report Universal Orlando Resort and SeaWorld Entertainment Inc.'s (SEAS) - Get SeaWorld Entertainment, Inc. Report SeaWorld Orlando and dampen a usually busy pre-Halloween season. Further south, cruises leaving Florida ports and venturing into the Caribbean have been cancelled, rerouted and cut short by Carnival Corp (CCL) - Get Carnival Corporation Report , Norwegian Cruise Line Holdings Ltd (NCLH) - Get Norwegian Cruise Line Holdings Ltd. Report and Royal Caribbean Cruises Ltd (RCL) - Get Royal Caribbean Cruises Ltd. Report .
Irma has a dangerous pedigree. Irma is a classic Cape Verde hurricane, according to CNN, meaning it was formed in the far eastern Atlantic Ocean near the Cape Verde Islands. Those types of storms have traditionally turned into some of the largest and most intense hurricanes. 
The Coast Guard has already begun pulling resources from Texas in anticipation of Irma hitting Florida. 
American Airlines Group Inc. (AAL) - Get American Airlines Group, Inc. Report has already begun canceling flights between Miami and Caribbean destinations. 
The Monroe County Emergency Operations Center has issued mandatory evacuation orders for the Florida Keys ahead of Hurricane Irma's expected landfall on Saturday.
"We're emphatically telling people you must evacuate, you can not afford to stay on an island with a Category 5 hurricane coming at you. Most of this island chain is only three to five feet above sea level. With the surges we're expecting this is not the place to be," Director Martin Senterfitt said.
Orange juice is about to get more expensive thanks to the threat Hurricane Irma is presenting Florida with this week.
U.S. OJ futures rose to their highest point in four months late Wednesday, coming in at about $1.47 per pound of orange concentrate on the ICE Futures U.S. exchange.
This is a developing story, check by for updates.
In case you didn't know, here are the hurricane categories defined.
More Storm Coverage on TheStreet:
You Might Want to Consider Getting Flood Insurance