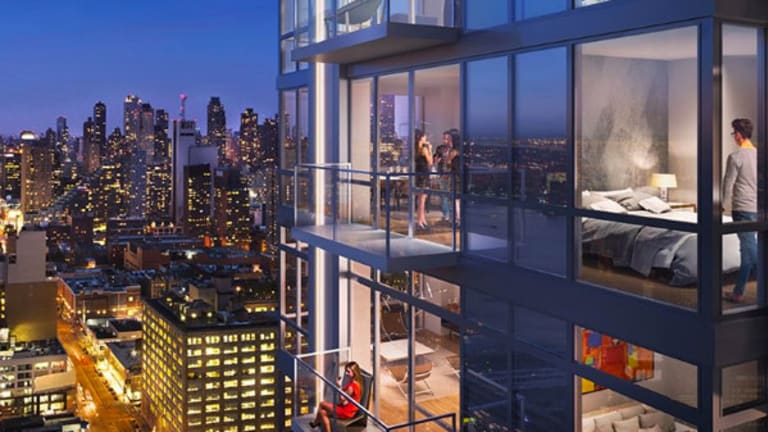 Publish date:
Here's a Look Inside New York City's Largest Rental Building
This towering experience you can rent on Manhattan's west side.
This towering experience you can rent on Manhattan's west side.
Manhattan's biggest rental building, Sky, towers over the city's far west side.
At 71 stories, Sky features 1,175 studio, one-bedroom and two-bedroom units and is located on West 42nd Street, just feet from the Hudson River.
Ask any New Yorker and you'll hear complaints that his or her rent is too high. That's because the average rental costs roughly $4,100 a month in Manhattan, according to an April 2016 report from Douglas Elliman, a real estate brokerage firm. Manhattan's vacancy rate stands at just 2.4%.
In Sky, developed by The Moinian Group, prices run about $3,000 for a studio and upwards of $7,000 for a two-bedroom unit. "If you're a renter, it's not easy. If you're a landlord, you can't complain," said Mitchell Moinian, senior vice president of The Moinian Group. "Rents are definitely high."
Moinian said part of the reason rents have risen stems from stricter lending requirements put in place by banks since the financial crisis, which has pushed more people into the rental market.
Sky was built like a condo building, Moinian said, boasting top-notch finishes in each unit, including quartz countertops, porcelain tiled bathrooms and floor to ceiling windows with breathtaking views of the Hudson River.
"There's been a new trend, which we've definitely taken advantage of here, which is building a certain type of rental product that is premium or superior to your typical rental product," he added. Moinian said this strategy helps cater to people who aren't sure if they should rent or buy.
Outside of the apartment, but still within the building, residents enjoy 70,000 square feet of amenity space including three swimming pools, a Life Time Fitness (LTM) - Get Report gym, a sauna and nail salon.
But even amid the glitz and glamour of Sky, the developers recognize New York City's growing affordability crisis. To that end, 20% of the units will be rented to lower-income households in exchange for tax incentives from the city for the developer.
"We're honored to say we've done that," Moinian said. "In this building alone, we were able to deliver hundreds of affordable units in one building."