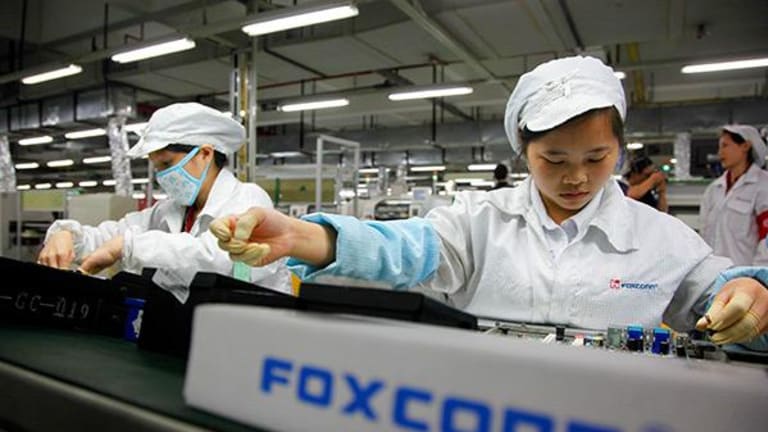 Take a Look At What Foxconn's $10 Billion Wisconsin Plant Could Mean
Apple supplier Foxconn is building a facility in Wisconsin months after announcing a $7 billion investment in the U.S.
A new $10 billion Foxconn (FXCOF) manufacturing plant is coming to Wisconsin, and the company bringing it is one you may never have heard of, although you've probably used the products it makes.
Headquartered in New Taipei City, Taiwan, Foxconn is the world's largest contract manufacturer of electronics, producing items such as Apple's (AAPL) - Get Apple Inc. (AAPL) Report iPhone, Microsoft's (MSFT) - Get Microsoft Corporation (MSFT) Report Xbox, Blackberry undefined and Nokia (NOKBF) smartphones, and Nintendo's (NTDOY) Wii. 
Amid all of the headlines coming out of Washington this week, one of significant importance was Foxconn's announcement to bring a manufacturing plant to Wisconsin in an effort to launch a robust electronics manufacturing supply chain in the United States.
The new 20 million square-foot facility will make high-resolution liquid-crystal displays, known as 8K resolution LCD, used in televisions, smartphones and other devices. It has the potential to employ 13,000 people at an average salary of $53,000 annually, plus benefits, according to Wisconsin Governor Scott Walker. Its opening is slated for 2020, when it will initially house 3,000 employees.
"This is a great day for American workers and manufacturers and everyone who believes in the concept and the label 'Made in the USA,'" President Donald Trump said when announcing the plant's opening with Foxconn Chairman Terry Gou in Washington.
The "Made in America" label has been a staple of Trump's campaign and his presidency, promising to revitalize U.S. manufacturing. Gou believes the plant will become a foundation for establishing a U.S. electronics supply chain that is now predominantly based in Asia.
A key factor in deciding to build the plant in Wisconsin is because Foxconn will be eligible to earn $3 billion in tax credits over 15 years, Governor Walker said. The agreement is contingent on Foxconn investing $10 billion in Wisconsin and creating 13,000 jobs by 2020. Its opening follows Gou's pledge in January to invest at least $7 billion in the U.S. and to create between 30,000 and 50,000 jobs. 
Apple Investing Billions in OLED Display
Apple Isn't the Only Hot Deal That Will Send PayPal Shares Soaring -- Jim Cramer Reveals
But is this week's announcement really that great for the American worker? And what will the specific economic impact be, not only for the electronics manufacturer but for Wisconsin workers and the state's local economy?
For starters, Foxconn comes to America with a less-than-stellar reputation. The company has come under fire over suicides at its Chinese sites, plant explosions, worker riots and child labor violations.
The jobs at the Wisconsin plant "probably will be pretty different from the kind of jobs that Foxconn is famous for in China," said Eli Friedman, associate professor of international and comparative labor at Cornell University. 
"That being said, it is likely that Foxconn will be operating with similarly small profit margins, which means they will do whatever they can get away with to put downward pressure on wages. Probably these unskilled jobs will not be very well paid, and workers will likely face high work intensity."
Although the wage issue is still speculative, one thing Friedman said we can count on is that "Foxconn and Wisconsin Governor Scott Walker will do everything in their power to prevent the workers from unionizing. "
Walker has previously proposed a plan to abolish unions for federal workers.
Nevertheless, University of Wisconsin-Madison's Chancellor and former Acting U.S. Commerce Secretary Rebecca Blank is confident that Foxconn's move to the state has the potential to stimulate its economy.
In an emailed statement to TheStreet, Blank's office called the move "a major leap forward for our state's economy." 
"It also illustrates the importance of a culture of innovation, along with a strong public research university, to regional economic development," she said.
Wisconsin has a 3.1% unemployment rate, the 9th best in the U.S., according to the Bureau of Labor Statistics. But, the state's labor participation rate has been falling and hit 68.3% in February 2017, meaning fewer people are in the workforce. That said, wages in Wisconsin are higher than any year going back to 2000, according to Politifact.
The factory will be located in the congressional district of Republican House Speaker Paul Ryan, a White House official told the AP, although the official declined to provide a specific location. Speaker Ryan serves Wisconsin's 1st congressional district, which includes Kenosha and Racine counties and portions of Milwaukee, Rock, Walworth and Waukesha counties.
"I'm thrilled that Foxconn ... decided to build their new factory in southeastern Wisconsin. This decision will create thousands of good jobs, and I'm excited for all the Wisconsinites who will benefit," Ryan said. "... [W]e look forward to working further with Foxconn as we begin a new era of manufacturing here in Wisconsin."
Since the announcement, Trump has praised the investment made by Foxconn and even suggested the company could increase their investment in the U.S.
While speaking at the White House, Trump said that Gou told him "off the record" that Foxconn could invest as much as $30 billion in the Wisconsin plant instead of $10 billion.
Apple is a holding in Jim Cramer's Action Alerts PLUS Charitable Trust Portfolio. Want to be alerted before Cramer buys or sells AAPL? Learn more now.
More of What's Trending on TheStreet: