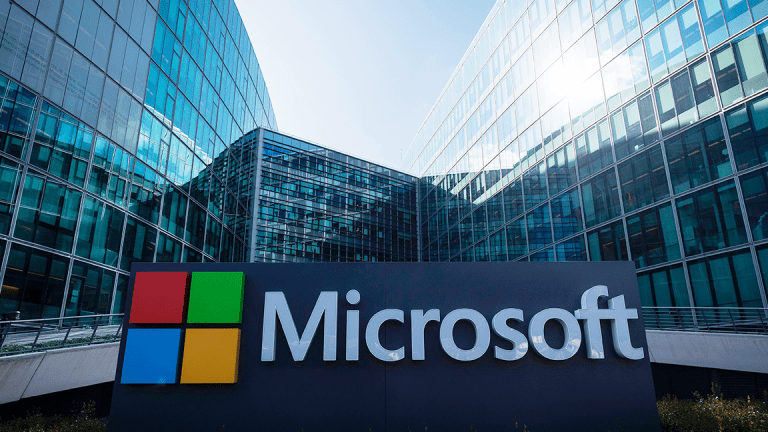 Here Are 2 Ways to Play Microsoft Stock
Should the economy expand nicely, and growth stocks resume their march, cloud names will rule the day.

What I Have Been Trying To Tell You
Earlier this week, Microsoft (MSFT) - Get Free Report and Walgreens Boots Alliance (WBA) - Get Free Report announced together a broad strategic partnership. Should the economy expand nicely, and growth stocks resume their march, cloud names will rule the day. Should the economy, and with it, the marketplace struggle in 2019, money will still have to be spent on business integration (and development) involving the cloud.
This is one of the main reasons behind my seemingly permanent long positions in Amazon (AMZN) - Get Free Report , in Microsoft (MSFT) - Get Free Report , in Salesforce (CRM) - Get Free Report , and in Adobe (ADBE) - Get Free Report . I look for quality in this space, and generally... this is the one slice of our market where I do not worry about day to day movements in pricing. When these stocks sell off, my only decision is if the shares are trading cheaply enough for me to grab a few. This is also why, when I take a leap of faith on a smaller name, it would be one that operates in the cloud where there's in my opinion, an obvious need. Hence, why I stuck by Zuora (ZUO) - Get Free Report through the lock-up expiration and fourth quarter beat-down.
By the way, the deal between MSFT and WBA is a seven year marriage that involves access to Windows 10, and Office 365 for more than 380K Walgreens employees while the firm migrates most of it's technology infrastructure onto the Azure platform. Walgreens is not alone. Such well known entities as Walmart (WMT) - Get Free Report , Mastercard (MA) - Get Free Report , Royal Dutch Shell (RDS.A) , General Electric (GE) - Get Free Report , and Kroger (KR) - Get Free Report have all climbed on board the Microsoft train in the recent to semi-recent past. Oh, Sarge 986 is a customer too. MSFT will go to the tape in about two weeks with their fiscal second quarter. Expectations are for EPS of $1.09 on revenue of $32.5 billion. If those projections are on the money, they would represent year over year increases of 13.5% and 12.5%, respectively.
The name has hit 106 resistance, and looks interesting perhaps at 103, but in my opinion more so at 101. Although the daily MACD, Relative Strength, and Money Flow all look significantly improved from here, note that trading volume has declined steadily throughout the name's recent run. That, to me, is a negative that could allow for cheaper entry than where the name went out on Wednesday night.
Microsoft (MSFT) Equity Play
Target Price: $116 (down from $125)
Add: $101
Panic Price: $95 (down from $99)
Earnings Options Trade (minimal lots)
-Purchase one MSFT Feb 1st $108 call (last: $1.66)
-Sell one MSFT Feb 1st $115 call (last: $0.21)
-Sell one MSFT Feb 1st $101 put (last: $1.28)
Notes: Aggregate debit amounts to 17 cents. In other words, the traders is risking 17 bucks to try to return a max of $700. In order to set up this ridiculous profit potential in terms of potential, the trade must allow for possible equity exposure at the $101 level, where the chart implies possible support.
(Microsoft, Amazon, and Salesforce are holdings in Jim Cramer's Action Alerts PLUS member club. Want to be alerted before Jim Cramer buys or sells MSFT, AMZN or CRM? Learn more now.)
(An earlier version of this column appeared at 8:29 a.m. ET on Real Money, our premium site for active traders. Click here to get great columns like this from Stephen "Sarge" Guilfoyle, Jim Cramer and other experts throughout the market day.)
At the time of publication, Stephen Guilfoyle was Long MSFT, AMZN, CRM, ADBE, ZUO, RDS.A equity, GE puts.