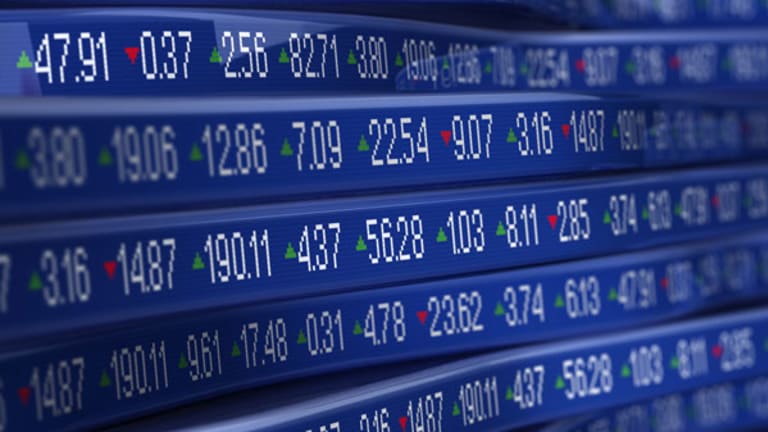 Here Are the Stocks That Will Be Hurt, and Helped, by Sandy
Home-improvement stores may benefit, while phone companies will pay big bills restoring service.
Home-improvement stores may benefit, while phone companies will pay big bills restoring service.
NEW YORK (
) -- As millions across the mid-Atlantic, Northeast and Midwest weigh damages from Hurricane Sandy, the storm also is having a
on stocks spanning a number of industries.
Equity markets in New York
opened for trading after being closed for two days
. The hurricane, which took lives, stranded families and crippled utilities, touched industries ranging from refiners and retailers, to utilities, airlines, insurers and telecoms.
Meanwhile, in the Financial District of Lower Manhattan and across the Eastern Seaboard, rescue workers mounted a monumental effort to protect lives and repair basic infrastructure that spans nearly a dozen states as of Wednesday.
Major stock indices opened slightly higher only to fall, as investors digested the effect that Sandy may have on corporate earnings in coming quarters. Notably the technology sector underperformed, as a lock-up on hundreds of millions of
Facebook
(FB) - Get Report
shares ended and
at
Apple
(AAPL) - Get Report
pre-empted heavy selling.
Investors braced for the worst, as estimates emerged that put the damage at $30 billion and up. Insurance giants like
Berkshire Hathaway
(BRK.A) - Get Report
,
Travelers
(TRV) - Get Report
and
Allstate
(ALL) - Get Report
may suffer
double the claims of Hurricane Irene
, according to early industry-wide loss estimates from Eqecat, AIR Worldwide and Credit Suisse.
On Tuesday, AIR estimated insurance claims may reach between $7 billion and $15 billion, more than Monday's initial figures from Eqecat. Both firms model and assess risk and catastrophe losses for the insurance industry.
In a note to clients on Wednesday, Credit Suisse put fourth-quarter Hurricane Sandy-related losses between $5 billion and $15 billion, and cut the price targets of Allstate,
Arch Capital
(ACGL) - Get Report
,
Chubb
(CB) - Get Report
and Travelers.
Outside of direct property and casualty insurance claims, and those attributed to businesses hurt by the storm, analysts see a range of earnings increases and decreases across industries.
Goldman Sachs analysts expect home-improvement giants like
Home Depot
(HD) - Get Report
,
Lowe's
(LOW) - Get Report
,
Lumber Liquidators
(LL) - Get Report
and
Owens Corning
(OC) - Get Report
to benefit from Sandy, as homeowners and businesses spend heavily to repair houses, offices and stores.
Within the retail sector, the Goldman analysts, led by Matthew Fassler, forecast a hit to casinos, restaurants and discount stores, highlighting
Boyd Gaming
(BYD) - Get Report
,
The Cheesecake Factory
(CAKE) - Get Report
,
Dollar Tree
(DLTR) - Get Report
,
Dunkin' Brands
(DNKN) - Get Report
,
Five Below
(FIVE) - Get Report
and
Panera Bread
(PNRA)
.
Those companies are concentrated in states like New York, New Jersey, Maryland, Connecticut, Pennsylvania and Delaware -- in Sandy's wide storm path.
"
We believe the degree of impact on companies will likely depend on one or more of the following three drivers: stock-ups; store closings; and cleanup/rebuilding," Goldman's Fassler wrote.
Other sectors will also face challenges depending on how crippling Sandy proves to be. As of early Wednesday, four million households remain without power and reports indicate the death toll attributed to the hurricane is approaching 50.
Bank of America Merrill Lynch analysts suggest that for refineries, a loss in demand for energy products may be greater than production shortfalls as some Eastern Seaboard refineries go off line.
Phillips 66
(PSX) - Get Report
and
Hess
(HES) - Get Report
have shuttered large Northeast refineries for storm-related assessments, while regional Philadelphia Energy Solutions refineries remain open. Still, the analysts say Sandy won't help much.
Valero
(VLO) - Get Report
is the only "buy"-rated refinery.
"Demand likely the bigger risk," Bank of America Merrill Lynch analysts said of the storm's impact. "The East Coast accounts for roughly 30% of total U.S. demand, and we expect this to come under pressure in coming weeks given school and work closures, combined with 20% of all U.S. flights cancelled."
In spite of power outages that reached in excess of 8 million customers across 17 states, Bank of America Merrill Lynch analysts don't see a susbstantial earnings loss for major regional utilities like
FirstEnergy
(FE) - Get Report
,
Public Service Enterprise Group
(PEG) - Get Report
,
Exelon
(EXC) - Get Report
and
Con Edison
(ED) - Get Report
.
"The two biggest issues for utilities from major storms are lost sales and storm costs," notes Bank of America Merrill Lynch analysts. "We expect outages will last around a week on average, resulting in lost sales for the utilities. However, for the most part, we do not expect this to be a significant earnings loss." Still, investors should watch for any political or regulatory fallout, the bank said.
In the airline sector, Bank of America Merrill Lynch analysts calculate U.S. airlines may have lost $500 million in revenue and $100 million in profits, and highlights
JetBlue
(JBLU) - Get Report
,
US Airways
(LCC)
and
Delta
(DAL) - Get Report
as carriers most exposed to the Northeast.
The Street
New York's LaGuardia airport may reopen on Thursday, while select flights are scheduled for Kennedy Airport and Newark of New Jersey. "Given advanced warning, airline operations should recover quicker than normal," Bank of America Merrill Lynch wrote in its assessment of Sandy's impact on airlines, which highlights that the sector's relatively strong earnings may continue in spite of flight cancellations.
Telecom carriers such as
Verizon
(VZ) - Get Report
,
AT&T
(T) - Get Report
,
Sprint
(S) - Get Report
and
T-Mobile
-
MetroPCS
(PCS)
also face
as they try to repair hurricane-damaged networks and continue with recently announced network expansion and consolidation efforts.
As of Wednesday, Hurricane Sandy is
reported
to have hit the infrastructure of the nation's largest carriers. According to
Reuters
, the nation's leading carrier and New York-area powerhouse
Verizon
(VZ) - Get Report
may have come out of the storm with the worst damage after flooding and power outages hit the company's offices in Lower Manhattan, Queens and Long Island.
Competitor
AT&T
(T) - Get Report
is also reported to have been hurt by the storm, in addition to
Sprint
(S) - Get Report
and industry No. 4
T-Mobile
, which announced a merger with
MetroPCS
(PCS)
this month.
Late on Tuesday, Evercore Partners telecom analysts, led by Jonathan Schildkraut, put out
on the impact of Sandy on telecoms, highlighting key earnings and service scenarios.
"While it's still too early to determine how much the storm could impact the carriers financially, we do look at last year's storm, Irene, as a guide. Irene (in addition to Tropical Storm Leo) -- which notably impacted Verizon's total footprint -- led to roughly a 5-cent impact to 2011 EPS and slower FiOS customer growth in
the third quarter of 2011. For 4Q12, we believe Sandy could have ramifications for VZ's FiOS net add guidance of 150-170 per quarter and 4Q EPS," Schildkraut wrote.
The analyst also said he sees a potential impact on Sprint, as it tries to use $8 billion in new capital from its acquisition by Japan's
Softbank
to bolster its network and draw closer to industry leaders in smartphone service. Notably, the company may see a slowdown in its multi-year, multi-billion-dollar Network Vision service upgrade.
To be sure, analysts' estimates may end up being premature. It could well be that damage from Hurricane Sandy is greater than projected.
Follow @agara2004
-- Written by Antoine Gara in New York