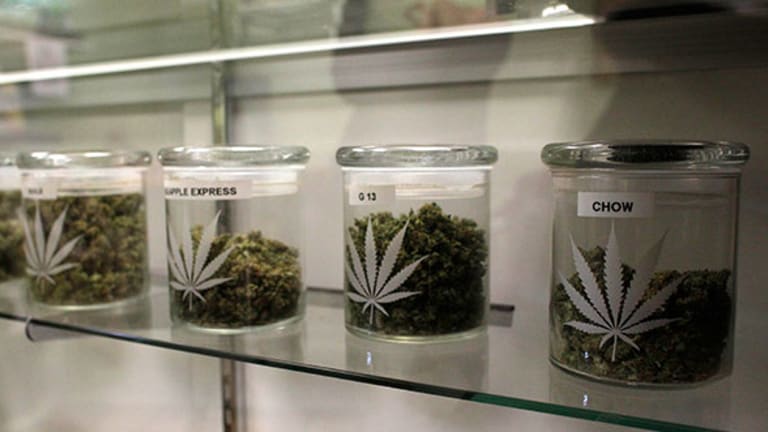 Publish date:
Here Are the Next 6 States Likely to Legalize Recreational Use of Marijuana
While experts sometimes disagree on which states are likely to legalize recreational use, these are the six states that are most likely green light pot use next.
While experts sometimes disagree on which states are likely to legalize recreational use, these are the six states that are most likely green light pot use next.
The recreational use of marijuana could occur as soon as 2018 in several states along the East Coast and even the Southwest if voters approve the referendums.
The number of states that have approved medicinal use of cannabis has increased during the past few years, but many states have banned recreational use.
Last fall voters in California, Massachusetts, Maine and Nevada approved the recreational use of marijuana while Arkansas, Florida and North Dakota adopted medical marijuana laws. Efforts in Arizona failed, but this issue could emerge as a ballot initiative next year, said Bryan Meltzer, a partner at Feuerstein Kulick, a New York law firm specializing in cannabis law, litigation and corporate transactions.
As the nascent marijuana industry accelerates, revenue generated in the legal cannabis sector has grown at an immense pace with North American consumers spending $6.7 billion on legal cannabis products in 2016, up 34% from 2015, according to The Arcview Group, a cannabis investment and research firm based in San Francisco.
The momentum is expected to pick up as the adult use markets open in California, Massachusetts and Canada. By 2021, the industry is predicted to generate revenue of $22.6 billion, the firm said.
Depending on the state's laws, legalization could occur either through a referendum or a state's legislature. More states and their lawmakers will seek to legalize recreational use of cannabis, especially if they are located in an area surrounded by other states that have been generating revenue already.
A regulated market will deplete the existing black market of its supply and could be a catalyst for other states, said Meltzer.
"A lot of products that fail state regulations and can not be sold in a legal market will likely go towards black markets in nearby states that do not have legal regulated markets," he said. "This also includes legal products sold in legal markets."
Lawmakers who are cognizant of the loss of tax revenue could decide this is the impetus needed to legalize recreational use. They could "tax it like businesses in other industries to generate hundreds of millions in tax revenue," Meltzer said. "It's a compelling reason for a state to do that."
The advocacy groups in some states are working hard to collect signatures to place marijuana initiative measures on the 2018 ballot. As of Augudy 7, New Approach South Dakota has 90 days to collect all their signatures in order to place two marijuana initiative measures on the ballot, according to the Marijuana Policy Project, a Washington, D.C.-based marijuana policy reform organization. One petition seeks to legalize marijuana for medical uses and the other to legalize certain amounts of marijuana for adult use and to regulate and tax marijuana businesses.
Legalizing recreational use has a spillover effect not just in generating tax revenue, but also in creating more jobs, said Jason Spatafora, co-founder of Marijuanastocks.com and a Miami-based trader and investor known as @WolfofWeedST on Twitter.
"In a perfect world where politics and gerrymandering of districts didn't impact marijuana legislation, states that adopted cannabis laws similar to Colorado would experience something their less progressive neighbors would be envious of such as the benefits of tax revenue as well as the intrinsic values these laws have on surrounding ancillary industries such as security, real estate and other services," he said.
The impact on the manufacturing industry is also sizable as the cannabis sector will only add more jobs instead of reducing them, unlike the coal industry, Spatafora said.
"But if I had my personal choice of where to wave my judicial wand, it would be in states where they used to mine coal and where they are very good at making moonshine," Spatafora said. "States should also see a reduction of opioids overdoses as well as a reduction of marijuana-related drug offenses, which has an immeasurable value," he said.
While the adult use of cannabis is emerging as a bi-partisan issue, nearly everyone is coming around and understands the medicinal qualities and effects, said Jeffrey Zucker, president of Green Lion Partners, a Denver-based business strategy firm for early stage cannabis companies and a board member of the Marijuana Policy Project.
"There are plenty of Republicans who have seen what it is doing for many states," he said. "They will have to consider it more since some of their deficits are so large."
Partaking in edibles, extracts and topicals will soon be ubiquitous like consumers who opt to drink alcohol as entrepreneurs develop various uses for cannabis for both medicinal and recreational purposes, Zucker said.
"It will be regulated like alcohol and generally once there is medical approval, the minds of constituents and politicians will slowly open their minds to recreational use," he said.
While experts sometimes disagree on which states are likely to legalize recreational use, these are the six states that are most likely to end prohibition for adults 21 years and older.
Don't miss these galleries on TheStreet:
10 of the Most Worthless And Expensive Olympic Venues of All Time
15 Killer Fall Travel Deals
10 Absolutely Worthless Pieces of Sports Memorabilia
The 30 Nastiest Storms in Recent U.S. History Have Caused Mind-Blowing Damage
15 Beers That Are Worth a Bundle on the Black Market
1. Vermont
Vermont needs legislative approval in order for adult use to become legal. The current bill can not move forward until the legislature reconvenes either later in 2017 or in January 2018, according to the Marijuana Policy Project. It needs passage by the House before Gov. Phil Scott could sign it.
The House did pass a similar bill earlier in 2017, "so there is little question that H. 511 will pass when it is brought to a vote," the MPP said.
"While this is a slow process, Vermont is the furthest along and probably the next one," said Meltzer.
2. New Jersey
Many proponents of legalization are heartened by June's gubernatorial primary elections in New Jersey. Democratic candidate Phil Murphy said in victory speech that "the criminalization of marijuana has only served to clog our courts and cloud people's futures, so we will legalize marijuana … And while there are financial benefits, this is overwhelmingly about doing what is right and just."
While the Republican winner, Lt. Gov. Kim Guadagno, is not in favor of legalization, in the past she has expressed opinions of decriminalizing marijuana and easing patient access to the medical marijuana program.
The general election occurs on November 7.
"Assuming that Phil Murphy wins, New Jersey will move very quickly to legalize recreational use," Meltzer said. "Based on the polls, it looks like he is a frontrunner."
New Jersey is another state which needs legislative approval.
3. Arizona
While Arizona voters defeated the measure last November, the ballot initiative in 2018 will likely be more inclusive, said Meltzer.
"In 2016, the ballot initiative came pretty close to passing," said Meltzer. "Arizona has a good shot of passing it since public opinion has grown in support of medical and adult use."
4. Michigan
If Michigan voters approve the ballot initiative in November 2018, the state would legalize personal possession, cultivation, and use of cannabis for adults 21 and older, legalize the cultivation of industrial hemp, license marijuana businesses that cultivate, process, test, transport and sell marijuana and tax marijuana at retail levels with proceeds to support K-12 public schools, roads and local governments, according to the Marijuana Policy Project.
"The proponents of legalization think they have the votes," said Meltzer.
Michigan's medical program has been "decent, even though it is not as well regulated as we would like," said Zucker. "I expect it to pass and it will be interesting to see how they transition."
5. Rhode Island
Rhode Island is one of a few states that was expected to legalize adult use by now and even before Massachusetts approve it, said Meltzer. A 22-person commission on marijuana legalization is expected to report its findings in 2018.
"Rhode Island is playing it slow and could wait and see how it works in Massachusetts and be more cautious," he said. "Massachusetts will provide a model for some Northeast states that want programs with a smaller footprint."
The Regulate Rhode Island coalition has said their compromise of the current bill would "make up to an ounce of marijuana legal for adults ages 21 and older starting July 2018, when stores would open in Massachusetts. It would also create a small advisory board to study how Rhode Island could regulate and tax marijuana in the future."
Rhode Island has a good medical cannabis program and should legalize it "pretty soon" since they are losing out on revenue and there is pressure from Massachusetts and Maine, said Zucker.
6. Connecticut
The state's representatives proposed an amendment to another bill in June, according to the Marijuana Policy Project. While the issue did not receive a vote, prohibition could end this year because Connecticut Democrats in May released a budget proposal which included the regulation and taxation of cannabis similar to current laws for alcohol.
"Connecticut has a good chance of getting its legislation to go through and their polling numbers look good," said Zucker. "Some other states that could pass adult use include Maryland, New Mexico and Delaware."
Don't miss these galleries on TheStreet:
10 of the Most Worthless And Expensive Olympic Venues of All Time
15 Killer Fall Travel Deals
10 Absolutely Worthless Pieces of Sports Memorabilia
The 30 Nastiest Storms in Recent U.S. History Have Caused Mind-Blowing Damage
15 Beers That Are Worth a Bundle on the Black Market