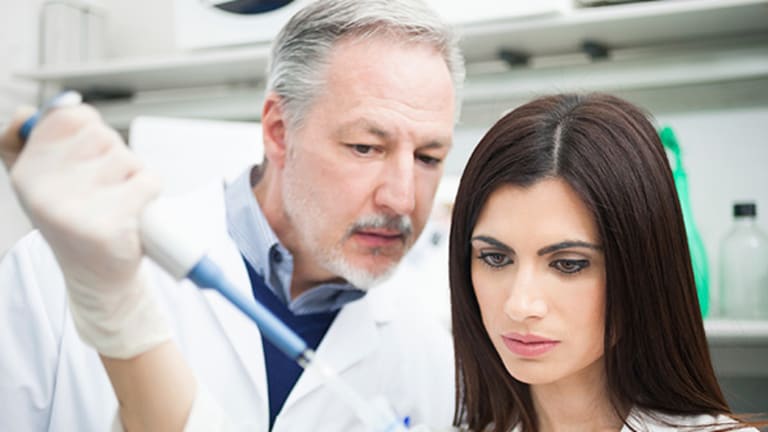 Here Are Some Small-Cap Pharma M&A Targets After Relypsa Deal
Investors may want to look at some small-cap pharma names that could be takeover targets like Relypsa.
The Big Pharma hype surrounding Galenica's $1.53 billion bid for Relypsa (RLYP)  sparked enthusiasm across Wall Street Thursday, buoying shares of a variety of small-cap U.S. drugmakers as the question looms: "Who's next?"
Shares of Relypsa climbed some 58% Wednesday following the takeover offer from Galenica, the owner of Switzerland's largest pharmacy network, in an all-cash deal at $32 a share.
Meanwhile, shares of Synergy Pharmaceuticals (SGYP) - Get Report -- a popular takeover prospect last fall -- jumped about 5% as it appears more likely that suitors will come knocking to obtain the drugmaker, especially as its chief product, gastrointestinal therapy plecanatide, continues to strive for FDA approval as it prepares to release Phase III trial data.
Real Money Pro's Bret Jensen -- who recommended buying Relypsa stock in April, calling it "insanely low-priced given its fundamentals" -- said in a phone interview Thursday that the Relypsa takeover may not be large enough to set off a significant takeover wave among large-cap companies, but noted, "I do think you're going to see some smaller deals," and that "Synergy would be one of those names right up that alley."
Meanwhile, shares of drugmaker Ardelyx (ARDX) - Get Report, which also specializes in gastrointestinal treatments, also climbed roughly 11% in midday trading, as a potential takeover looks increasingly attractive given that Ardelyx overlaps with Relypsa's star drug Veltassa, which helps treat abnormal blood-potassium levels.
"Ardelyx has a treatment that has properties very similar to Relypsa's Veltassa, so if companies were interested in purchasing Relypsa then they might be interested next in Ardelyx," Wedbush analyst Liana Moussatos said in a Thursday phone interview. She added that Relypsa shares stand to reach new heights as an even larger takeover offer may be on the horizon, namely from Sanofi (SNY) - Get Report , whose $110 billion market cap dwarfs Ardelyx's by about 76 times.
"While we see $32 per share as an acceptable offer, we believe there is room for at least one additional bidder," Moussatos and Wedbush analyst Kelechi Chikere said in a Thursday investment note, highlighting Sanofi as a prime candidate following a two-year deal the company inked with Relypsa last August to provide commercial support for a joint sales force for drugs treating kidney disease.
Investors can primarily expect more deals in the coming months thanks to the Federal Reserve tamping down interest rates and making capital cheap, as well as the extra capital and more takeover pressure on large-cap pharmaceutical giant's such as Pfizer (PFE) - Get Report and Sanofi, Jensen said. He highlighted the April termination of Pfizer's $160 billion bid for Allergan (AGN) - Get Report (a holding of Jim Cramer's Action Alerts PLUS charitable trust) as well as cancer-treatment giant Medivation's (MDVN)  April rejection of Sanofi's $9.3 billion takeover offer.
Jensen specifically noted the attractiveness of ACADIA Pharmaceuticals (ACAD) - Get Report  as a takeover target, given the recent FDA approval of its hallucination treatment Nuplazid, and Merrimack Pharmaceuticals (MACK) - Get Report , following recent FDA approvals and the regulatory agency's decision this month to fast-track its lung-cancer treatment, seribantumab. ACADIA shares clocked up about 5% Thursday, while Merrimack shares declined about 1%.
Progenics Pharmaceuticals (PGNX) - Get Report also looms as a potential target, Jensen says, given the FDA approval this week of an oral-version of its Relistor constipation treatment, a drug whose rights are held by Progenics partner and debt-laden Valeant Pharmaceuticals (VRX) .
"That would be a another one that Allergan would be interested in," Jensen added. "Valeant owns rights to the drug, but may be willing to sell those rights... It would be a more complicated two step than, say, an acquisition of Synergy."