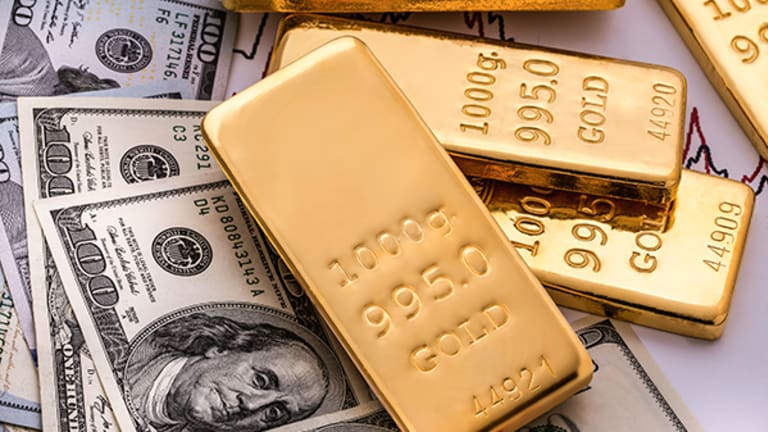 Here Are 3 Illuminating Things Most People Don't Know About Gold
Gold gets a lot of press, but here are three things most investors might not know about the yellow metal
In the second quarter, gold demand from nearly all sources fell, except for one, which is now the greatest source of demand.
Half of all consumer demand comes from one continent, and the biggest growth in demand came from three surprising countries.
Gold is on a lot of investors' minds. But here are three things about gold that most investors might not know.
1. Everyone, except investors, wants less gold.
There are four main sources of gold demand: central banks and other big institutions; investment, jewelry and technology, mostly for electronics.
During the second quarter, demand for gold from three of these sources declined, by volume, not value. Central banks wanted 40% less gold than a year earlier, jewelry demand was 14% lower and demand from the tech sector fell 3%.
This isn't too surprising, as gold prices have been climbing, and when prices rise, demand declines.
But investment demand soared 141% from a year earlier. The majority of this came from demand for gold exchange-traded funds.
During the fourth quarter last year, just before the latest gold rally began, ETFs were a net negative on gold demand. But in the second quarter this year, investment was responsible for 43% of all gold demand.
What this also shows is that gold has a built-in hedge. If prices drop, investor interest will likely wane, but jewelry demand and demand from the tech sector, will probably increase, which would help stabilize gold prices.
2. The Japanese, British and Americans are buying way more gold.
From April to June, Japan, the U.S. and the U.K. showed the strongest growth in consumer demand. And there is a good reason for this.
Japan had 163% growth in consumer gold demand from a year earlier, including jewelry, gold bars and coins but not gold purchased as an official investment. And there has been a spike in Japanese gold demand for one reason: Abenomics, which is Prime Minister Shinzo Abe's economic policies.
In January, he introduced negative interest rates to try to once again stimulate the Japanese economy.
The result has been falling government bond yields to the point that 80% of all Japanese government bonds now have negative yields. Owning them means that investors are guaranteed to lose money.
But Japanese citizens are known as savers, and government bonds are one of their favorite ways to save. Rather than losing money owning them, though, more investors and savers have recently been buying more gold.
Even though the growth in demand is the highest in the world, the absolute demand for gold in Japan is still relatively small. Last quarter, Japan's demand for gold, measured in tonnes, was just 5% of China's demand.
The U.K. saw a 20% increase in demand from the second quarter last year. The Brexit vote and the sharp sell-off of the British pound created a lot of uncertainty in the British market and economy, and it is under those sorts of conditions that people want the security of gold.
And as for the U.S., it is having one of the most controversial election seasons in its history. For instance, it would be interesting to find out how a President Donald Trump could affect gold prices. 
Add to that the potential of a decline in the value of the dollar, and U.S. investors are also turning to gold as a globally accepted store of value.
3. Asia still buys more gold than anywhere else. 
The world's biggest gold consumers come from India and China. Even though consumer demand for gold fell 18% in India and 14% in China from the second quarter last year, they were still responsible for 45% of total consumer demand.
When the rest of Asia is taken into account, consumers from the world's largest continent account for 58% of all of gold's consumer demand.
Gold prices will likely continue to climb, perhaps a lot, in coming months. Gold acts as great portfolio insurance, and it can act as a hedge against central banks' efforts to degrade fiat or paper currencies.
It also has a low correlation with other investable assets. And right now, even though it usually isn't, gold is also a good investment.
---
Everything you need to know about gold and some of the best ways to buy it, are in our free special report on gold that's available here.
Kim Iskyan is the founder of Truewealth Publishing, an independent investment research company based in Singapore. Click here to sign up to receive the Truewealth Asian Investment Daily in your inbox every day, for free.
This article is commentary by an independent contributor.