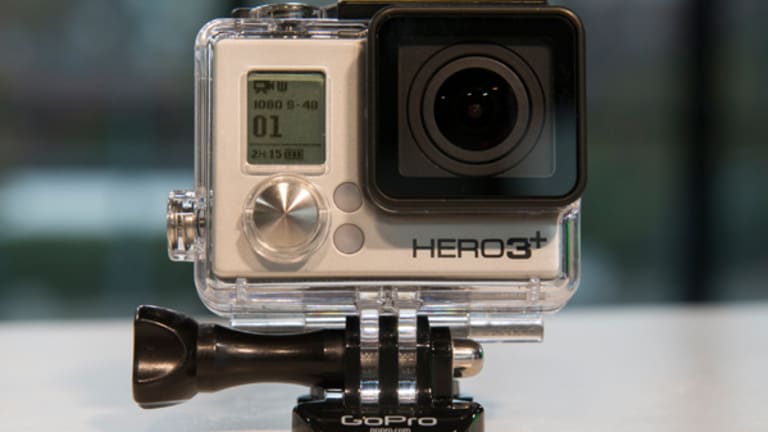 Herb Greenberg: Too Soon to Question GoPro's Earnings Quality?
Keep these points from its most recent quarter in mind.
SAN DIEGO (RealMoney) -- Trying to find holes in the financials of a fast-growing, newly public company such as GoPro (GPRO) can be (no, make that is) the ultimate in futile exercises.
The company, after all, has reported just one quarter since going public. Its products are hot. Its stock is even hotter.
As is typical at this stage of a newly public company's life, the only thing anybody cares about is that earnings don't miss. Or that the company doesn't guide below expectations. Or that something -- anything -- doesn't come out of left field to derail the story.
It's all about the story. And the last thing anybody cares about is earnings quality, especially when revenue is leapfrogging ahead the way it is at GoPro, as it sells into new doors and stores.
Still, it never hurts to just take a peek -- at the very least to set a baseline. So, with GoPro's stock hitting new highs, here are a few things to keep in mind from last quarter, courtesy of some of the people who watch these kinds of things:
Receivables days outstanding (a hint that the channel might be stuffed) would have been more like 105 days instead of the 18 days reported if the company hadn't sold off a big chunk of receivables related to one unnamed customer. Its biggest customer is Best Buy (BBY) .
Prepaid expenses leaped to $28.2 million from $3.3 million. That's a ton. It's unclear what kind of expense is newly prepaid, at least one that would cause that kind of an increase. But it's enough to raise eyebrows, attract the attention of the earnings-quality cops, and suggest earnings could be artificially inflated.
The company lists something called "unused purchase commitments." This appears to be an estimate for raw materials purchased but may not be used. If the materials were used, it would appear the reserves could be reversed, in effect helping margins if they slide too low.
One quarter, of course, does not make a trend. And with GoPro's products likely to be hot for the holidays, two quarters probably won't either.
But they can also provide clues to how sustainable and genuine the growth really is. (Tracking Ambarella (AMBA) , whose camera chips GoPro uses, can be, too.)
Meanwhile, supply doesn't appear not to be an issue, at least not in San Diego -- and at least not right now. My channel checks two weeks ago with quite a few stores big and small showed excellent product supply. Big stores, notably Best Buy, also carried a competing product from Sonyundefined . (Not as many Sony accessories, yet, the salesperson pointed out.) Smaller retailers just carried GoPro.
As I chatted up salespeople, some said they (and/or their friends) used the GoPro camera a lot; others said it sat in the closet after the newness had worn off. A big part of the story is about accessories that can be worn during various extreme sports. There was no shortage of accessories either.
And this just in: On Oct. 8 HTC plans to announce its GoPro-like camera.
Reality: Too soon to call, impossible to ignore.
At the time of publication, Greenberg had no positions in stocks mentioned.
Follow @herbgreenberg.
Want more from Herb Greenberg? Sign up for Reality Check, his institutional research product, and get the watch list of all the companies on his radar with detailed analysis.
Herb Greenberg, editor of Herb Greenberg's Reality Check, is a contributor to CNBC. He does not own shares, short or trade shares in an individual corporate security. He can be reached at herbonthestreet@thestreet.com.