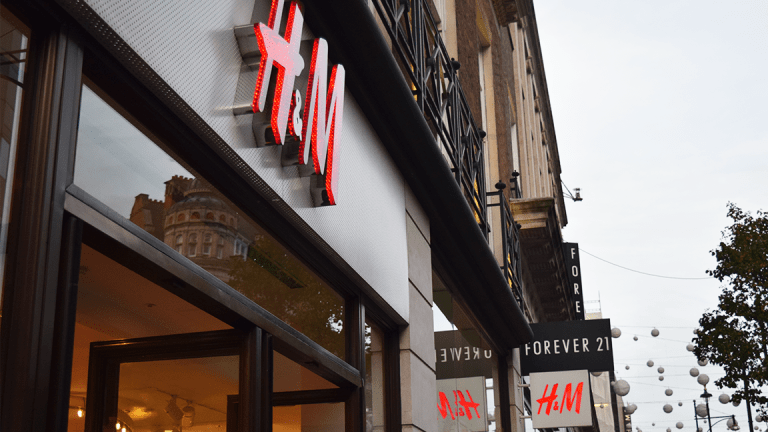 The H&M Fast-Fashion Empire Is Crumbling
H&M's struggles continue as it deals with excess inventory and a sub-par online experience.
A fast-fashion empire is crumbling. 
H&M Hennes & Mauritz AB (HNNMY) all but admitted it was a disaster this week, saying that same-store sales would likely only see growth in 2019. The Swedish retailer at its first ever capital markets day said that 2018 was "expected to remain challenging," but "that there are good opportunities for a somewhat better result for the full year compared with the previous year."
This promise comes despite the fact H&M continues to battle through high levels of inventory and sub-par styles on sales floors around the world, which will weigh on profits this year. In short, the promise by management to return to growth is unlikely to be met.
In a bid to combat these issues, the fast-fashion retailer -- which has over 4,000 stores globally -- said it would invest more in digital initiatives. It expects online sales to grow 25% in 2018. Meanwhile, H&M hyped online sales growth of 20% a year through 2022.
But is it too little too late for the retailer whose ever-expanding presence has dominated malls and shopping areas globally? Wall Street thinks is concerned.
"While the benefits of new initiatives are expected to eventually flow through, we think that it will take time and competition will continue to increase in the meantime - and previous guidance for 10-15% growth in the long-term looks increasingly optimistic," Barclays analysts said.
H&M shares have had a lackluster performance, putting it kindly, over the last year. The company's Stockholm listed stock has lost more than 42%, severely under-performing its rivals.
Zara-owner Inditex SA's (IDEXY) shares have lost 14.07% over the same period. Low-cost retailer Primark's parent company, the highly diverse Associated British Foods plc (ASBFY) , saw its London-listed shares increase 3.58% since February 2017.
Primark, which is known for its ultra cheap clothing, has been attracting more cost-conscious customers from H&M and could become a bigger threat as it expands more into the U.S.
But it is Zara that has been the rival that H&M cannot shake. The Spanish retailer has seen double-digit sales growth while competitors have languished. It has an advantage in following the whims of fashion as it's able to move the latest designs to the rack within two weeks.
It has also highly integrated its online and physical stores, this year debuting a popup store in London designed primarily for ordering and collecting of online orders.
Even Gap Inc. (GPS) - Get Free Report , which has had its own problems, has seen its shares increase more than 40% over the past year. Sales for the iconic American brand have stabilized with a push into trendier basics and various online initiatives. 
With all this competition, H&M is in for a rough ride.
"Management confidence in the H&M brand's sales reverting back to growth in 2019 was far from infectious, given the number of times this was caveated by referencing the remarkable level of industry changes," Jefferies International analysts said. "Ultimately, investors will continue to heavily discount a more bullish longer term outlook until supportive trading evidence starts emerging (not before third quarter this year being the steer)."