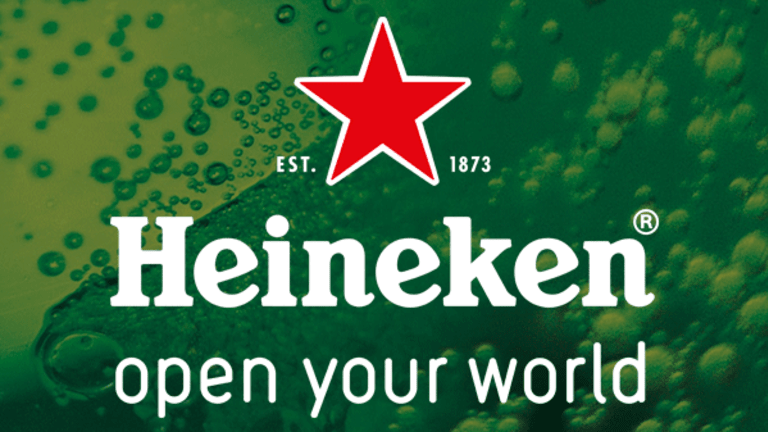 Heineken Stock Recovers as Brokers Give Nod to Punch Takeout
The acquisition of the U.K.'s Punch Taverns is a defensive move that will be immediately accretive.
Heineken (HEINY) stock recovered earlier losses Friday after a series of brokers gave its $381 million acquisition of a majority of Punch Taverns (PCTVF) the nod.
Key takeaways from Friday's broker coverage include; the deal is expected to add toward earnings per share for 2017 and that it will also provide Heineken with a more defendable position in an increasingly competitive U.K. beer market.
After falling by more than 2% earlier in the week, as news of the deal emerged with only limited detail on price and valuation, Heineken stock pared losses rapidly Thursday and added an extra 0.8% in Friday trading to change hands around €70.85 ($73.90) just a few hours ahead of the close.
"We estimate earnings accretion of 1-2% in the first full year after completion (F18E) but only a limited impact to net debt/EBITDA," said Simon Hales at Barclays, who also said that cost synergies could reach 4% of the target's sales.
When taken together with Heineken's exposure to fast growing emerging markets, the distraction of AB-Inbev as it seeks to integrate SABMiller and the prospect of recovering oil prices leading the Nigerian economy to stabilize, the Dutch beer firm might have found itself a sweet spot from which it can enter 2017.
Hales concluded said that the risks for the shares are tilted toward the upside and reiterated his overweight rating for the stock."The previous pub transaction was successful, with Heineken raising margins and EBIT per pub in the years since acquisition, and we expect Punch Taverns will also create value for shareholders," said Alicia Forry, an analyst at Liberum Capital.
Forry also noted that Heineken has an advantage as an acquirer in today's beverages market.
"It still has the strongest balance sheet in Beer, and is currently in the most powerful position to negotiate transactions, while peers are tied up with large deals," she explained.
Forry has rated Heineken stock a buy, with a price target of €77, which implies upside of just more than 10% from current levels.
Prior to this week, Heineken had been in talks with the board of Punch Taverns for around a year over a possible deal. It will now buy the rump of Punch, some 1,900 pubs in the U.K., in a deal that also involves a private equity co-investor.
That is assuming that a higher offer is not forthcoming during the coming days and weeks, which it could be, given that Punch co-founder Alan McIntosh and his family investment vehicle Emerald Investment Partners are also in talks with the board over a possible acquisition.
The offer made by Heineken and Co is for 180 pence ($2.19) per share while Emerald is reported to be considering an offer of 185 pence per share.
Punch Taverns stock was trading at 190 pence late Friday afternoon, suggesting that the battle for Punch Taverns could be anything but over.