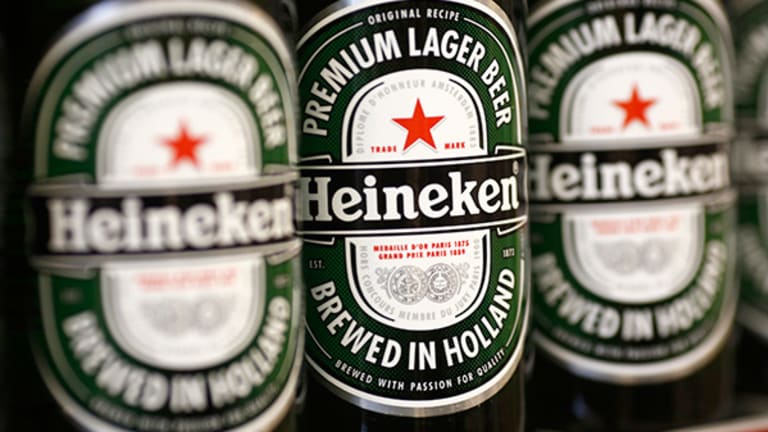 Publish date:
Heineken Stock Falls As Currency Market Volatility Bites
Beer volume growth fails to support the Dutch group's shares as currency losses are seen shaving 1% off full-year earnings.
Beer volume growth fails to support the Dutch group's shares as currency losses are seen shaving 1% off full-year earnings.
Heineken (HEINY) stock fell on Wednesday after better-than-expected third-quarter beer volumes were eclipsed by a warning about more severe currency headwinds than it previously forecast.
The Netherlands-based company reported that organic growth in group beer volumes came in at 2% during the third quarter, compared with expectations for growth of 1.6%.
Trading profit for the first nine months of the year was €1.2 billion ($1.3 billion), down from €1.7 billion in 2015. That figure included a writedown of €233 million while the previous year's number benefited from a one-off €379 million gain from the sale of Heineken's packaging business Empaque.
But Heineken also described currency markets as volatile and warned of the effects that foreign exchange losses are likely to have on trading profit for the full year.
At current exchange rates, recent currency market volatility would likely result in a €215 million hit to the bottom line, an increase from the earlier guidance for a €200 million loss, and up from the €179 million foreign exchange cost reported in 2015.
Analysts at Jefferies estimated on Thursday that the additional foreign exchange losses could now shave close to 1% off of the consensus estimate for full-year earnings at Heineken.
"Our full year margin expectations remain unchanged despite continued adverse economic conditions in some developing markets, as well as increasing currency headwinds," said Heineken CEO Jean-Francois van Boxmeer.
Despite the CEO's assurance on margins, Heineken shares fell by more than 1% to €78.07 in early European trading. They are down by 1% for the year to date.
Heineken noted positive performances in emerging markets including Vietnam and Mexico, as well as in North and South America, despite strong comparative numbers in the previous period.
Europe, which accounts for nearly half of Heineken's revenue, also expanded volumes by close to 1%, although markets across Africa, the Middle East and Eastern Europe saw a 3.6% dip.
Also included in the third-quarter report was news that current CEO van Boxmeer is likely to continue in his position for the next four years after the supervisory board said that it will submit their nomination for shareholder approval at the 2017 annual meeting.