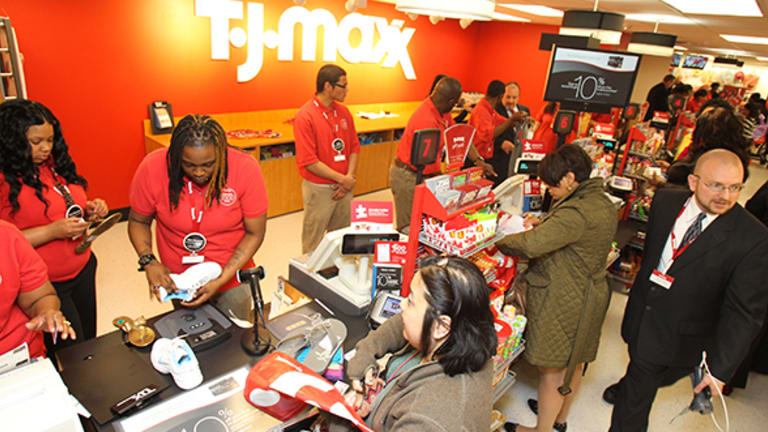 Hedge Funds Love These 5 Big Stocks -- but Should You?
Here's a look at five stocks hedge funds were buying in the previous quarter.
BALTIMORE (Stockpickr) -- Believe it or not, this earnings season is firing on all cylinders. So far, of the 251 S&P 500 components that have reported their numbers, 75% of earnings releases have exceeded Wall Street's estimates. On average, profits were about 6.7% higher than expected, the biggest average earnings beat in years.
There's no question that earnings season can drive buying in individual stocks. But which stocks is the smart money buying? For that, we'll have to turn to the financial filings.
You see, institutional investors with more than $100 million in assets are required to file a 13F, a form that breaks down their stock positions for public consumption. From hedge funds to mutual funds to insurance companies, any professional investors who manage more than that $100 million watermark are required to file a 13F.
Want to know which stocks are pro investors' favorites? Those 13Fs hold the key.
By comparing one quarter's filing with another, we can see how any single fund manager is moving their portfolio around. In other words, we can see which stocks are their favorites. While the data is generally delayed by about a quarter, that's not necessarily a bad thing. Research shows that applying a lag to institutional holdings can generate positive alpha in some cases. That's all the more reason to crack open the moves being made with pro investors' $21.3 trillion under management.
While most firms haven't filed their 13F for the first quarter yet, the early filers provide a sneak peek at the stocks Wall Street is most in love with. Without further ado, here's a closer look at funds' five favorite names in the aggregate.
NetEase
Up first is NetEase (NTES) - Get Report, the $16 billion Chinese internet stock. NetEase has enjoyed a pretty stellar run in 2015, up more than 24% since the calendar flipped to January. Clearly, the hedge funds have been enjoying some momentum in this stock this year. The question now is whether it still makes sense to be a buyer.
NetEase is one of the biggest online gaming portals in China, earning most of its revenue through hourly game-play fees for its portfolio of multiplayer online gaming titles. NetEase develops games in-house, and it also operates a Chinese version of World of Warcraft through an exclusive license with Activision Blizzard (ATVI). Cheap high-speed Internet is accessible to a large chunk of the Chinese population -- but more gamers in the country are coming online every month, opening a big ongoing market for NTES.
The firm's pay-to-play model means that NetEase collects bigger checks by keeping users engaged through expansion packs and interactive communities. And because gamers have a big sunk cost in their online achievements, they're less likely to jump ship to rival online gaming titles.
Despite the year-to-date rally in NTES, shares don't look excessively expensive at current levels. And with more than $3 billion dollars in net cash, nearly 20% of this firm's market capitalization is covered by a thick cash cushion. This is a more volatile name than most by virtue of its huge China exposure, but momentum is clearly in control of buyers right now.
Hedge funds still like NetEase. They added 7.37 million shares to their collective portfolios last quarter.
Actavis
Specialty pharmaceutical maker Actavis (ACT) - Get Report was another highflier that funds have been buying with both hands in the first quarter. ACT has moved 11.9% higher so far in 2015, outperforming the rest of the S&P 500 by just about triple. Meanwhile, funds added another 1.86 million shares of ACT to their portfolios during the first three months of the year, making it the second-straight quarter where ACT has been one of hedge funds' favorite stocks.
Now that the acquisition of Allergan is complete, Actavis has been transformed. Before last month, ACT was one of the largest generic drug makers, benefiting as a flood of lucrative prescription drugs fell off patent. But now, branded drugs actually make up more than 60% of revenues, led by blockbuster neuromodulator Botox. Make no mistake, Actavis still has a huge generics business, one that gets nearly half of its revenue overseas. But the addition of Allergan's branded drug portfolio should help ACT boost margins in 2015.
This isn't Actavis' first foray into branded drugs -- but it is its biggest. Integration costs are definitely going to weigh on ACT's performance in the coming quarters. But once some of those merger costs get shaken out, growth opportunities abound in the combined firm.
Facebook
Facebook (FB) - Get Report is another big stock that's making the short list of fund managers' favorites for a second straight quarter. Early-reporting funds added 6.5 million shares of the social network to their portfolios in the first quarter, a half-billion dollar bet on addition upside from "likes" and selfies.
Facebook is the largest social network in the world. The firm boasts 1.3 billion monthly active users, who spend more time on Facebook than on any other Web site on the Internet. People use Facebook to share their personal lives with each other, a fact that gives FB a huge cash cow in generating advertising dollars. As companies spend more money to deliver targeted advertising to users online, Facebook's in-depth data points on users give it the ability to generate more money more often from its ad platform.
In recent years, the U.S. market has become a very small part of Facebook's total traffic usage but nearly half of overall ad revenues. That creates a big opportunity for FB as the firm monetizes users outside of the U.S. Put simply, there's a big untapped market available, and investors realize it. While shares are far from cheap at current valuations, Facebook hasn't had much trouble convincing investors to pony up at today's prices.
From a technical standpoint, FB remains a "buy-the-dips stock."
SPDR Barclays Short-Term High Yield Bond ETF
The other names on our list of hedge fund favorites are stocks, and then there's the SPDR Barclays Short-Term High Yield Bond ETF (SJNK) - Get Report. This $4.6 billion exchange-traded fund gives investors easy access to the high-yield bond market, and while that might sound a big boring, it's actually a pretty brash bet on the part of hedge funds. Funds added 20.86 million shares of SJNK during the last quarter, more than tripling their holdings in this ETF.
We're currently in an environment where interest rates have been near zero for the last six years. At the same time, the Federal Reserve is hinting that the age of "free money" is coming to an end. Put simply, it doesn't take a genius to see that rates have a lot of room higher from here, and that would be very bad for prices of high-yield instruments such as the junk bonds that SJNK owns.
The thing is, if you'd asked a room full of Wall Street's smartest fixed-income guys where rates were headed four or five years ago, you'd have gotten the same answer. Higher interest rates have been a no-brainer going back to 2010. And that's what makes buying SJNK right now such a bold (and potentially lucrative) contrarian bet. From a technical standpoint, this big ETF looks bullish right now, and its 5.2% dividend yield doesn't hurt either.
The fact that hedge funds just plunked down $612 million on this big ETF looks intriguing -- and it's probably a better place to put your money than Wall Street is pricing in right now.
TJX
Last up on hedge funds' buy list is TJX (TJX) - Get Report, the $44 billion off-price retail chain. Early-filing funds picked up 6.36 million shares of TJX in the most recent quarter, a $413 billion bet at current price levels. So should you buy this stock too?
TJX is a bargain-hunter's paradise. The firm owns an attractive collection of discount retail names that includes T.J. Maxx, Marshalls and HomeGoods -- three store chains that benefit when consumers want a bargain. TJX's stores stock major brand name clothing, accessories and housewares at prices that are fairly dramatic discounts to their retail costs. TJX does full-price retailers a favor by buying massive amounts of unsold inventory, and it does consumers a favor by selling desirable brands on the cheap. For its efforts, TJX is able to collect a fat markup in the middle, giving it a very attractive business model in good times and bad ones.
While more of TJX's suppliers have been opening their own off-price outlet stores, that strategy isn't feasible for most. Retail is extremely capital intense, and TJX is able to take excess inventory that few peers can. For full-price labels, that's a zero-risk proposition. Risk is relatively low at TJX too. The firm has been able to grow to 3,395 locations without taking on meaningful debt (in fact, TJX has $1.15 billion in net cash on its balance sheet), and shares currently trade at reasonable levels. While the technicals turned sour in TJX more recently, the long-term picture still looks solid. It looks like the funds got this one right: TJX is a "buy the dips stock" here.
This article is commentary by an independent contributor. At the time of publication, the author held no positions in the stocks mentioned.