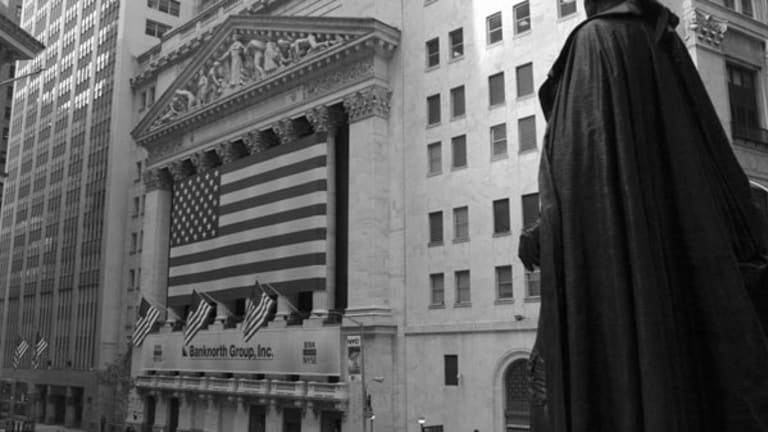 Hedge Funds Cuddle Up to Downey Financial
Despite questions about its loan quality, the thrift holding company looks like a bargain to some investors.
Following our discussion last week of asset quality at the largest savings and loans, TheStreet.com Ratings took a closer look at Downey Savings & Loan, a $13.4 billion institution with headquarters in Newport Beach, Calif., and the main subsidiary of Downey Financial Corp. (DSL) - Get DoubleLine Income Solutions Fund Report.
Downey Financial has been frequently pilloried in the news during the real-estate crisis because of its focus on option-payment mortgages. Shareholders lost 70% of their market value over the past year, and 39% year to date, as of the market close on April 7.
With the stock selling at a price-to-book ratio of less than 0.4, some major investors consider the holding company a bargain. In a March 11
SEC
filing, Citadel Investment Group reported it had taken a 4.98% stake in the holding company. Legg Mason Capital Management (managed by
Legg Mason Inc.
(LM) - Get Legg Mason, Inc. Report
) reported a stake of roughly 7% as of Dec. 31.
Downey Savings reported nonperforming assets comprising 7.38% of total assets as of Dec. 31, a shocking increase from 2.21% the previous quarter.
But as we reported
when we discussed IndyMac Bank (held by
IndyMac Bancorp
( IMB)), things can look quite different when you review holding company filings.
While Downey's ratio of nonperforming assets was the highest among the largest 100 banks and S&Ls, it included performing mortgages that had been modified to ease the burdens of some borrowers and lower the institution's credit risk.
Option-Payment ARMs
The modified loans were option-payment adjustable-rate mortgages with negative amortization features. A borrower with an option-payment loan has at least two choices for a loan payment each month. The highest option payment is the fully amortized payment, which includes the interest accrued in the previous month and a portion of the principal. The lowest option payment usually includes no principal and only a portion of the accrued interest.
If the borrower makes the highest option payment each month, the principal balance declines, just like it does with a typical mortgage loan. If the borrower makes the lowest option payment, the loan balance increases. This is the "negative amortization." While the payment option can be a useful thing for a month or two, it can also be a time bomb. Combine an increasing loan balance with a declining home price and maybe even a second mortgage, and you have potential for serious trouble.
According to the holding company's 2007 10-K report, Downey had $7.5 billion in option ARMs in its portfolio at year-end, with about 5% of the balance representing negative amortization.
Anyway, $401 million in option-payment mortgages that Downey Savings modified as part of its customer retention program were required by accounting rules to be reported as nonaccrual loans, even though the borrowers had not missed payments. This was because the loans were modified at more favorable terms for the borrowers. The loans will need to remain current for six months after modification to be considered "performing" again.
If we recalculate Downey's asset quality ratios excluding the $401 million, we come up with nonperforming assets comprising 4.39% of total assets as of Dec. 31. Loan-loss reserves covered a decent 62.54% of nonperforming loans. The ratio of nonperforming loans to core capital and reserves was 28.65%.
Downey Savings also boasted relatively high capital ratios, considering that it reported a net loss of $51 million during 2007. At year-end, the institution's leverage ratio was 10.18%, and its risk-based capital ratio was 19.35%. These ratios are much higher than the 5% and 10% needed to be considered well-capitalized under regulatory guidelines.
Downey's net loss for 2007 mainly reflected elevated provisions for loan-loss reserves. These totaled $310 million for the year, staying far ahead of the institution's $25 million in net loan charge-offs.
More Trouble Ahead
Downey Financial Corp. provides monthly updates between its quarterly reports. Looking at is unaudited interim numbers for Feb. 29, nonperforming assets (again, not including the performing modified mortgages) comprised 6.63% of total assets, a sharp increase in only two months.
While the recent decline in interest rates will provide relief to some of Downey's borrowers whose rates reset this year, the ongoing decline in home prices is having a more immediate effect.
Downey's loan underwriting has been pretty aggressive. According to the holding company's 10-K report, 82% of its residential loans held for investment as of Dec. 31 were underwritten based on the borrower's "stated income," with the borrower's assets being verified. Another 7% of the portfolio was underwritten with neither the borrower's income nor assets being verified.
In a slowing economy, borrowers who were unwilling or unable to document their income could be experiencing severe declines in their income. Another risk is that the assets Downey verified to determine borrowers' creditworthiness may have declined significantly in value, along with the value of the homes securing the mortgages.
We spoke with Downey's corporate communications, but were unable to get management's comments on whether they were planning to tighten underwriting standards to require more documentation of borrowers' income. We also wanted to ask them if they would continue to focus on option ARMs for the majority of their lending. We called four investment funds with major holdings in Downey, but they also declined to comment.
Downey continues to focus on much-maligned option-payment loans mainly originated through mortgage brokers, and with loan quality continuing to slide rapidly, there may be some big changes in store for the company through the rest of 2008.
Downey has a stable source of funding, with a 172-branch network. The thrift is strongly capitalized, considering the storm it has weathered over the past year. Some investors consider the holding company's stock quite a bargain at this time, and while loan quality is a major concern and has been getting worse, this could wind up to be a rewarding story for patient investors.
Philip W. van Doorn joined TheStreet.com Ratings Inc. in February 2007. He is the senior analyst responsible for assigning financial strength ratings to banks and savings and loan institutions. He also comments on industry and regulatory trends.