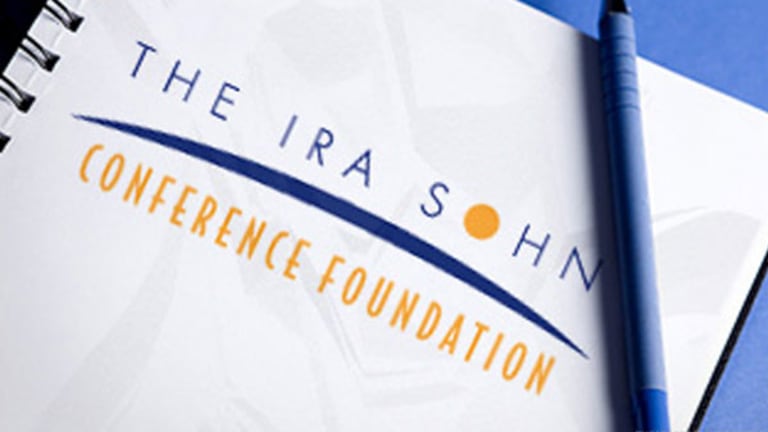 Hedge Fund Heaven: Gundlach, Ackman and Einhorn to Speak at Sohn Conference
Tight-lipped billionaires talk investing at the annual New York event.
NEW YORK (
) -- The hedge fund industry's most prestigious conference has its most star-studded cast yet.
The
, whose proceeds go toward treating pediatric cancer and related childhood diseases, is home to some of the hedge fund world's brightest stars, and this year is no different. The speakers include Bill Ackman, David Einhorn, Jeffrey Gundlach and many more. The event will be held May 8 in New York.
The six-hour Ira Sohn Conference makes tight-lipped billionaire investors loquacious. Just last year,
Doubleline Capital's
Gundlach announced he was short
Apple
(AAPL) - Get Apple Inc. Report
as part of a pair trade with natural gas, which has turned out to be correct.
he said Apple would plummet to $425, which proved to be a prescient call.
In contrast,
Greenlight Capital's
Einhorn has been
with Apple and its management team, asking for the Cupertino, Calif.-based tech giant to return more cash to shareholders to help boost its lagging stock price. At the 2011 Ira Sohn conference, Einhorn made noise, suggesting
Microsoft
(MSFT) - Get Microsoft Corporation Report
would be better off without CEO Steve Ballmer, and hinted that he was buying a minority portion of the New York Mets for $200 million. That purchase was later thwarted by the Mets, which apparently reneged on its end of the bargain.
Ackman has been entrenched in one of Wall Street's most riveting stories, as his battle with
Herbalife
(HLF) - Get Herbalife Nutrition Ltd. Report
and Carl Icahn play out in
. Ackman has shorted the stock, saying it's a fraudulent company. Conversely, Icahn and other notable hedge fund managers are long Herbalife, which recently
two of Icahn's associates to its board.
The
Pershing Square
CEO has had a rough go of it with one of his other high-profile investments,
J.C. Penney
(JCP) - Get J. C. Penney Company, Inc. Report
, as the embattled retailer has fallen 20% this year amid slowing sales and worries that CEO Ron Johnson is the right man to lead the company. Ackman is on the board of directors at J.C. Penney, only adding to the drama.
In addition, Ackman is on the board of directors at two of his other investments,
Howard Hughes
(HHC) - Get The Howard Hughes Corporation Report
, where he is chairman, and
Canadian Pacific Railway
(CP) - Get Canadian Pacific Railway Limited Report
.
Here is the rest of the speaker list for the Ira Sohn Conference:
Kyle Bass, principal of
Hayman Capital Management
James Chanos, founder and managing partner of
Kynikos Associates
. Kynikos is the world's largest exclusive short-selling investment firm, and Chanos is famous for shorting companies such as
Enron
, as well as his short thesis on China.
Stanley Druckenmiller, formerly of
Duquesne Capital Management
. Druckenmiller recently came out and said the U.S. has an entitlement problem and, as a result, the stock-market rally is in its later innings.
Steven Eisman, founder and portfolio manager of
Emrys Partners
.
Mitchell Julis, co-founder and co-CEO of
Canyon Partners
.
Keith Mesiter, managing partner and chief investment officer of
Corvex
.
Li Lu, chairman of
Himalaya Capital
.
Clifton Robbins, founder and CEO of
Blue Harbour Group
.
Paul Singer, founder and president of
Elliott Management Corp.
.
David Stemerman, founder and portfolio manager of
Conatus CapitalManagement
.
Tor Olav Trøim, vice president and director of
Seadrill
(SDRL) - Get Seadrill Ltd. Report
.
-- Written by Chris Ciaccia in New York
>Contact by
.
Follow @Commodity_Bull