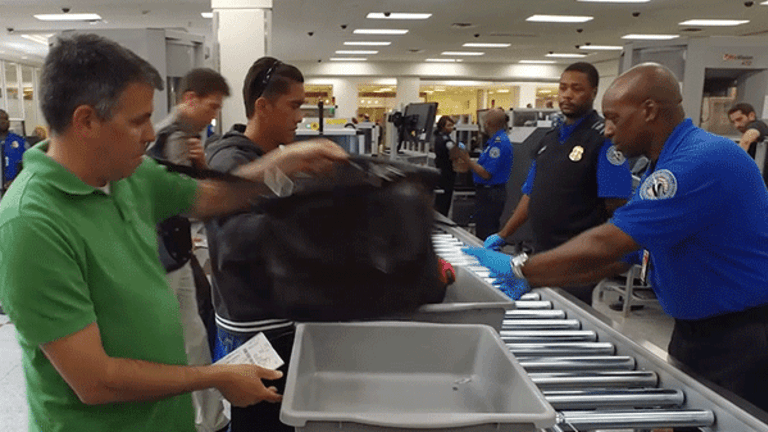 Heavy Holiday Travel Starts Thursday -- Special Lanes and PreCheck Can Cut Delays
As heavy holiday travel begins Thursday, American, Delta and United have worked with the TSA to add faster security lanes at Atlanta, Chicago, Los Angeles and Newark airports.
The Christmas holiday travel season is officially underway, a period that promises holiday cheer which at times may have to be deferred because of airport security delays.
To avoid such delays, smart travelers can sign up for TSA PreCheck,  and fortunate travelers at four key airports -- Atlanta, Chicago, Newark, N.J., and Los Angeles -- can use recently installed "innovation lanes," where the hub carriers and the Transportation Security Administration work together to keep things moving.
The arrangements are undergoing a trial by fire Thursday, the first heavy day of the Christmas travel season.
Airlines for America, the airline industry trade group, said the travel season's two heaviest days, each with about 2.4 million travelers, will be Thursday and Friday.
The lightest days will be Christmas Eve, Christmas Day, New Year's Eve and New Year's Day, each with about 1.8 million passengers. If you still want to travel and haven't yet bought tickets, these might be the days to find travel bargains or at least empty seats.
During the Thanksgiving travel period, A4A projected the top 10 busiest airports by seat capacity in this order: Atlanta, Los Angeles International, Chicago O'Hare, Dallas-Fort Worth, Kennedy International, Denver, San Francisco, Las Vegas, Charlotte and Phoenix.
As an example of travel patterns, officials at Charlotte Douglas International Airport , the second-busiest hub for American (AAL) - Get Report  , expect 28,870 originating passengers Thursday and 29,130 on Friday. The least busy day will be Christmas, with just 16,950 passengers going through the checkpoints.
However, the busiest day for locally originating passengers will be Monday, Dec. 26, when TSA anticipates that about 30,000 local passengers will pass through airport checkpoints.
Meanwhile, all three of the busiest airports plus Newark are benefiting from innovation lanes, which speed up security by providing five points for passengers to place their carry-on baggage on security conveyor belts.
At Newark Airport's Terminal C, United (UAL) - Get Report and TSA have worked together to provide a central checkpoint with 10 innovation lanes; eventually the checkpoint will have 17 innovation lanes.
With five points of access to the conveyor belt, "the customer can go up to the belt, fill the bin, push it forward to the belt, and it goes toward screening," said United spokesman Charlie Hobart. "You can get ahead of a person in front of you, if there is a delay." Also, bigger bins mean passengers don't generally need to collect multiple bins for all of their carry-on luggage, Hobart said.
Automated systems keep the empty bins circulating. Also, in cases where a bin's content triggers an alarm, the systems route that bin to an inspection area.
At Newark, the lanes can increase efficiency by 30%, Hobart said.
Delta (DAL) - Get Report worked with TSA to install innovation lanes in Atlanta in May. Subsequently, American has worked with TSA to install innovation lanes at Chicago O'Hare, while United has the lanes in place at its Chicago, Los Angeles and Newark hubs.
In Atlanta, Delta invested $2 million in the system. It also provides employees to assist TSA employees.
"Customers are able to come through the lanes not just one at a time, but five at a time," said Gil West, Delta senior executive vice president, in a prepared statement.
Besides using quicker lanes, passengers can take advantage of PreCheck, which enables eligible, low-risk travelers to pass through checkpoints without taking off their shoes, belts or light jackets and without removing liquids, laptops and gels from carry-on luggage.
So far, only about 12 million people have signed up for PreCheck, about half of the total TSA had expected by now. During Thanksgiving week, about 97% of passengers who used PreCheck waited less than five minutes to clear security, about a third of the average wait time, according to the Department of Homeland Security.
A recent study indicated that travelers may be put off by the fee of $85 for five years, even though that is just "$17 a year to avoid one of the biggest inconveniences in modern air travel," said Charles Carroll, senior vice president for identity services for MorphoTrust, a Boston-area firm hired by the TSA to sign up more PreCheck members.
MorphoTrust offers PreCheck enrollment offices in 49 airports and more than 350 off-airport locations. In other words, it is easy to find an office if you look for one. Each of the top 10 airports has at least one PreCheck enrollment office; except at Charlotte, potential enrolees can visit the office before clearing security.
A spokeswoman said the firm has signed up about 4 million PreCheck members.
This article is commentary by an independent contributor. At the time of publication, the author held no positions in the stocks mentioned.