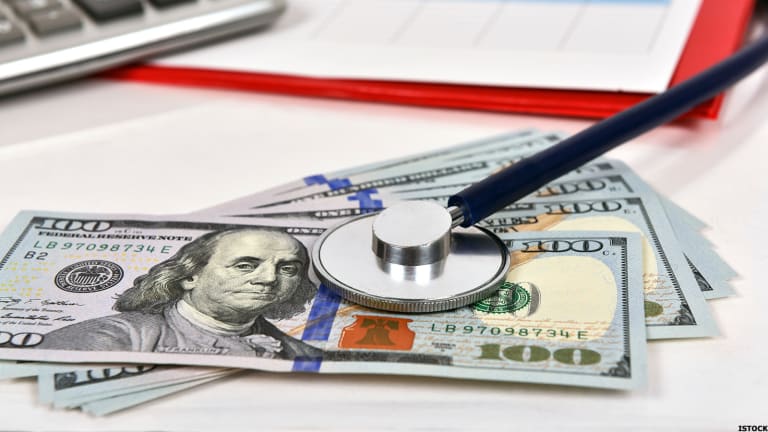 Healthcare M&A Resilient Despite Economic Woes
Despite the financial hardships plaguing some economies, healthcare M&A is still on the rise and experts indicate there is no sign of it slowing.
NEW YORK (TheStreet) -- While weakness in China, volatile commodity prices and growing concerns over the state of the U.S. economy have had an adverse impact on capital markets and have caused some market participants to sit on the sidelines, healthcare companies remain active and experts don't believe macro concerns will impact M&A.
"I feel healthcare will be more resilient than most sectors, because the fundamentals that are driving M&A in healthcare aren't as sensitive to overall macro-economic factors," said Edgemont Capital Co-Founder and Managing Director, David Blume. "What's driving M&A activity in pharma is the challenge of bringing new products to market in a cost effective way. Companies that are cash rich and product poor are looking for access to products, and use lower cost capital and cash reserves in order to do so." 
Healthcare started the year off with a bang, with $95.3 billion worth of deals in the first quarter of 2015, accounting for 12% of all merger and acquisition activity, up 70% year over year.
The pharmaceutical sector has seen an estimated $221 billion in deals for the first half of the year, triple the amount for the first half of 2014.
"Pharmaceutical companies have to buy, especially in the biotech arena for fear of their pipelines drying," said Afsaneh Naimollah, Partner at Marlin & Associates, a boutique investment banking firm. "The pharmaceutical companies have to consolidate not only for cost synergies, but to get their patent portfolios fortified."
The largest deal this year was Actavis's (ACT) acquisition of Allergan in stock and equity, which was valued at $70.5 billion. Behind that is Teva Pharmaceuticals (TEVA) deal to buy the generics business of Allergan in a spin-off valued at $40.5 billion.
"Everything is progressing with regards to the completion of the Allergan Generics acquisition which we are targeting a Q1 2016 close," said Teva Pharmaceuticals Senior Vice President of Corporate Reputation, Denise Bradley. "This includes as previously announced, securing bridge financing of $33.75 billion for two years with very attractive terms from a group of 10 leading financial institutions."
Teva is not currently concerned about market volatility, however intends to keep a watchful eye as things unfold.
"While we are always looking and considering the market dynamics and conditions in the interests of our stock and bond holders," said Bradley, "at this time we are progressing with no change in our original plans."
Another factor that could potentially influence the future of healthcare M&A activity is the possibility of a rate hike this year.
The Federal Reserve convened in September to discuss the notion of raising interest rates. With uncertainty surrounding economic conditions in China and a lack of clarity around U.S. employment, the Federal Reserve felt an increase was premature, and the meeting ended with rates unchanged. The announcement of higher rates could come as early as this month, however many market participants feel it may not happen until the Fed meeting in December or perhaps early next year.
Even though it's been almost a decade since the Federal Reserve raised rates, experts believe an increase won't discourage borrowing. Instead, companies may view this as an opportunity to accelerate spending plans in order to stay ahead of rising rates.
"If you look at this from a practical standpoint, at most we are looking at a quarter point increase in rates and such a marginal increase is so modest compared to the overall cost of capital," said Blume. "We aren't going back to the days of the Carter and Reagan administration with 20% interest rates. It's really more emotional than anything and from a pragmatic standpoint it will have no impact." 
Lending support to the idea that the threat of a rate hike may be in part driving M&A activity is the record setting pace of transactions in the sector through the summer. As of July, healthcare M&A set a record $395.8 billion in deals for 2015, compared to 2014's full-year record of $392.4 billion. This is an overall 78% increase and the year has yet to come to an end.
There are still some major acquisitions waiting in the wings, as the market looks to hear from regulators on the fate of the transactions.
Health insurer Aetna (AET) has plans to purchase Humana (HUM) in a cash and stock deal totaling roughly $34.1 billion. Following that announcement, Anthem announced it intended to purchase Cigna (CI) , in a deal that could be as high as $54 billion.
"We expect the DOJ and the states to do a full and thorough review of this transaction, and we will work collaboratively with the Department and the states during this process," said Cynthia Michener, Assistant Vice President of Public Relations at Aetna. "If the Fed raises rates and we do not take action to mitigate the impact, higher overall rates could impact the assumptions that we are using relative to the cost of the interest rate on our acquisition debt."
Naimollah noted that payers will be agnostic to economic headlines because there is something much deeper happening in this area.
"The bottom-line is that payers will continue to consolidate and one of the reasons is Medical Loss Ratio," said Naimollah. "Due to the legacy IT of these organizations and inefficiencies that are heavily embedded in their workflow and systems. A majority of these companies have no choice but to consolidate to obtain cost synergies." 
For now, healthcare M&A activity seems little impacted by uncertainty in the market, especially in the U.S., which has fared better economically and continues to dominate the sector in innovation.
"One of the fundamental tenants we hold at Edgemont Capital is, nothing builds and creates value like innovation and healthcare is still one of those industries that the U.S. is dominant worldwide," said Blume. "There are probably a few other industries like technology, but certainly the healthcare leadership in the U.S. positions it very uniquely. I feel we're insulated from the more global and macro-economic forces because of those dynamics."
This article is commentary by an independent contributor. At the time of publication, the author held no positions in the stocks mentioned.