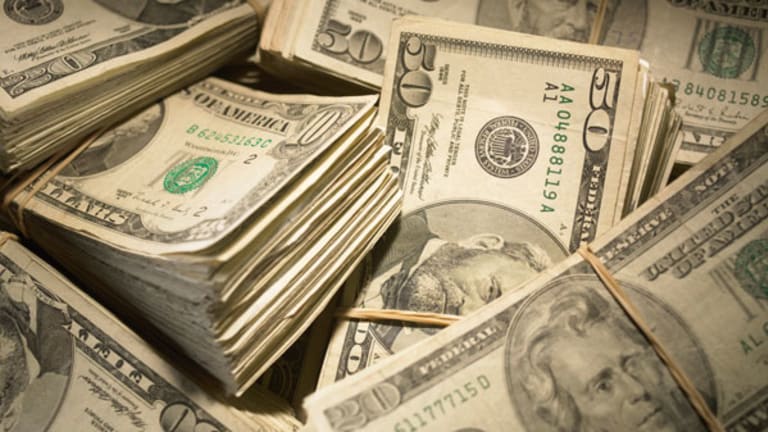 Healthcare Changed Before Obamacare Supreme Court Ruling
Investors should focus on how healthcare has changed ahead of the Supreme Court's decision on Obamicare.
NEW YORK (
) - It's no secret that the Supreme Court's looming decision on President Obama's Affordable Care Act looms large over the healthcare stocks. Still, investors may wise to spend their time understanding how consolidation is already reshaping the healthcare sector ahead of the June decision.
The Supreme Court will decide whether or not Medicaid is expanded, potentially having
Medicaid HMO's like
Amerigroup
(AGP)
,
Molina
(MOH) - Get Free Report
and
Centene
(CNC) - Get Free Report
. Diversified healthcare providers like
Aetna
(AET)
,
Cigna
(CI) - Get Free Report
, like
UnitedHealthcare
(UNH) - Get Free Report
and
Coventry
(CVH)
will also be watching.
Forget the SCOTUS decision, the market has already changed for healthcare stocks
As investors weigh the decision's impact on HMO and healthcare stocks, they may want to focus how recent M&A moves are already altering the drug store and pharmacy benefits manager piece of healthcare. Recent deals signal that big changes are underway, even as many - including the President -- hold their breath on the landmark court decision.
This week, the nation's largest drug store chain
Walgreens
(WAG)
committed to what could wind up being a
of European pharmacy giant
Alliance Boots
by taking a 45% stake in the private equity owned chain for $6.7 billion. Walgreens shares tumbled to 52-week lows on the deal, as many questioned the company's strategy to become an international pharmacy giant, over a focus on resolving a contract standoff with
Express Scripts
(ESRX)
, one of the nation's largest pharmacy benefits managers.
Walgreens decision can't be seen in isolation, and a closer look reveals the frenetic changes underway in drug stores and pharmacy prescription plans, which touches nearly every American.
In April, the
Federal Trade Commission
approved
Express Scripts' $29 billion acquisition of
Medco Health Solutions
(MHS)
, in a move to take on
CVS Caremark
(CVS) - Get Free Report
, the nation's leading pharmacy benefits manager. In its approval, the FTC said that it allowed concentration of the sector because of a fast-changing competitive landscape.
Underscoring big changes to the sector, in its approval of the merger, the FTC noted healthcare reform and the entrance of some of the nation's top health providers - currently awaiting the SCOTUS decision -- as reasons that the top three pharmacy benefits players don't control the market.
"
A number of health insurers have made substantial investments and renewed their efforts to expand their PBM offerings, spurred by the passage of healthcare reform and the creation and implementation of Medicare Part D," said the FTC. Those plans include UnitedHealth, Humana, Aetna, and Cigna, according to its published review. In fact, Medco sought an acquisition by Express Scripts because it expected to lose contracts to health plans that were bringing prescription programs in-house.
In October,
Cigna
(CI) - Get Free Report
bought
Healthspring
(SXCI)
, a healthcare provider with a big pharmacy unit, in a near doubling of its PBM unit.
After the Express Scripts and Medco merger passed FTC tests, Walgreens faced both losses on its Express Scripts standoff and the prospect of losing billions in Medco contracts, prompting its Alliance Boots purchase, according to many analysts. Meanwhile, smaller players like
SXC Health Solutions
(SXCI)
and
Catalyst Health Solutions
(CHSI)
recently merged in a $4.4 billion deal that many expect will create a
scrappy new challenger
in the pharmacy benefits space.
With concentration in the pharmacy sector at the upper bound of what the FTC would likely be willing to stomach after CVS's acquisition of Caremark RX in 2007, analysts like John Heinbockel of Guggenheim Securities discounted Walgreens ability to cut a giant scale deal in the U.S. such as an acquisition of
Rite Aid
(RAD) - Get Free Report
, amid speculation of a potential deal earlier in 2012. With recent M&A efforts in mind and the prospect of U.S.-based contract losses, Walgreens decision to go international may make more sense.
So how might investors interpret the changes underway in the pharmacy benefits space, as they await the Supreme Court's decision.
Heinbockel of Guggenheim is bullish on Rite Aid -- in spite of the company's billions in debt - because it may pick up U.S. market share from Walgreens as it loses customers on its Express Scripts standoff. On Thursday, Rite Aid's stronger than expected quarter earnings helped to vindicate Heinbockel's call in March for investors to focus on
over a potential Walgreens takeout. After Walgreens international move, those earnings may only continue to be bolstered.
"We think Walgreens appears highly unlikely to settle with Express Scripts anytime soon, meaning Rite Aid's benefit could approach $60M. And if those new customers are with Rite Aid for a full year and/or become Wellness+ cardholders, it will be difficult for Walgreens to get them back, enabling the benefit to hold steady and grow slightly over time," wrote Heinbockel in a Friday note to clients reiterating his buy rating and $2.25 price target.
In a series of ratings upgrades, Credit Suisse analysts point to SXC Health Solutions after its acquisition of Catalyst, and Cigna as two players to watch in the pharmacy benefits space.
On Friday, analyst Glen Santangelo upgraded both SXC and Catalyst to outperform, even after the recent outperformance of both companies on high expectations for their merger. While SXC expects $125 million in earnings boosting synergies through the merger, Santangelo says that those estimates may be conservative and bases his upgrade on projections that the deal will add earnings per share of $1.30 a year by 2014, pushing combined EPS to $4.50.
Like Rite Aid, SXC may also be able to win over more customers than some investors expect, notes Santangelo, who adds that the combined company's 40%-plus three year growth rate is near tops in the sector. Santangelo also upgraded Catalyst to $90 a share on an expected approval of its merger with SXCI, and the value of the cash and stock deal.
SXC and Catalyst's merger may also help to offset the prospect of customer losses to
HealthSpring
(HS)
after its sale to Cigna, noted Bank of America Merrill Lynch analyst Robert Willoughby in April. Meanwhile the combined company's 40%-plus three year growth rate is near tops in the sector, notes Santangelo of Credit Suisse.
Meanwhile, Credit Suisse analyst Charles Boorady upgraded Cigna to outperform from neutral on Friday, on the prospect that it sells or outsources its legacy pharmacy business to a fast-growing player like SXC or CVS Caremark, after acquiring Healthspring last October. Boorady expects that Cigna is most likely to cut an outsourcing deal for its pharmacy unit, in a deal that may mirror CVS's arrangement with Aetna, which could add 39 cents or nearly 7% to 2013 earnings per share.
After Walgreens near 10% share tumble in 2012, investors may want to question whether the company's international growth strategy has been underestimated, amid rapid change in the U.S. Were prescription contracts to hold in core European countries to hold, and expected top and bottom line synergies to pan out, there are some who argue that Walgreens has snapped up a
.
For those who would rather play the SCOTUS decision sweepstakes in healthcare, they may do well to target
like Aetna, Cigna and Coventry over Medicaid HMO based companies like Amerigroup, Molina and Centene.
Some estimate that between 16 million to 20 million new Americans would be eligible to enroll in Medicaid if the Supreme Court upholds Obamacare. If Obamacare as a whole gets thrown out, Medicaid HMOs would lose a large revenue opportunity they had expected to begin in 2014.
For more on investing in drug stores and pharmacy giants see Express Scripts could be
sandbagging synergies
in its mega-deal for Medco Health Solutions.
-- Written by Antoine Gara in New York